So many rings, so little time! When it comes to accessories that are truly worth discovering every detail, an engagement ring deserves every hour (or more!) that you spend scrolling through Pinterest or eyeing your co-worker's bling.
While it can be hard to choose just one sparkling beauty to wear for the rest of your life, with a few simple tips from our COO & Design Director, Nadine Tacorian, we make it easier for you to find "the one".
Here are 5 tips to help you find the perfect engagement ring: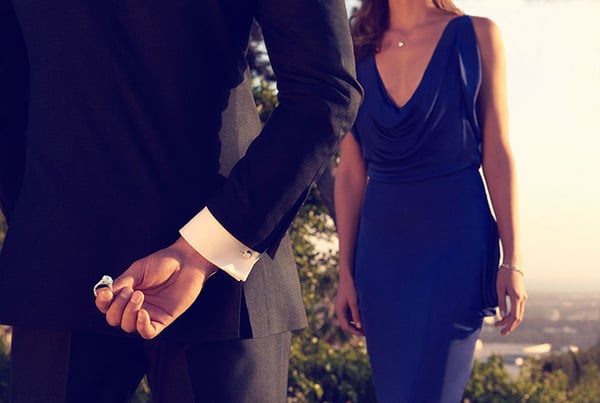 1. Imagine
Remember, when choosing an engagement ring, your engagement ring is an extension of who you are and the ultimate expression of your style that you'll wear day in and day out. So it needs to do more than just complement your dream wedding dress—it has to work with your everyday style too.
Think of your personal style and ask yourself: are you a lover of the classics who wants a timeless piece that would look as much at home on your finger, as it would look on your grandmother's hand, or on your own granddaughter's hand? Or are you more of a free spirit looking for details to uniquely express your eclectic style? Do you lead an active lifestyle and prefer something more understated? Or do you want the spotlight and are unafraid to shine?
Another thing to consider is the shape of your hands and fingers. If you want a "slendering look" the elongated diamond cuts – such as emeralds and ovals – will actually create a slenderizing effect to make your fingers look thinner because the diamonds themselves are longer and occupy more surface area.
#HintHint: Close your eyes and think about what an engagement ring looks like to you? What image first pops into your head? This is a good way to let your instinct lead your way.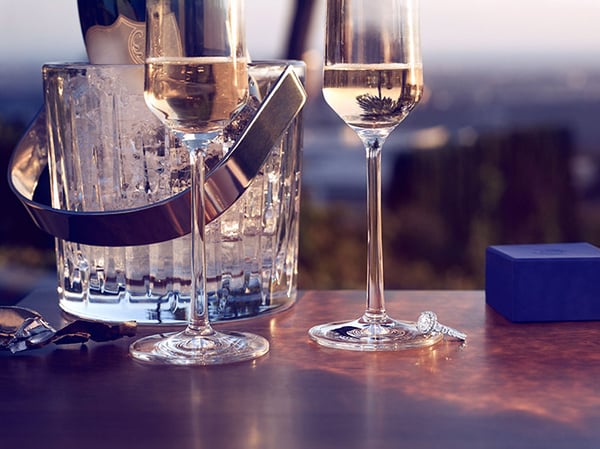 2. Browse the web
It's time to insta-ogle. Check out Pinterest, Instagram, Tacori.com and more to see what's out there. What engagement rings tend to draw you in and catch your eye? And when you see the rings you like, you can start to understand what styles and cuts you're drawn to most often.
#HintHint: @TacoriOfficial has lots of different engagement ring shapes and sizes featured! Browse, tag, pin, and find a spot to sort through your faves.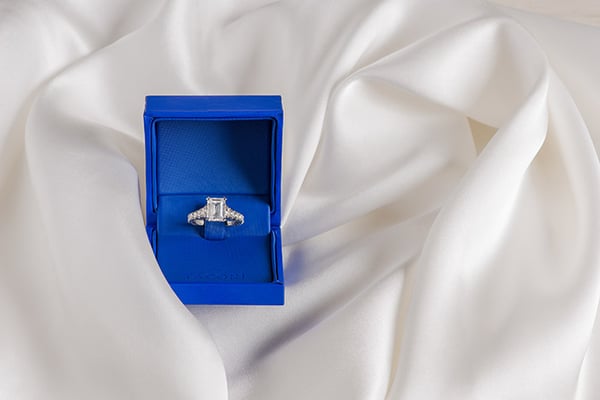 3. Source IRL inspiration
Things look different in real life than they do in photo shoots or on stylized social media feeds. Especially engagement rings! It's a great idea to do a bit of bling-spotting by looking to friends, coworkers, family members, and even complete strangers to check out styles that do or don't pique your interest.
#HintHint: Give a compliment! People love to show off their rings, and it's a great way to ask questions and learn how they chose the right engagement ring for themselves (and you can learn from them!).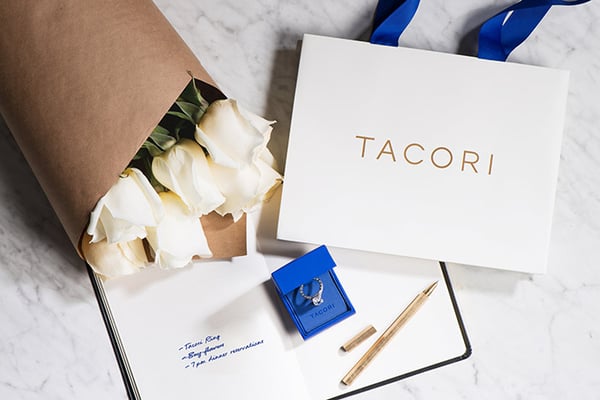 4. Connect with the experts
If you're here reading this article, chances are that you're considering a Tacori engagement ring (may we say: good choice!). As you're looking though our collection of engagement rings, there's a good chance that you appreciate discerning details that set your ring apart from any other. After all, no one wants their engagement ring to look like anyone else's!
So before you go and visit your authorized Tacori retail partner, here are a few pieces of jewelry-jargon to help you choose the right Tacori ring for you, and communicate via professional-grade language at the jewelry store.
Semi-mount setting: Almost all Tacori rings are sold as "semi-mounts", which means that the smaller accent gemstones have already been set throughout the ring, but NOT the center diamond. This means that the choices of center diamond shape, size (and price) are up to you and your special someone! And virtually all of our authorized Tacori retail partners sell diamond centers in a variety of shapes and sizes that can be set in the Tacori setting of your choice.
A Tacori setting plays a pivotal role in bringing your center diamond to life. It's literally the throne for the diamond to sit, and the setting should be designed to enhance the diamond, while also express the personality of the woman who's wearing it.
Bloom of diamonds (aka halo): A perfectly engineered "bloom" setting, like these from Tacori's Blooming Beauties Collection, can make your center diamond can look up to 25-30% bigger and really create a brilliant, diamond-intense look.
Or, do you like more understated "blooms", like this perfectly engineered bloom of diamonds on the Dantela collection?
And if blooms aren't really your thing, that's good to know too! We have many stunning engagement rings that put the center stone as the star of the show, like these from the Simply Tacori collection which allow your center diamond to sparkle from every angle.
To bloom or not to bloom: this is a great style detail to note for your taste.
Crescent silhouette: On a Tacori ring, you'll see that virtually every setting has a crescent silhouette detail on the inner face of the ring with tiny diamond details – this is something that is so unique and distinct in the jewelry industry, it's actually trade dress protected. (kind of like the signature red sole of a Louboutin)
This signature element is defined by the unique design element of the crescent silhouette: interlocking half-moon arcs, which provide windows of light to reflect the brilliance of the diamonds placed within each crescent silhouette semi-circle.
Tacori originated the crescent silhouette design, and this luxurious motif is a hallmark of Tacori, and a mark of exquisite taste. No one but Tacori can have this design element, so it's a real mark of authenticity and hand-craftsmanship. And for women who want a lot of brilliance, the crescent silhouette design creates incredible "windows of light" for the diamonds to shine and be absolutely brilliant!
#HintHint: Look for these unique details when you're ready to connect with the experts. You'll not only sound like a pro, but you'll be able to quickly explain elements of a ring that speak to your style.

5. Try them all on!
Just like wedding dress shopping, what you imagine yourself wearing can be very different once you try it on. So it's especially important to go see, feel, and touch the rings themselves to get a sense of what suits your style. Go down to your local jewelry store and have some fun to see what style best suits you. Keep an open mind! Even after all the web searching, you may love a different shape than you thought. It may surprise you! Which is a beautiful thing.
Your local jeweler is truly the best expert to lead you to your dream engagement ring after profiling your aisle style. Where to Buy
#HintHint: Remember to have fun! This is an exciting time to try on rings and find diamonds and imagine your future.
Determine your style and go confidently in that direction! We're honored that you're considering a Tacori engagement ring to be part of your love story, and to express your personal style. #TacoriGirl