The Wedding Band Edition: Sharing Our Best Engagement Ring and Wedding Band Pairings
One of the most frequently asked questions we receive is "what's the exact match to my TACORI engagement ring?" And here's our answer… the right match is the one that that's right for you. Your engagement ring, and your ring stack, are exquisitely personal.
How To Match Your Engagement Ring and Wedding Band
Whether you want to add different center stone shapes, mix with rose gold or gemstone colors, or simply add more sparkle to your stack, the whether you choose to to mix or match is totally yours. However, there are some simple ways to create a harmonious and unifying design motif in your ring stack, even if they don't match in every sense of the design.
Metal type and color:

Choose a metal type and color that matches or complements your engagement ring. Common options include white gold, yellow gold, rose gold, platinum, and silver. Keeping the metal consistent can create a seamless and elegant look.

Design harmony: Consider the overall design and style of your engagement ring. Is it classic, vintage, modern, or intricate? Look for a wedding band with a similar design aesthetic or complementary features. For instance, if your engagement ring has a vintage vibe with intricate detailing, opt for a wedding band with similar details.
Stone alignment: If your engagement ring features gemstones, consider how the stones are arranged. Some wedding bands are designed to align with specific engagement ring settings, allowing the stones to complement each other perfectly.
Metal texture and finish: Matching the texture and finish of both rings can create a cohesive look. For instance, if your engagement ring has a brushed finish, you can want to choose a wedding band with a similar finish.
Crescent Fabrics: Every TACORI engagement ring and wedding band is imbued with a Crescent Fabric on the inner face silhouette, which adds dimensional hidden details. They come in various styles, ranging from intricate to minimalist, and selecting wedding rings of similar Crescent Fabrics gives a seamless unity to your stack.


Ultimately, the best way to match your engagement ring to your wedding band is to choose what makes you happy and reflects your personal style and preferences. That said, our designers did indeed create wedding rings that they thought would be ideal "complementary bands" to our iconic engagement ring selections. So in the quest to help you match your wedding band, our designers are sharing eight of our best engagement ring and wedding band pairings.
Matching Dantela Wedding Band & Engagement Rings
Dantela is one of our most popular rings of all time, thanks to its totally complex, lace-like tracery. So naturally, we had to share recommended wedding bands to pair with these styles. Diamond intense bands can accentuate the center stone of choice, adding radiant sparkle. And by selecting bands of the same colorless metal type - platinum or 18 karat white gold - the sparkle is cohesive and brilliant.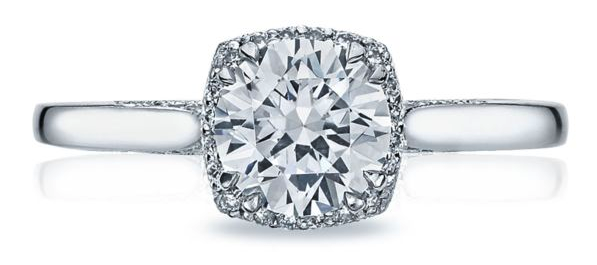 Dantela

Dantela

Dantela