It's officially spring - time to refresh your wardrobe! Or in our case, jewelry! After all, jewelry can easily transform your basic white tee and jeans, taking you from casual to put together.
We asked stylish members from Tacori HQ to put together their own "spring jewelry capsule collection" by mixing and matching some of our top fashion pieces. Here are 3 looks to refresh your Spring style.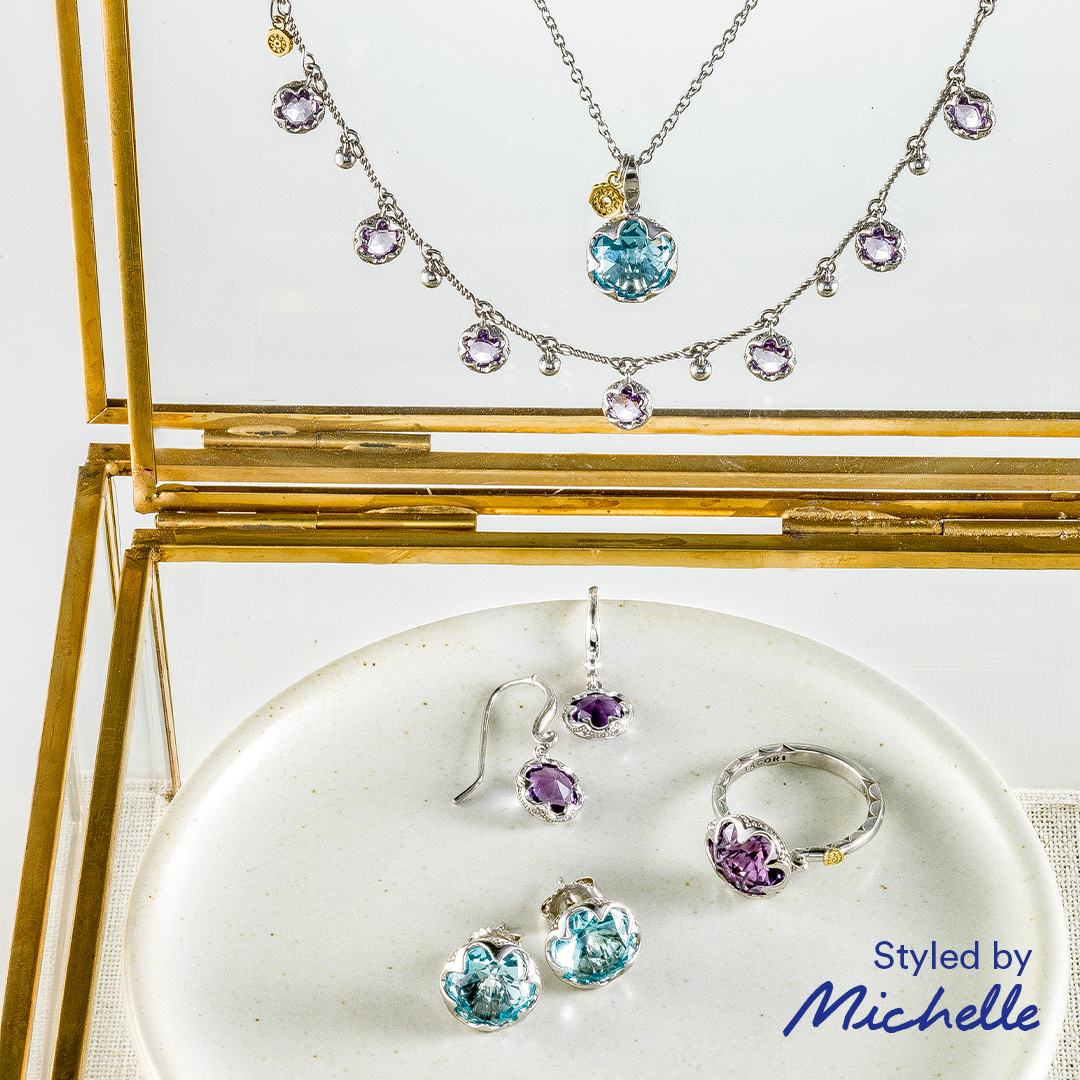 Multi-Gem Drop Necklace featuring Amethyst
Crescent Bezel Ring featuring Amethyst
Petite Crescent Drop Earrings featuring Amethyst
Gemstone Pendant featuring Sky Blue Topaz
Crescent Bezel Earrings featuring Sky Blue Topaz
"Spring finds me getting ready for garden parties, brunches, and wearing lighter, more flowing clothes. Amethyst and Sky Blue Topaz effortlessly elevate any outfit, and can be mixed-and-matched within their pastel colorways," says Michelle Chila, SVP of Marketing and PR.
"I love the simple sky blue topaz pendant for a touch of everyday shine; the amethyst hanging gemstone necklace is amazing with almost any dress neckline, and can also be layered."
"The simple stud earrings are classic and look great with everything; and the French-wire drop earrings offer a slightly dressier look. And of course, I love this ring that goes with anything!"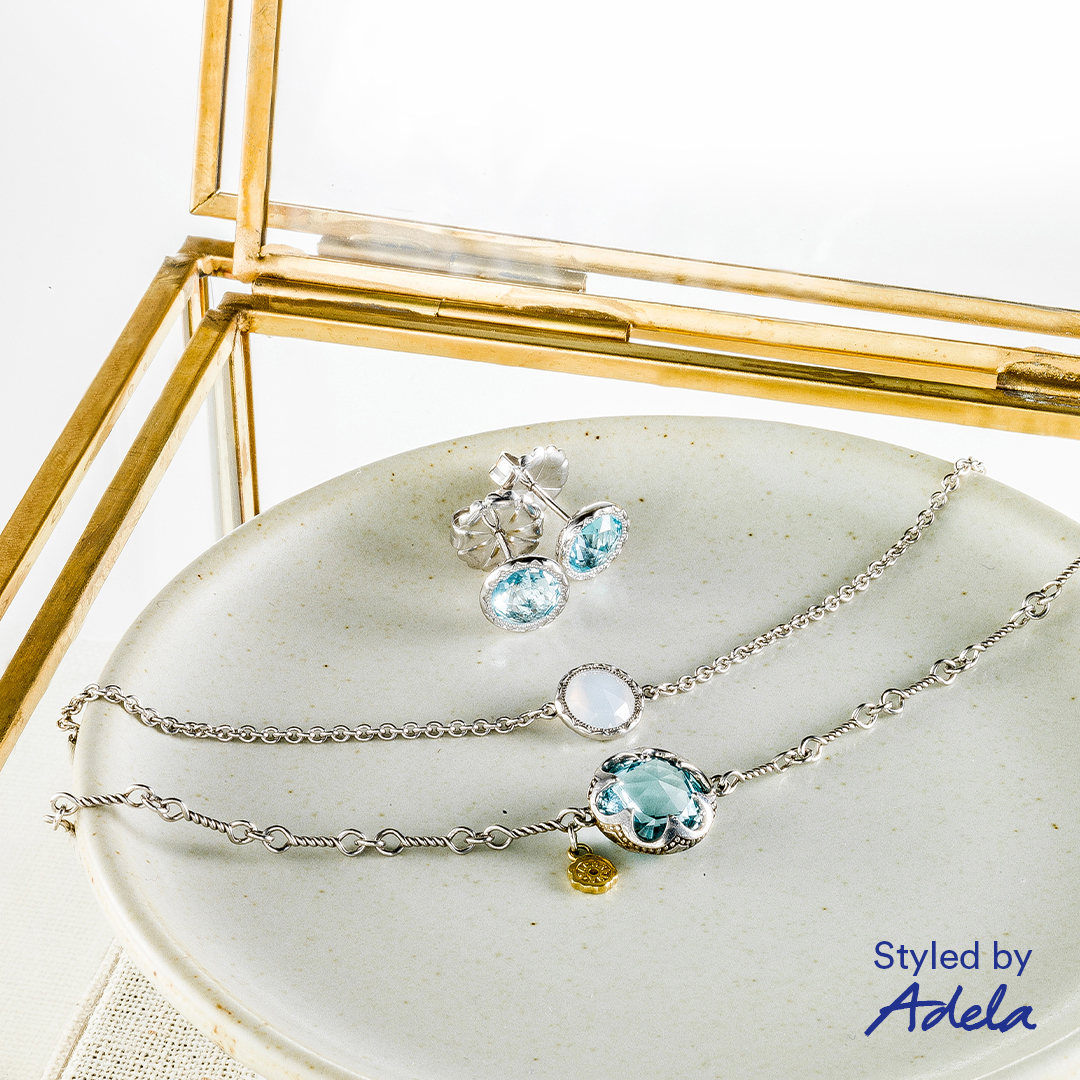 Petite Bezel Studs featuring Sky Blue Topaz
Crescent Gemstone Bracelet featuring Sky Blue Topaz
Petite Floating Bezel Bracelet featuring Sky Blue Topaz
Adela, Marketing Creative Director selected a simple, "something blue" inspired look for more of an everyday look.
"Colors always convey emotions to me —whether in my home, my clothing or in the jewel tones of gemstones I wear. Each is an expression of my reflection."
"I picked these scene-stealing studs that are sure to bring a pop of color and vibrancy to my everyday spring look. And these sky-toned bracelets quietly layer on my wrist, being the perfect accessory to any amazing outfit."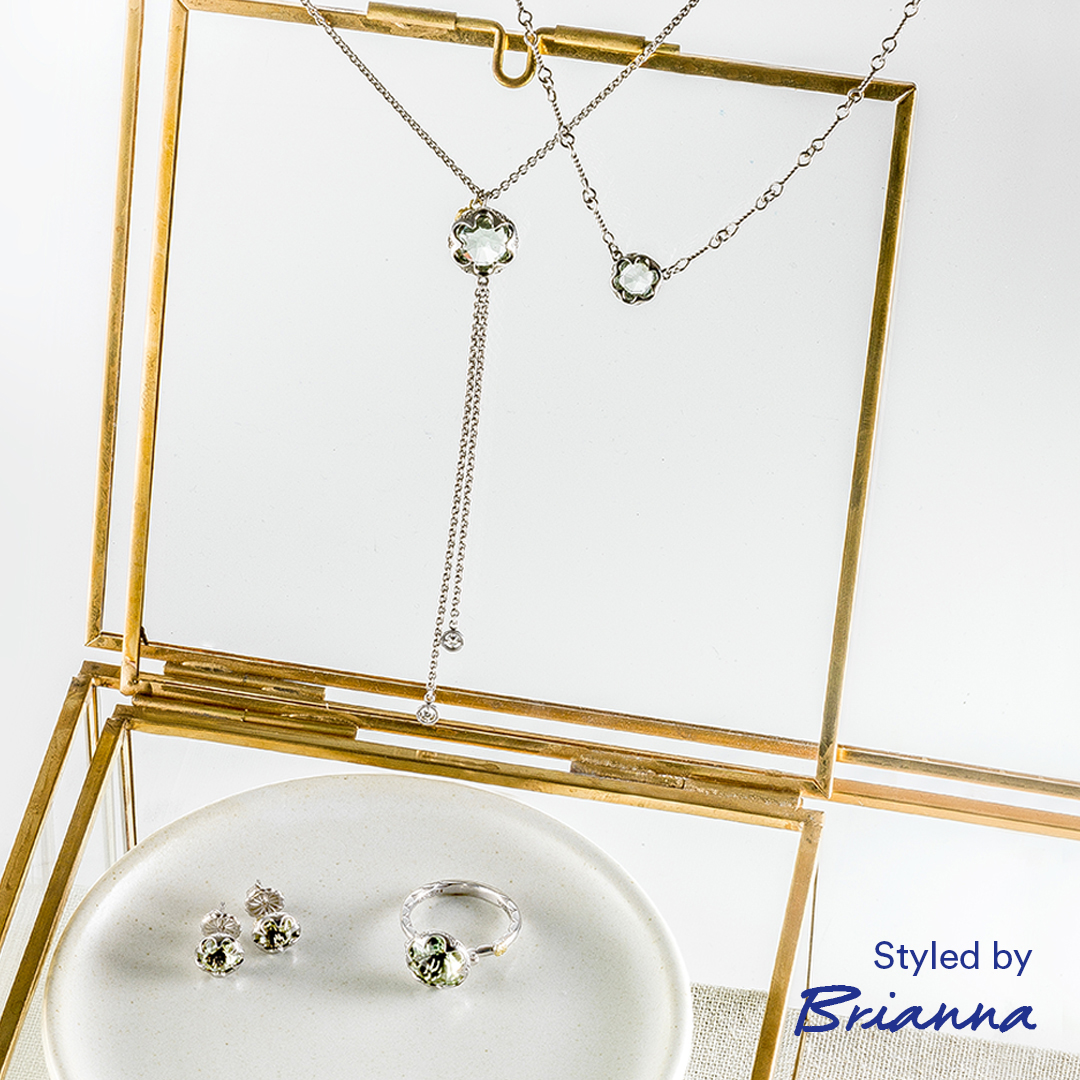 Station Link Necklace featuring Prasiolite
Lariat Necklace featuring Prasiolite
Petite Crescent Bezel Earrings featuring Prasiolite
Crescent Bezel Ring featuring Prasiolite
Brianna, Event Strategist, selected a stone that calls to her: Prasiolite, a stone that is known to attract the free spirited and provide balance.
"My style is definitely a layered look so I imagine myself wearing more than one necklace at a time. The lariat long necklace with the shorter station link. Then I would probably go for the crescent embrace cushion studs in the same stone with the matching ring. "
Which spring jewelry capsule collection calls to you the most? Leave a comment below to let us know! And be sure to let us know what you want our stylists to showcase next!