Adela || Marketing Dept.
Her Style: Based in Los Angeles, Adela has well over 14 years of experience as a Creative Director in the luxury goods industry. When she's not at Tacori, Adela's passion hobby is her family, cooking and entertaining events for kids. She is the founder of HPY KID LA, where she hosts events for children bringing out their "Happy, Positive, You" through mindful activities with color and tapping into their 5 senses. Her favorite type of jewelry is a combination of unique and simple design, and most likely includes yellow gold and diamonds!
In a recent styling challenge to find the perfect Wedding bands (if there is such a thing?), Adela styled her ideal Wedding Band set. Here's what she loved, and why: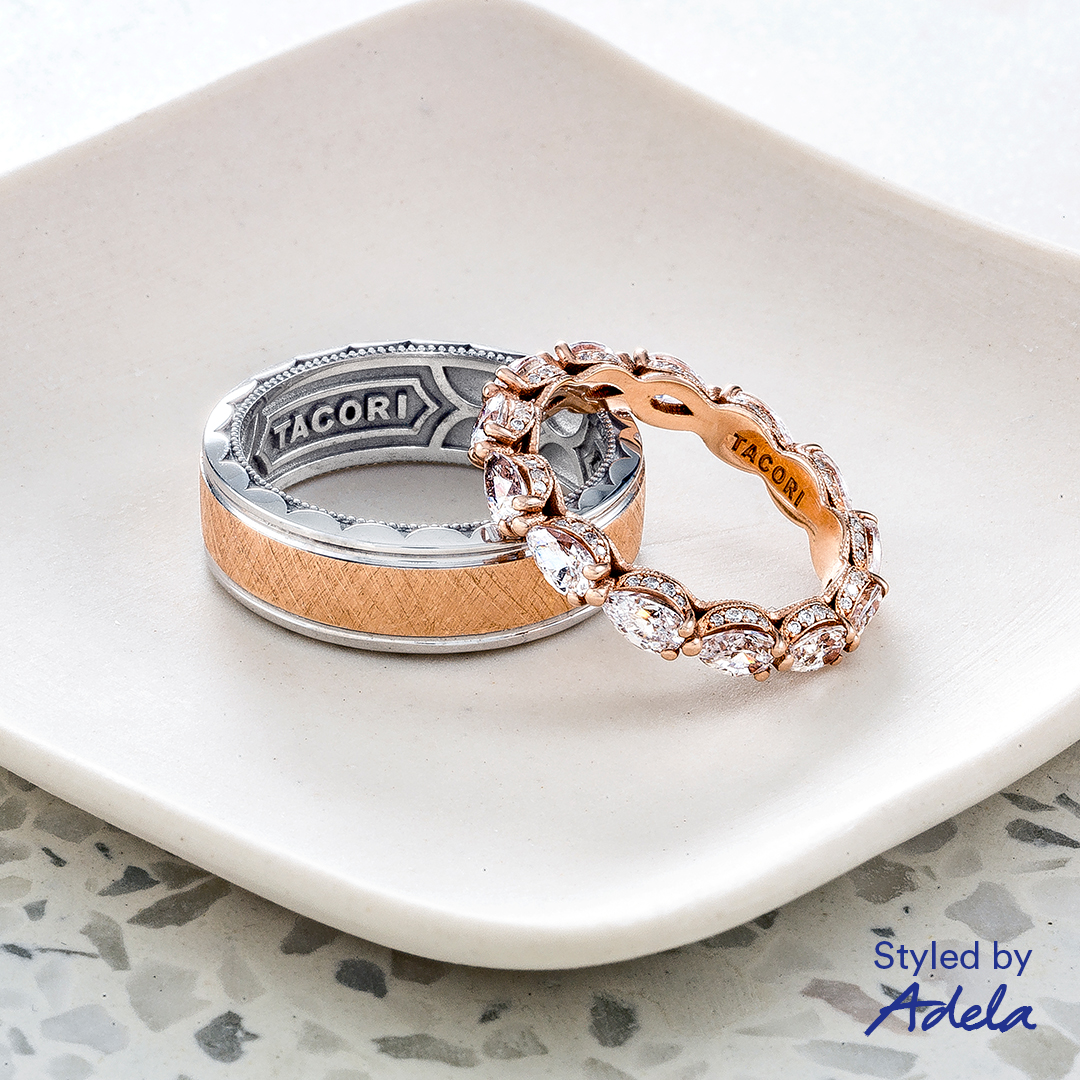 Mixed Finish
$4,690.00
USD
IN PLATINUM AND 18KT ROSE GOLD
RoyalT
$10,000.00
USD
IN 18KT ROSE GOLD
Adela, selected style numbers 135RB and HT2642. "Traditional is over! I'm a huge fan of color and leaning away from the strictly traditional. We both love the daring side details that have a more eclectic influence with simple elongated diamond shapes that marry the old with the new. A duo-tone band with wire brushing rose gold finish in platinum, allowing him something unexpected but not over-the-top to show off his unique style! Together we create our mark as we walk down the aisle and shine from every angle."
Want to see more Wedding Band style options? See the Styled By Michelle choices, and the Styled by Margaret choices.
Or, discover out more wedding band styling suggestions with 5 Ways to Style Your Wedding Bands , 5 of the Best Engagement Ring and Wedding Band Combos, Stackable Rings & Wedding Bands, or The Significance of the Matching Set.
In another styling challenge to put together her favorite Spring pieces, Adela selected a "something blue" inspired look for more of an everyday look.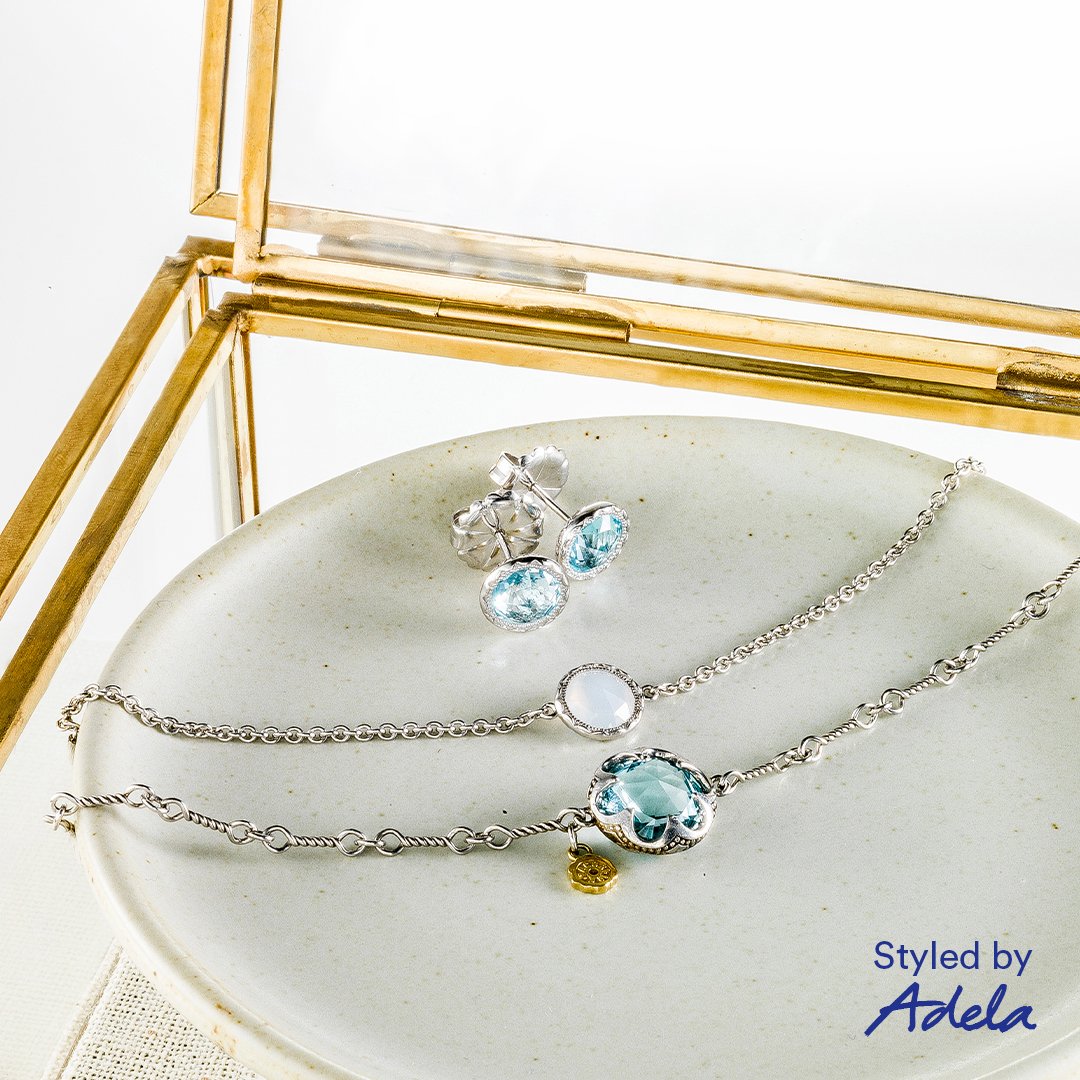 Petite Bezel Studs featuring Sky Blue Topaz
Crescent Gemstone Bracelet featuring Sky Blue Topaz
Petite Floating Bezel Bracelet featuring Sky Blue Topaz
"Colors always convey emotions to me —whether in my home, my clothing or in the jewel tones of gemstones I wear. Each is an expression of my reflection."
"I picked these scene-stealing studs that are sure to bring a pop of color and vibrancy to my everyday spring look. And these sky-toned bracelets quietly layer on my wrist, being the perfect accessory to any amazing outfit."
On choosing Something Blue, she says "Want to choose something a little out of the box? I love the east-west London Blue gemstone jewelry for a one-of-a-kind, edgier look. This set is great to dress up or down."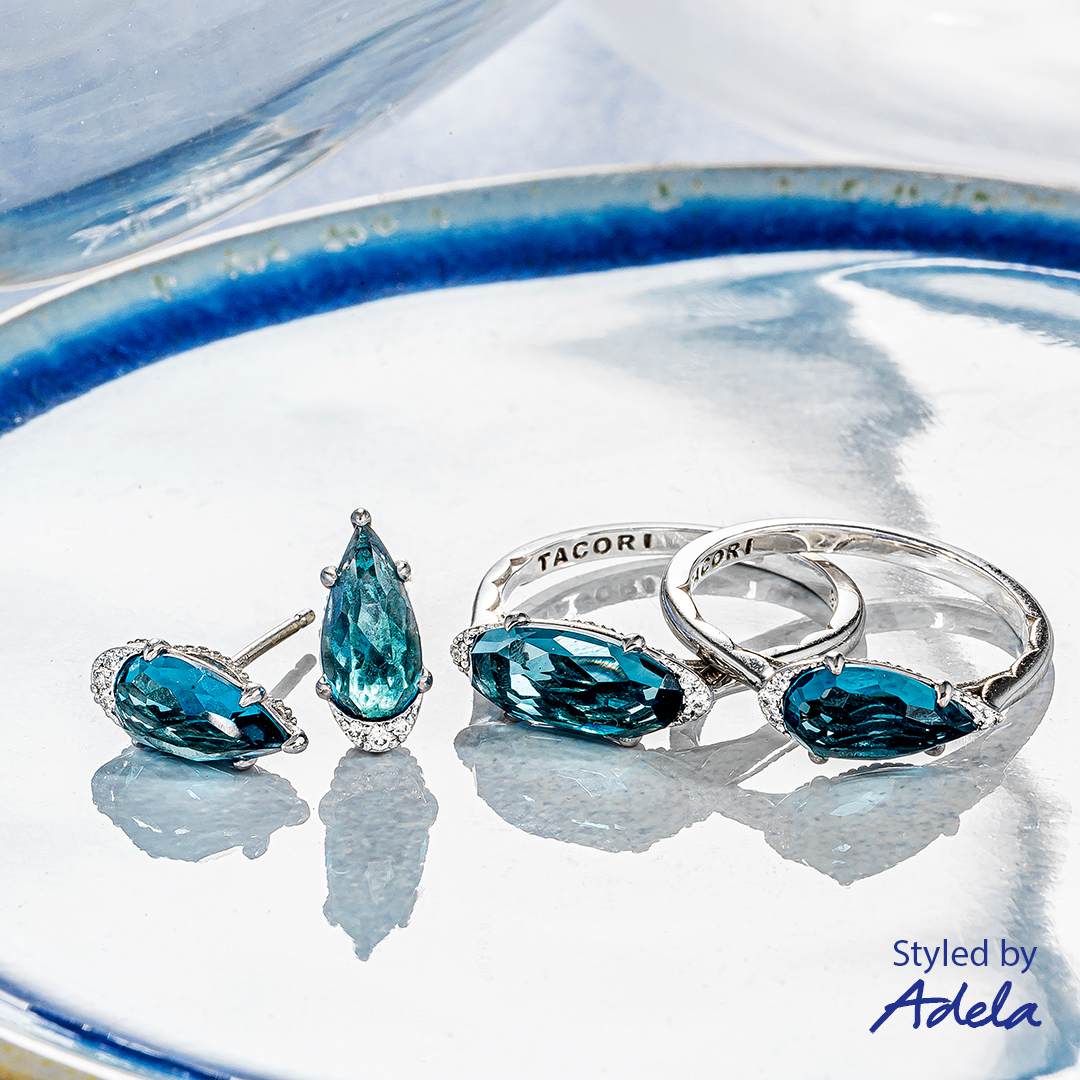 Pear-Shaped Gem Earrings with London Blue Topaz
Solitaire Pear-Shaped Ring with London Blue Topaz
Solitaire Oval Gem Ring with London Blue Topaz
Have questions or looking for more options? Leave a comment and let us know! xo