Did you know that more engagements happen between November and February than any other time of year? Looking back to last year and turning towards the emerging engagement styles you're about to see on the fingers of newly-engaged It Girls everywhere, there's not a basic, boring bauble in the bunch.
At TACORI, we're talking about unexpected shapes, beautiful pops of color, and intricate handcrafted in California details that are proof that pretty, unique engagement rings are on the rise . Below, see the 7 Biggest Engagement Ring Trends that TACORI is calling out as the top trends for the coming year.
Trend One: East-West Directionally Chic Rings
Not the diamond shapes you expect, and not set the way you've ever seen them before. We're looking at unexpected diamond shapes, flipped. Leaving behind the perfect symmetry of Round and Princess shapes, there's a fresh attraction to elongated diamond shapes. At Tacori, we'll take a Pear, Emerald, Oval, or Marquis diamond, and flip it on it's side. The look is totally modern, yet also timeless and elegant with a touch of diamond accent to elevate it beyond basic. This delivers a natural low-profile fit on the hand that's supremely well-suited for everyday wear.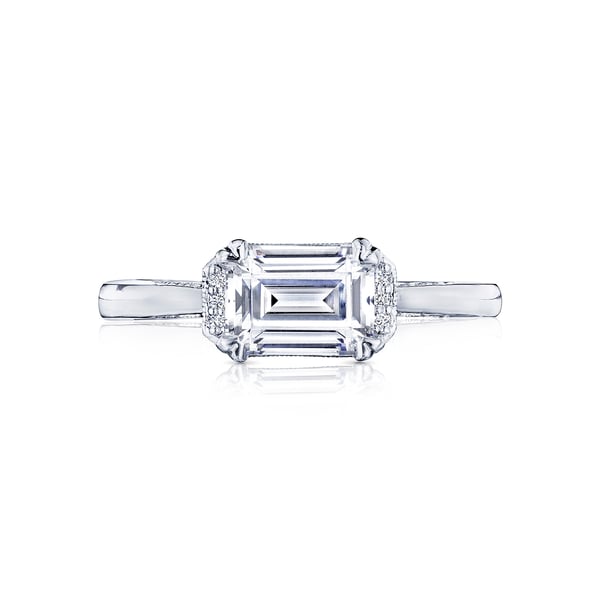 Simply Tacori 2654EC75X55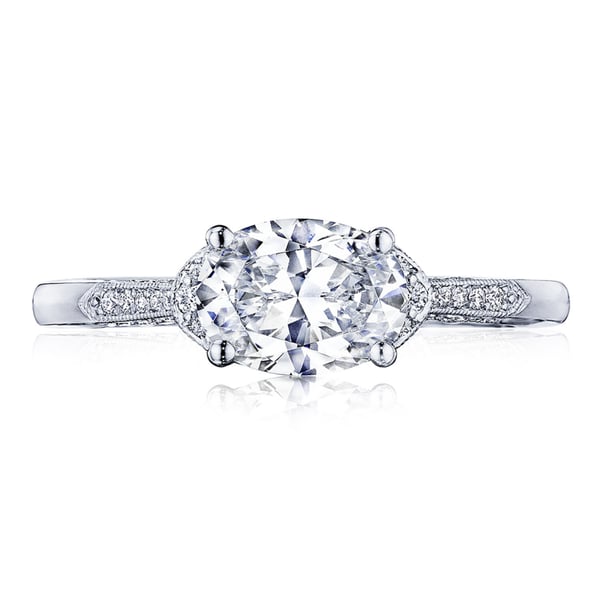 Simply Tacori 2655OV8X6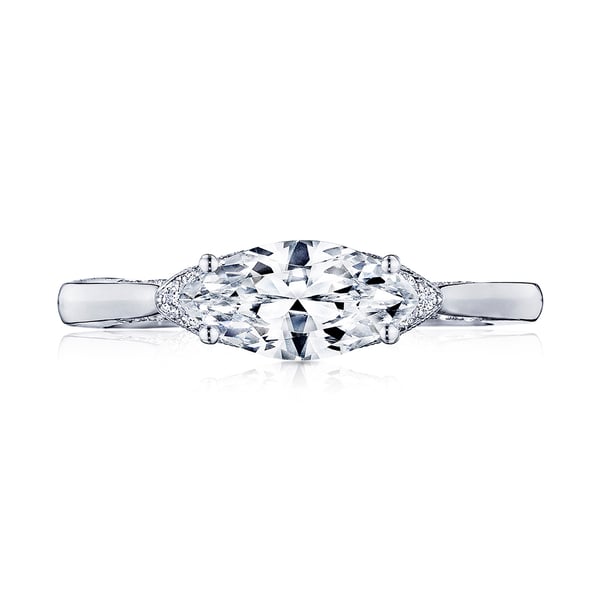 Trend 2: Celebrate Color with Ruby or Sapphire Eternity Bands
For those trend-forward brides who lean towards less traditional options, they're looking less for the traditional solitaire and looking for more color with different gemstones, or even an unusual eternity band. These two trends make our new Ruby and Sapphire eternity bands exceptionally attractive. You get a major lux look that's totally unique and versatile enough to build a power ring stack, without the big price of a center diamond.
When we posted this Sapphire eternity band on Instagram last year, it instantly became our most viral ring of the year. And then when we posted our Ruby & Sapphire rings later in December, our website search traffic for "ruby" increased by more than 300%! This isn't yet a mainstream look, which is why we expect to see celebrating color with rubies and sapphire eternity bands begin to emerge big in 2019.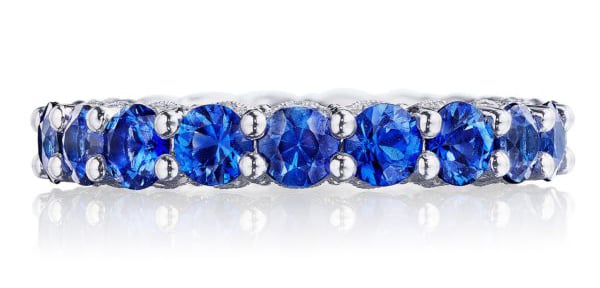 RoyalT HT2632W65S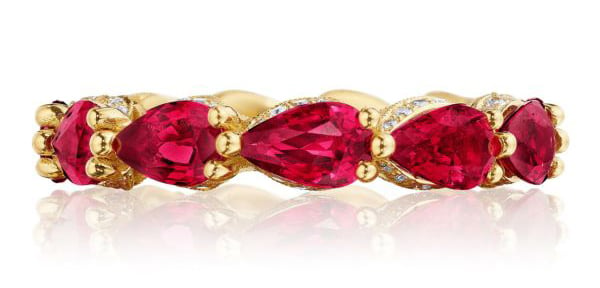 Trend 3: Vintage Deco Details
They don't make them like they used to – and maybe that's why we're seeing customers who love the vintage deco look so much. At TACORI, we take the best artisans in the world with generations of training behind them, and power them with today's technology so they're able to create modern heirlooms, the legacy for tomorrow. There's just so much artistry within the intricate details and unexpected architecture to make these Tacori rings endlessly interesting. Here are a few of our faves.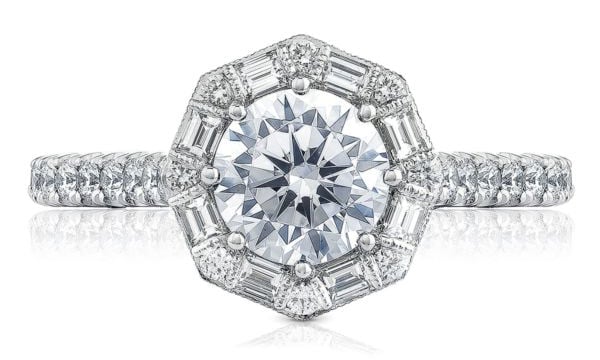 Petite Crescent HT2556RD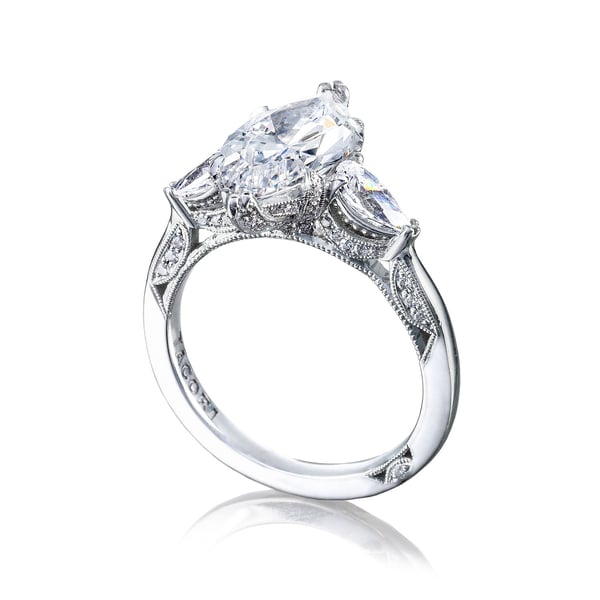 RoyalT HT2628MQ15X75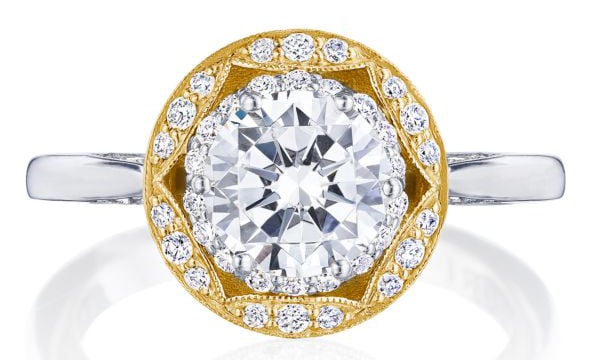 Crescent Chandelier HT2569RD7Y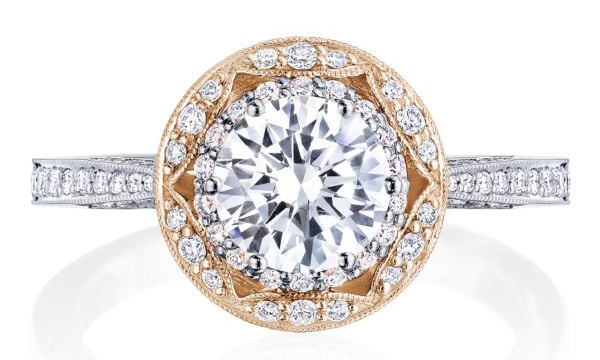 Crescent Chandelier HT2570RD65PK
Trend 4: Go for the Gold
When Prince Harry proposed to Meghan Markle with a diamond ring set within Welsh yellow gold, their magical love story inspired the world and helped re-ignite the demand for yellow gold, fit for a Duchess. In 2019, we don't see any signs of the gold rush stopping. For someone who wants to go a shade different than their friends, yellow gold is a tasteful and timeless way to put a unique spin on today's trends.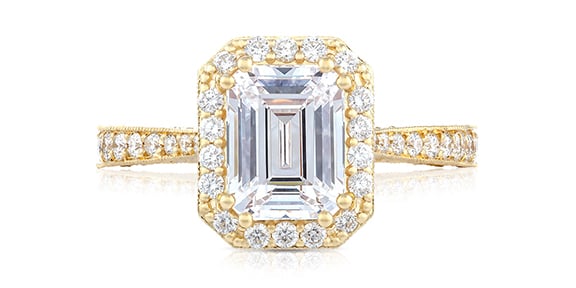 RoyalT HT2650EC85X65Y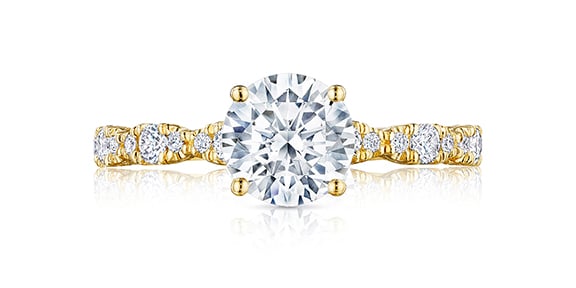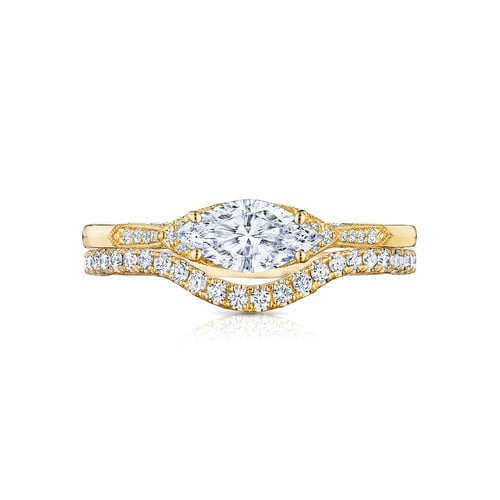 Trend 5: Three Stone's the Charm
For brides looking beyond the halo to amplify their diamond intensity, the trend towards 3-stone rings has been gathering momentum in a simplified, modern approach. At TACORI, we've updated the classic 3-stone look by choosing unexpected side stone options, like tapered baguettes, Cadillac-cut diamonds, or half-moon diamonds, which might just make the most perfect side-stones ever. Here are a few of our favs that illustrate how a pair of high-style secondary diamonds can beautifully frame a center diamond.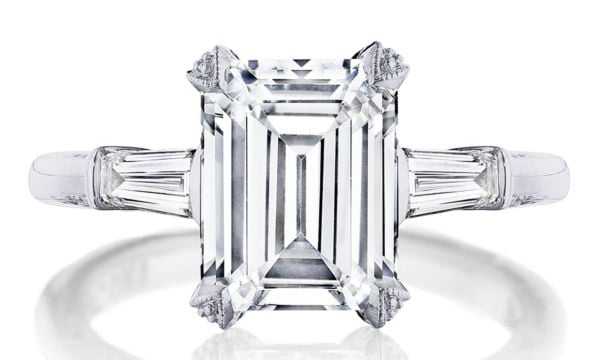 RoyalT HT2657EC95X75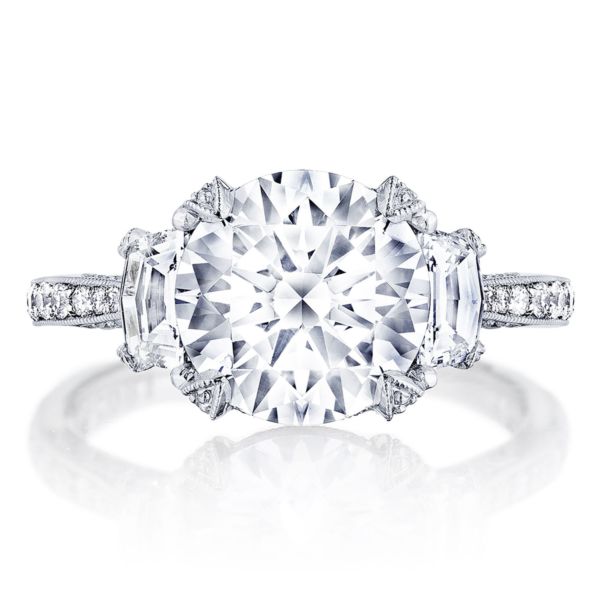 RoyalT HT2656RD95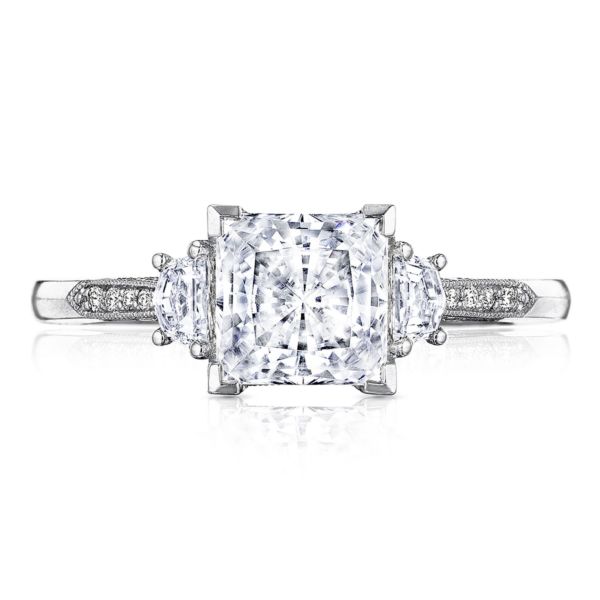 Trend 6: Bigger is Better (Do it for the Gram)
Nothing says "I'm Engaged!" like a ring-selfie on the Gram. In an age of sharing like none other, we're seeing more and more couples looking at the "2 carat and up club" for a bigger, more diamond-intense look that delivers the 👊 💙💎🙏🏼😩😍😭🙌🏼💎💙when that special proposal happens. To really give our customers what they want, our designers take the best-of-the-best designs from all of our collections and give them the RoyalT treatment to deliver a more diamond-intense, exquisitely detailed look that you simply can't get anywhere else. All Handcrafted in California for a totally bespoke and personalized experience, of course.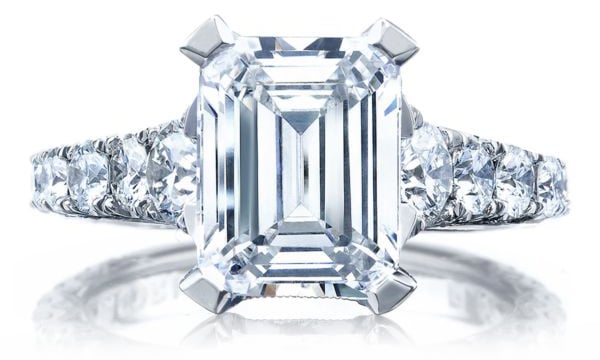 RoyalT HT2623EC10X8
RoyalT HT2602RD95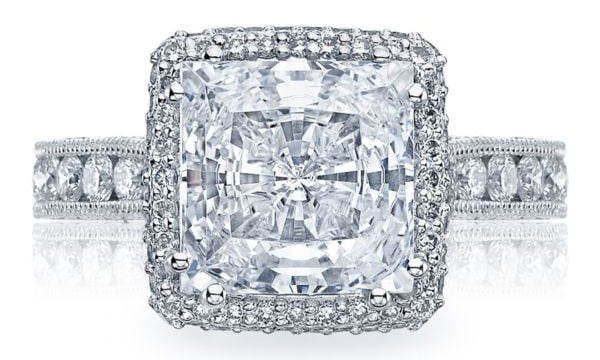 Trend 7: Modern Solitaire, with a Tacori twist
Sometimes simple can be so beautiful. And while some trends may lean towards a "more is more" approach, there's a parallel demand to do simple, done right. Women want classic and timeless, but they want it updated with a modern take. So last year, our Designers took inspiration from our customers who didn't want a solitaire from anywhere – they wanted a totally TACORI take on the Solitaire.
Now available for 2019, we created a modern solitaire collection, our all-new Coastal Crescent collection, that adds just the right amount of detail, and placed it within a 14k metal so that the collection offers attainable luxury debuting at $1490+. Here's our unique Tacori Take on the Solitaire.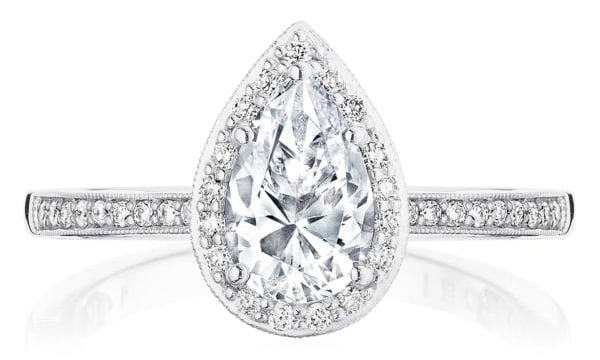 Coastal Crescent P103PS85X55FW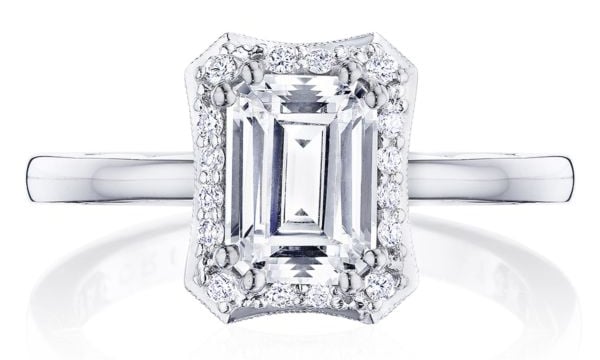 Coastal Crescent P101EC75X55FW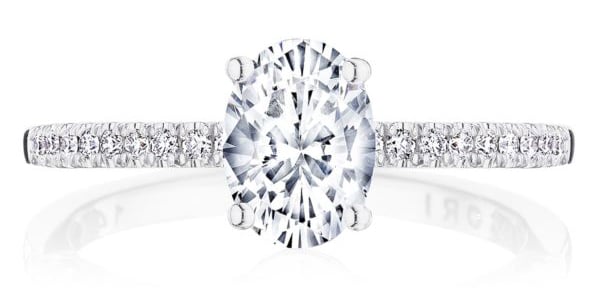 So that's our round-up and predictions for 2019! Let us know what we got right, or what you think we missed. And for all engagement ring recipients and well-wishers, Shine Bright in 2019!
Ps. Glancing back to last year, here were our 5 Biggest Engagement Ring Trends of 2018