Shopping for an engagement ring is a downright vulnerable experience. You'll linger at the jewelry counter, you'll burn the midnight oil, going down deep, never-ending rabbit holes of color, clarity, carats, cuts - and costs.
You'll hold your breath in nervous anticipation that you'll get it right.
And you will. You'll get it right because while you want it to be perfect, the piece you choose is punctuation. It's punctuation to a bigger message to your partner: I know you, I obsessed about this; Let's build something together.
The ring is a question mark, an exclamation point and an ellipsis. The ring you choose asks a question, makes a proclamation and is the ultimate promise of life's biggest and most interesting 'to be continued.'
We can help you make your mark. But before you ask the big question - ask the little ones. The ones that precede the moment you finally open the TACORI blue box.
Questions to Ask Before Engagement Ring Shopping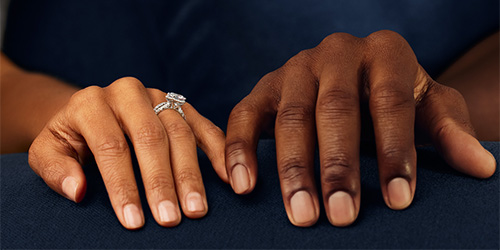 What are the important parts of an engagement ring?
You've already started to look around. Undoubtedly, you've gotten dizzy just browsing the seemingly endless styles - clean and classic, opulent and intricate.. ring styles that you don't even know how to describe. Details that you may not have the words for.
If you're going to explain what you want to your local engagement ring retailer, you'll need to break down the jargon. And the best place to start is with the parts of the ring:
The crown - Or what some call the "head" of the engagement ring, is the uppermost part of the engagement ring that holds the center stone.

The foundation - The foundation of the engagement ring refers to structure beneath the crown.

The Crescent Fabric - The TACORI Crescent is our signature design element, and every TACORI engagement ring is decorated with a distinctive Crescent Fabric. The Crescent adds dimension and strikingly meticulous detail to the inner face profile.
There's more to learn. Explore our full engagement ring vocabulary guide to learn about the entire anatomy of an engagement ring.


Should I personalize my engagement ring?
You can buy an engagement ring right out of the case. But you engagement ring is one of the most meaningful things that you'll ever buy. Through hidden embellishments, stones of symbolic shapes and colors, and the iconic TACORI Crescent Fabric, your engagement ring can incorporate storied details that mean something to you as a couple.
Make your engagement ring stand apart. We believe that an engagement ring with beautiful and personal details tells your story better. Because all our rings are designed and crafted in-house in our California Design Studios, our designers will work with you to create an engagement ring that's as precious and inimitable as your relationship. To get started, choose one of our stunning engagement ring settings, and then begin personalizing.
What center stone should I choose for my engagement ring?
Your engagement ring's center stone is a deeply personal choice - one influenced by your values, aesthetic, and budget. And you have a plethora of decisions to make; do you want a mined or lab-grown diamond, a colored gemstone or a traditional diamond, a new stone or a heirloom?
It comes as no surprise that diamonds remain the most popular center stone for engagement rings. If you are choosing a diamond as your center stone, you should know the the 4 C's. This foundational knowledge will help you distinguish one diamond from another.
Color - Diamonds are graded for color on a scale from Z to D, with Z being a yellow diamond and D being a colorless diamond. The less color in the diamond, the higher its value. In TACORI engagement ring settings, we use a G color quality or better, and we consequently recommend choosing a G quality or better for your center stone.

Clarity - Natural diamonds are formed in the earth, so they have flecks, scratches and other inclusions that affect their clarity. A diamond's clarity is measured through 11 grades, ranging from flawless to included. TACORI uses diamonds with at least a clarity grade of VS in engagement rings - which means that the inclusions cannot be seen with the naked eye. The clearer the diamond, the higher the value and visual appeal.
Carat weight - Though often confused with a stone's visual size, carat refers to a diamond's weight. The shape of a diamond can affect how carat weight relates to a diamond's size. For example, a 1.00 ct. round brilliant diamond may appear larger than a 1.00 ct. princess cut diamond even though they share the same carat weight. The carat weight you choose typically depends on how much you want to invest in the stone. For smaller center diamonds, you can bloom your engagement ring to make the diamond appear larger.


Cut - The cut of the diamond refers to the its proportions, symmetry, and depth. These elements influence the overall look of your diamond and how it sparkles and dances in the light. The more artistry that goes into the cut, the higher the quality of the diamond.

Shape - This isn't part of the 4 C's, but it is still an important distinguishing factor. Diamonds can be fashioned into a variety of shapes, all of which have different numbers and angles of facets, and therefore have different relationships with light. If your partner wants a classic engagement ring, you might consider a princess or round cut diamond shape. On the other hand, if they prefer a more contemporary look a pear or oval shaped diamond might be right for you. Read the shape guide to find out more.

When you pay a visit to your local retailer, you'll have a chance to compare diamonds in real life.
Is it possible to include a family heirloom in my engagement ring?
Family heirlooms are a beautiful way to add history and extra sentimental value to your engagement ring. Because TACORI rings settings are sold as semi-mounts - meaning that they are not sold with the center stone - we're well-equipped to build a stunning engagement ring out of your heirloom center stone.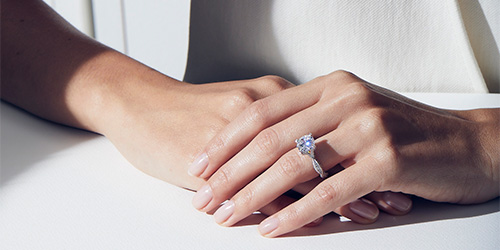 Where should I purchase my engagement ring?
Your retailer will guide you in your engagement ring search, and will collaborate with you to determine your tastes and preferences. Therefore, it's extremely important to do the due diligence necessary to find the right retailer; one that you can have a good relationship with.
We have a list of highly-vetted and TACORI-authorized jewelers here. Once you've found one in your area, here are some questions to consider:
Is the retailer a good listener?
Work with a jeweler that shows excellent communication, and in particular, who listens to your needs and preferences. Your jeweler is a key resource in finding the perfect engagement ring for you, and you need to be sure that they understand you. Don't let a jeweler push you out of your price range or comfort zone.
Is your retailer established and credentialed?
Many jewelers come and go, but the best ones stick around. Find a jeweler who has been in business for a long time, has a good reputation and is rated highly on sites like Yelp and Google. Better yet, get a recommendation from a trustworthy friend or colleague who has worked with the same jeweler.
Can the retailer show you certifications for their diamonds?
A good jeweler should present you with a diamond's certification before you purchase it. High quality diamonds have certifications from independent, third-party gem labs like the Gemological Institute of America (GIA). If your jeweler can't show you a certification for a diamond you're interested in, find one who can.
Does your retailer carry TACORI engagement rings?
Different jewelers carry engagement rings from different brands, and only the best jewelers carry TACORI rings. Before you step into a jewelry store, you can call ahead to make sure they carry TACORI. Or, search for jewelers near you who carry TACORI rings.
It's important to note your jeweler's TACORI partner tier status as this may affect how many styles they carry in-store or how quickly the can get your custom-ordered ring delivered to you.

TACORI retail partners with Silver and Gold status typically have a smaller assortment of rings, while Platinum, Diamond, or Blue Diamond will have a wider selection. Retailers with 'Premier Partner' listed before their tier status represent the best-of-the-best in both product, service, and TACORI knowledge. No matter their partner status, you can work with sales associates at any of our retail partner locations to custom order any ring from TACORI.


How do I determine my partner's ring size?
If you shop for engagement rings with your partner, your local retail partner will determine his or her engagement ring size during your visit. If you want the engagement to be a surprise, use these tips to find out your partner's engagement ring size without your partner knowing:
Find one of your partner's rings and use the TACORI Ring Size Guide to measure it.

Ask friends or family if they know your partner's ring size.

Bring up the topic subtly and ask about your partner's ring size.

Trace the inside and outside of one of your partner's rings on a piece of paper and bring it to your jeweler to measure.

Try on one of your partner's rings and mark where it fits on your finger.
Your jeweler can use tracings, marks, or one of your significant other's rings to measure your partner's ring size.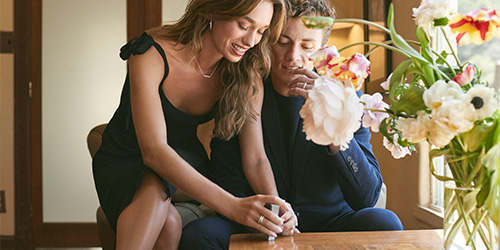 How long will it take to make my engagement ring?
When you buy a ring out of the case, it may take your jeweler several hours to mount the center diamond and size your engagement ring. When you order a custom engagement ring - as you often do when you shop TACORI, it can take between two to three weeks from start to finish.
Every ring is made to your unique specifications by our expert artisans. As your ring is designed, set, and inspected for quality excellence, it will pass through at least 20 sets of dedicated hands.
It's important to leave enough time for us to create your engagement ring and deliver it to your retailer. Platinum, Diamond, and Blue Diamond TACORI partners can deliver your TACORI ring within two weeks, while Silver and Gold Partners can deliver your ring in three weeks. Getting your partner the right ring will be well worth the wait.