From A-listers to influencers, the 'gram is awash with everything weird, wonderful, and utterly unique when it comes to creative engagement ring reveal ideas. But, with all this inspiration at our fingertips, it can be hard to know where to start. Whether you seek classic romance, quirky fun, or a more nuanced approach, the guiding principle when deciding on your engagement announcement vibe is to stay true to you and your partners' style—just make sure you capture the ring in all its glittering glory too.
All of the Lights
No matter where you decide to snap your creative engagement announcement photo, the right lighting will show off your engagement ring in the best possible way. If indoors, opt for natural light to avoid a yellow effect from lightbulbs, and if it seems a little dark, adjust exposure levels with a photo editing app. For outside shots, be careful of sneaky shadows and avoid shooting against the sun.
All Tacori engagement rings for women are light-loving, but for all-out IG impact, we particularly adore how 3-stone engagement rings like the Simply Tacori look in this type of ring reveal.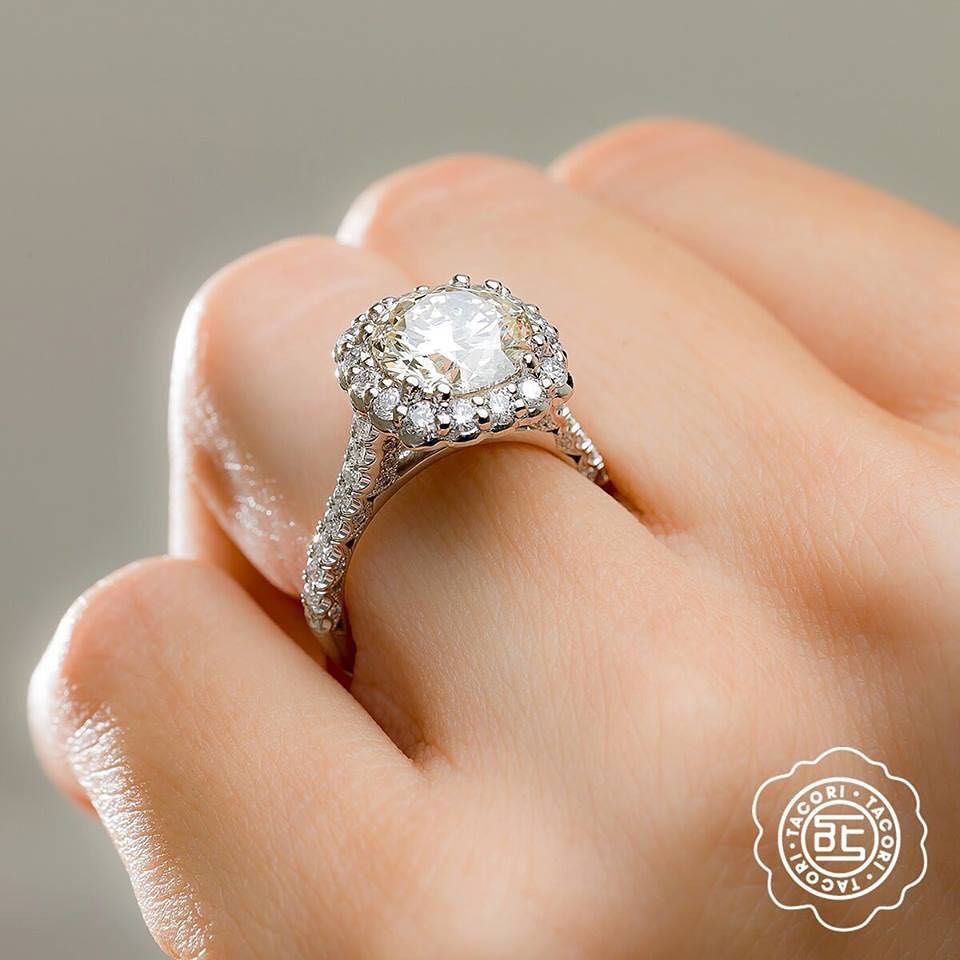 HT255RD, Special Order 02475
Up and Over
A favorite with influencers—and one of the most easily executed shots—is the simple single hand, shot from above, against a chic backdrop. Think of beautiful locations such as the beach or poolside, or something a little more interior glam—extra points if it's a place with special meaning for you both too. A fresh mani to complement the vibe of the shot is a must, and for the more style bold, opt-in on nail art to really make a statement.
A shot that suits most ring styles, we particularly love the way solitaire engagement rings dance under the lights.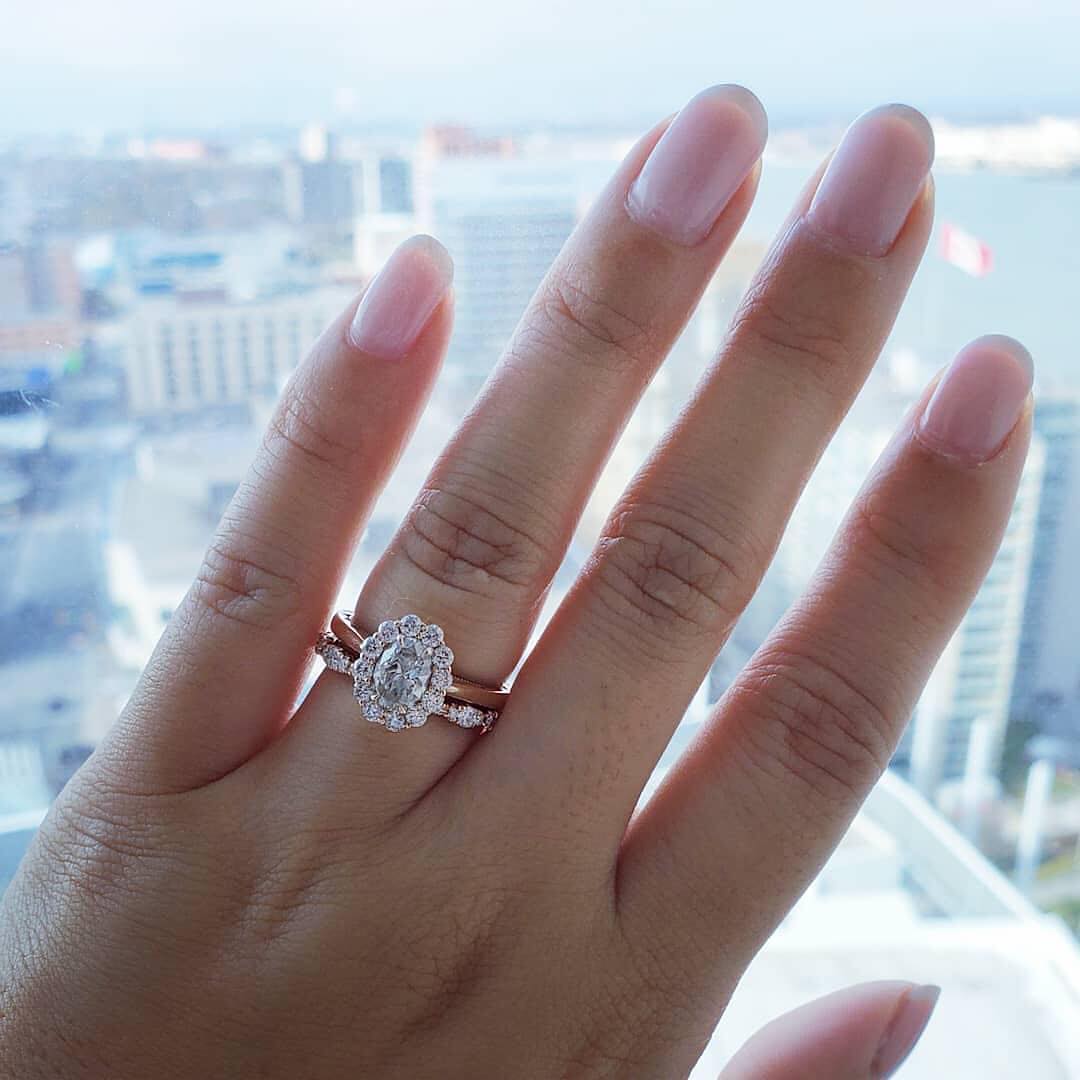 HT2558BPK and 55-2RD (Special Order with an oval center)
Join Hands
The true romantic shot among engagement ring reveals—and one really communicating your love and commitment to each other—hold your partner's hand in yours, with the ring taking center-stage. Try snapping your announcement photo in portrait mode on your smartphone to keep the focus on your hands, and to soften the backdrop.
For this, stronger and fully bloomed engagement rings, such as the Dantela or RoyalT, really shine out.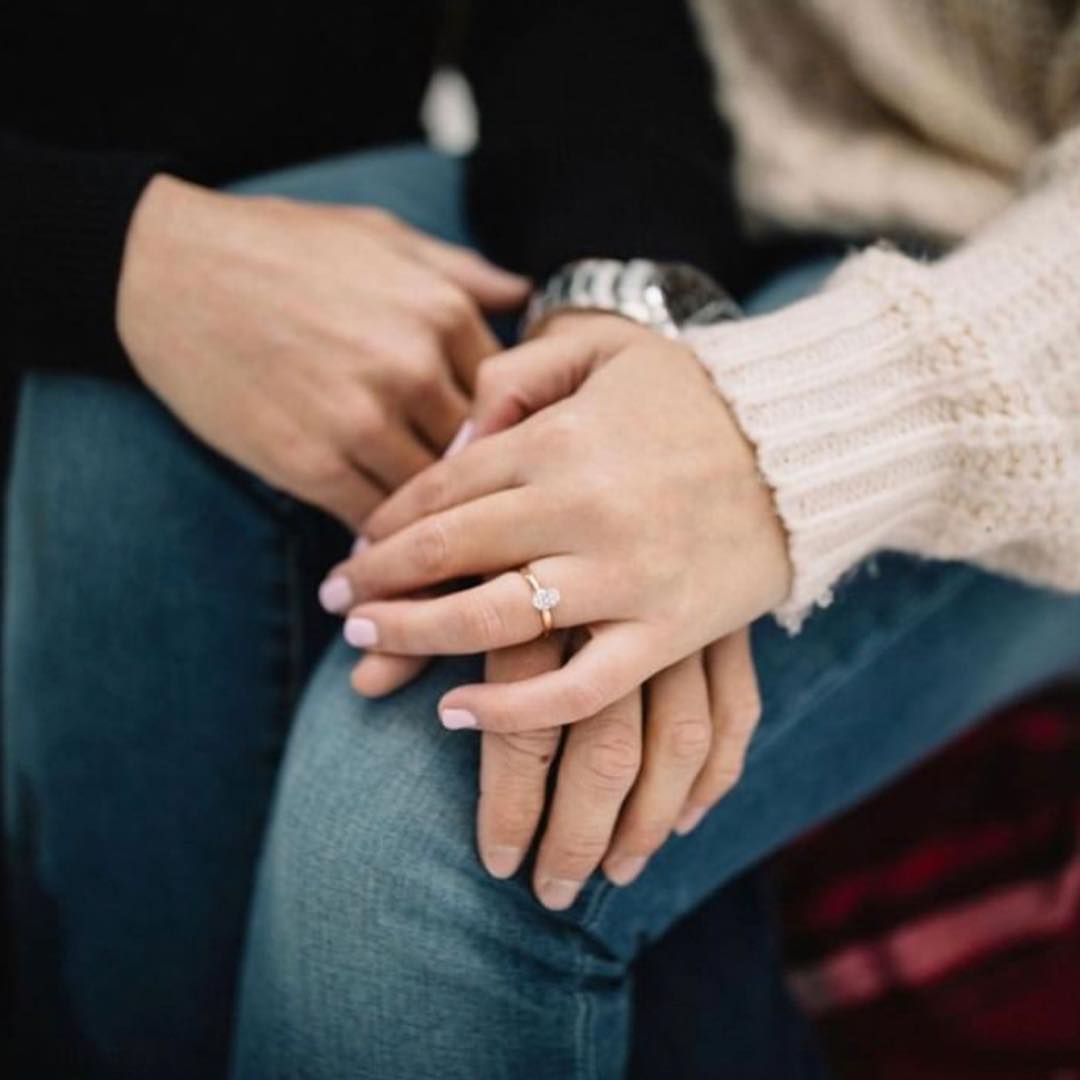 @sarahjessica1029 via @thevaultfinejewelry
Subtle Shine
The subtle shine is a popular pose for celebs who love to keep their fans guessing. For a more elegant and refined shot to quietly wow your followers, you can't go wrong with a strategically positioned hand on your partner's arm. Keep your outfit styling more monochromatic or color-blocked, as too much pattern distracts the eye. Then make sure it looks and feels natural, and that the ring is clearly visible and not under shadow.
This popular ring reveal idea works well with the classic chic of princess cut engagement rings such as the Simply Tacori: Truly Tacori "T" Varietal style or RoyalT.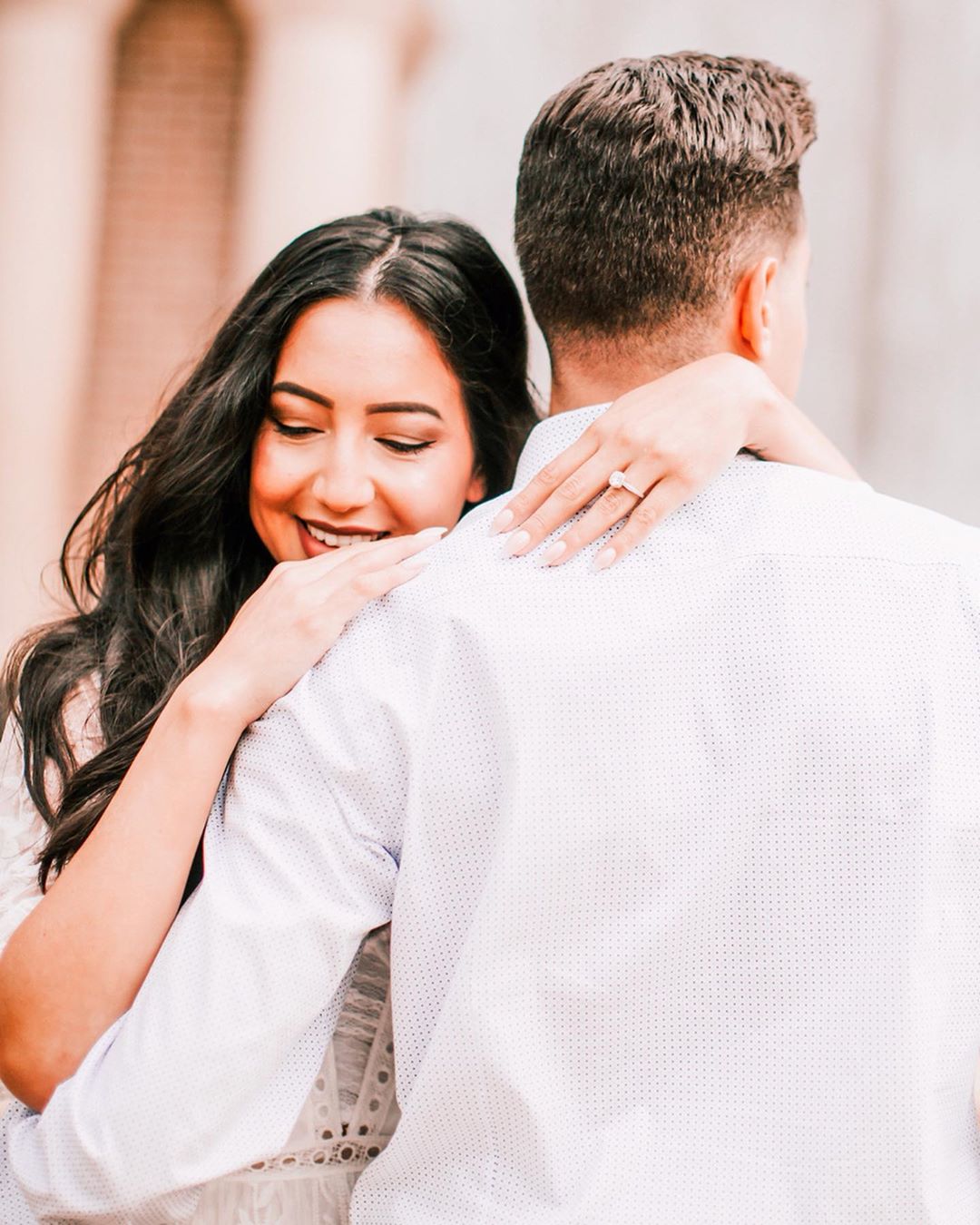 The Big Tease
Whether resting your hand on your chin, holding a cocktail up to your lips, or just posing casually with the ring in view but not necessarily the focus, this playful approach to your engagement announcement will show you who's paying attention. The only rule for this style is balance—ensure the positioning of the ring isn't too subtle or too obvious.
Suitable for any ring type, this creative announcement photo particularly pops with daring or unusual engagement rings offering a more statement style, such as our pear-shaped engagement rings or Simply Tacori east-west flipped ring.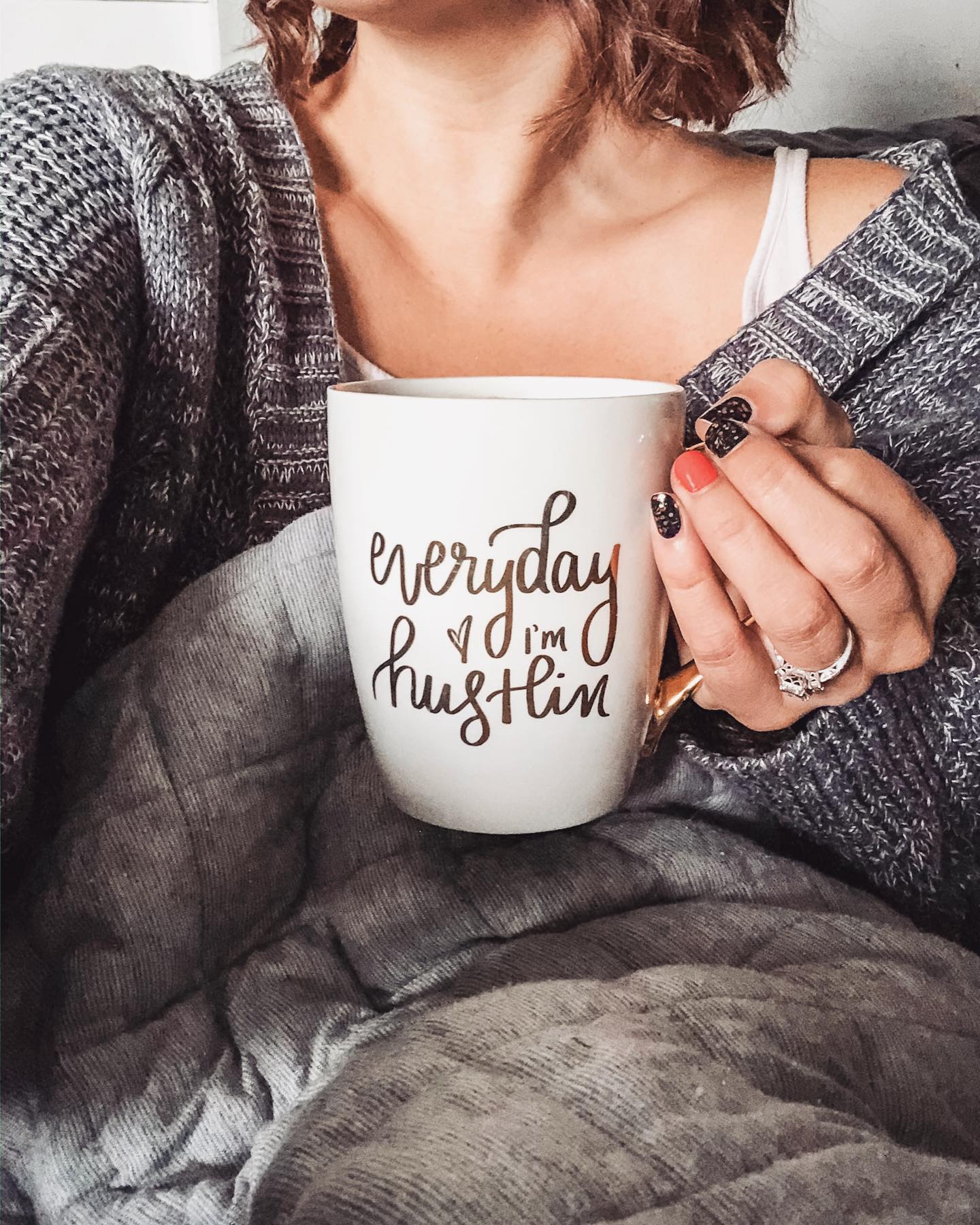 Kissing Selfie
For an organic ring reveal snap that feels more candid than posed, try going for a simple kiss selfie with a strategically placed left hand in view. It may take a few goes to get the angle right but it's a beautiful shot that's well worth the effort, capturing the moment forever.
Any type of halo ring—we call it the Tacori Bloom will photograph exquisitely for this announcement as it maxes out on the shimmering bouquet of disco-ball diamonds.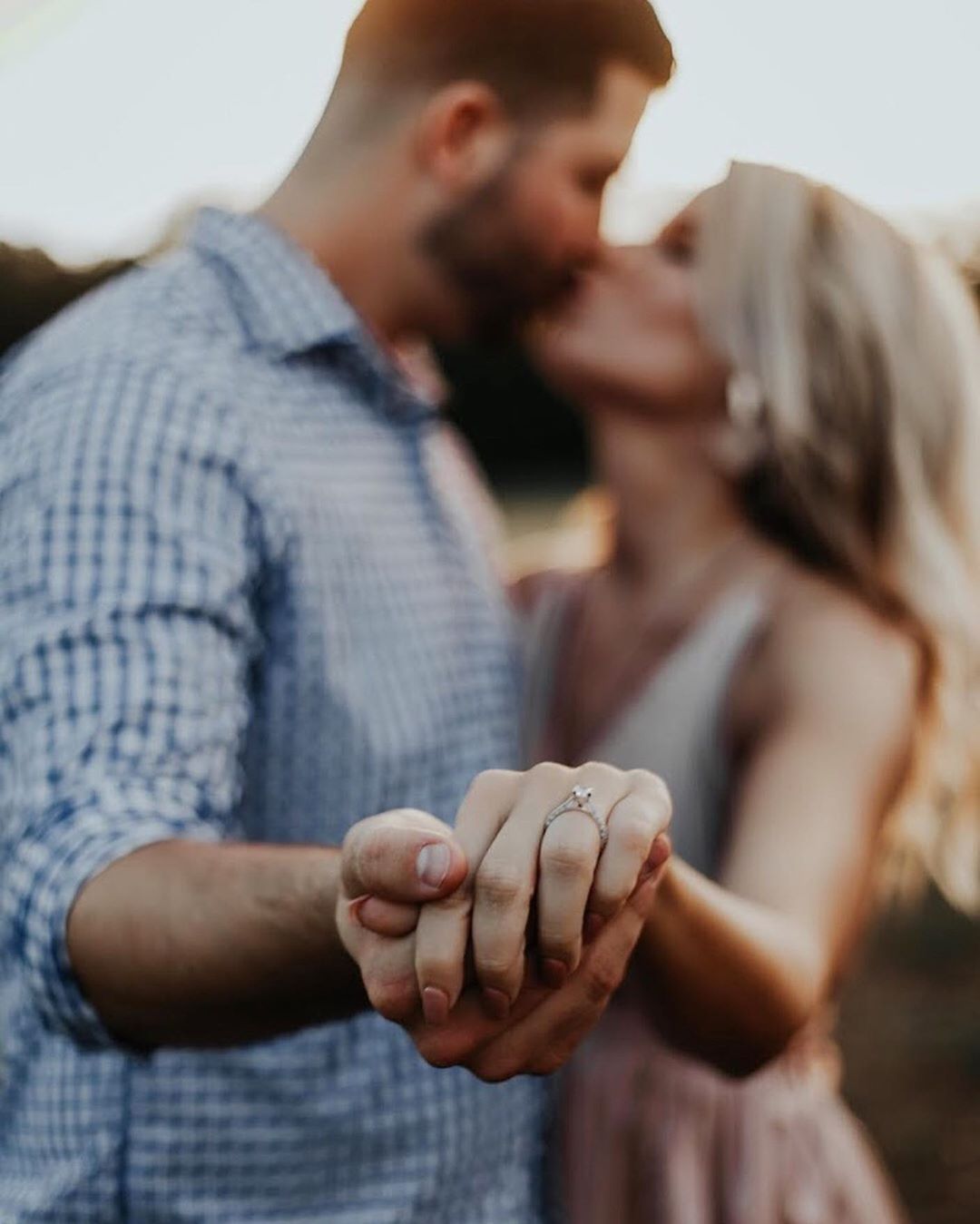 @stylesbysarahelizabeth
Confidently choose a wedding band that matches your ring with our guide to the best wedding and engagement ring combos.
More Tacori:
Trend Alert: 3 Stone Engagement Rings
5 Hints For Taking An Effortless Engagement Ring Selfie
How To Clean and Care For Your Engagement Ring