Is there such a thing as a perfect Wedding Band set? You decide! That's the challenge we set for three of our Tacori Stylists, as part of our weekly styling sessions.
They each selected their favorite wedding rings for him and her, and described what they love best about the designs they chose. Then, we asked our Instagram and Facebook community to vote on which style they loved the best.
Meet the Tacori Stylists, and see the stackable style they created. It was a battle between Rose Gold, Platinum or Yellow Gold! And be sure to read all the way to the bottom to reveal the winner of the popular vote. See if you agree, or if you had another favorite! And see more Stacking Stories and ways to style your wedding bands.
Meet the Stylists:
Adela, Marketing Creative Director, selected style numbers: 135RB and HT2642. "Traditional is over! I'm a huge fan of color and leaning away from the strictly traditional. We both love the daring side details that have a more eclectic influence with simple elongated diamond shapes that marry the old with the new. A duo-tone band with wire brushing rose gold finish in platinum, allowing him something unexpected but not over-the-top to show off his unique style! Together we create our mark as we walk down the aisle and shine from every angle." Love Adela's style? Click here to see all of the pieces, styled by Adela.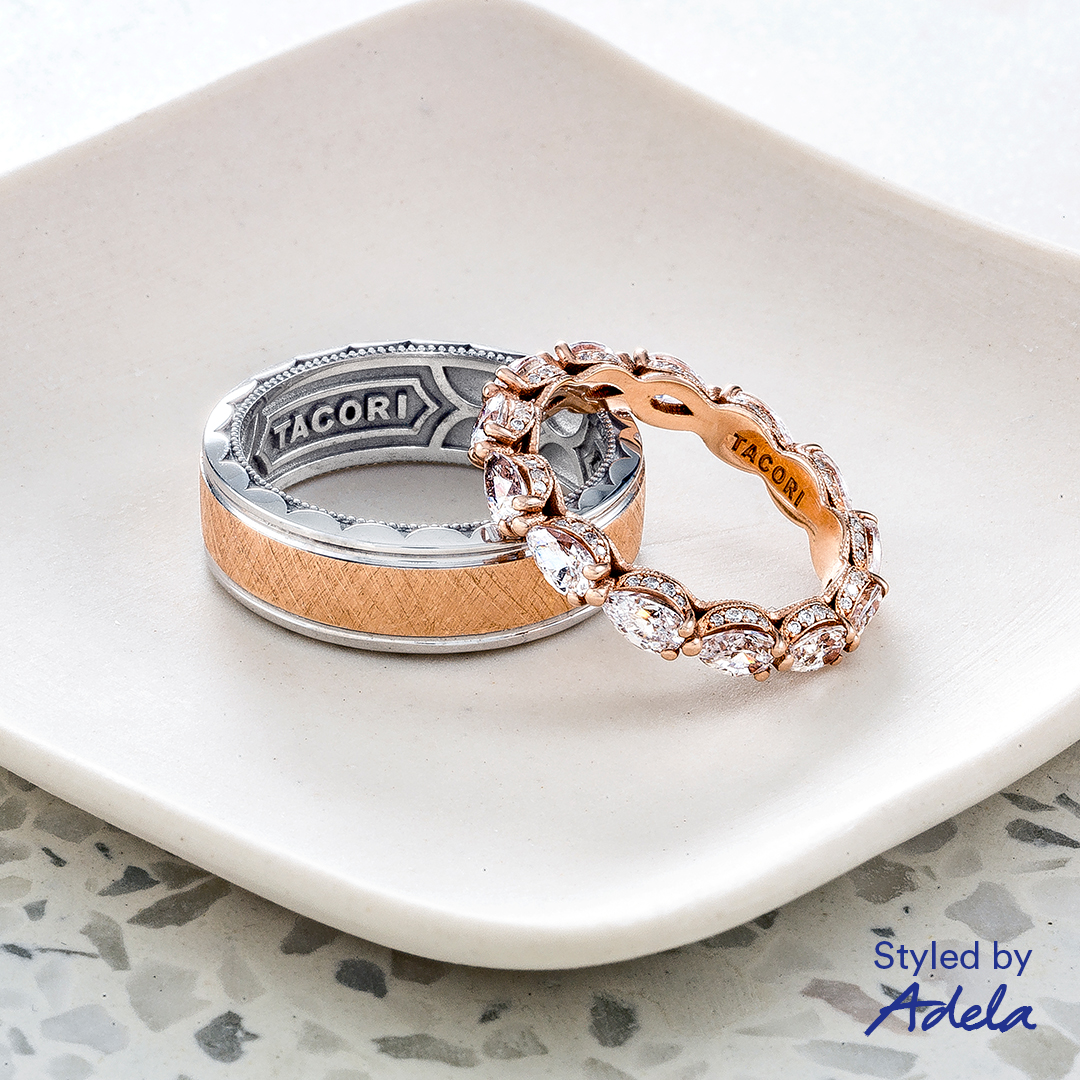 Mixed Finish
$4,690.00
USD
IN PLATINUM AND 18KT ROSE GOLD
RoyalT
$10,000.00
USD
IN 18KT ROSE GOLD
Michelle, Acquisition Innovation Manager, selected style numbers: P601-CB and HT2660. "Hers: Love this diamond intesnse look that adds extra sparkle to your finger! The side details are so pretty and unique. This band looks good just by itself or with an engagement ring. His: "I like the brush strokes on the bands that add an extra layer of dimension." Love Michelle's style? Click here to see all of the pieces, styled by Michelle.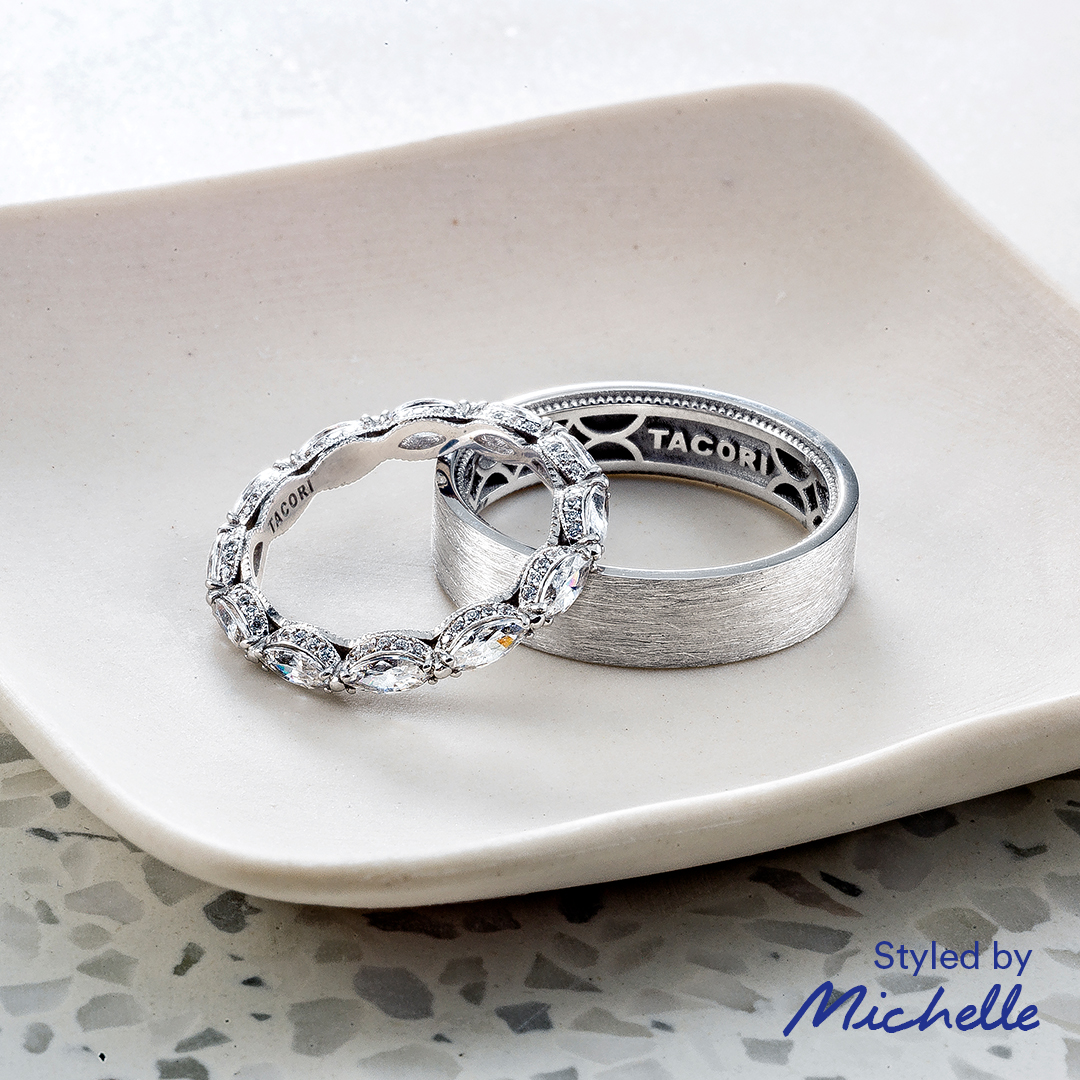 Classic
$1,690.00
USD
IN 14KT WHITE GOLD
RoyalT
$10,890.00
USD
IN 18KT WHITE GOLD
Margaret, Social Media Manager selected style numbers: 135YH and HT2558. "I'm a huge advocate of mixing metals. Love that you can have the best of both worlds with the mixed finished men's wedding band and how I can still rock my collection of silver and rose gold jewelry, while wearing the yellow gold band for myself. And the intricate marquise cut diamond detail of the and is an added bonus." Love Margaret's style? Click here to see all of the pieces, styled by Margaret.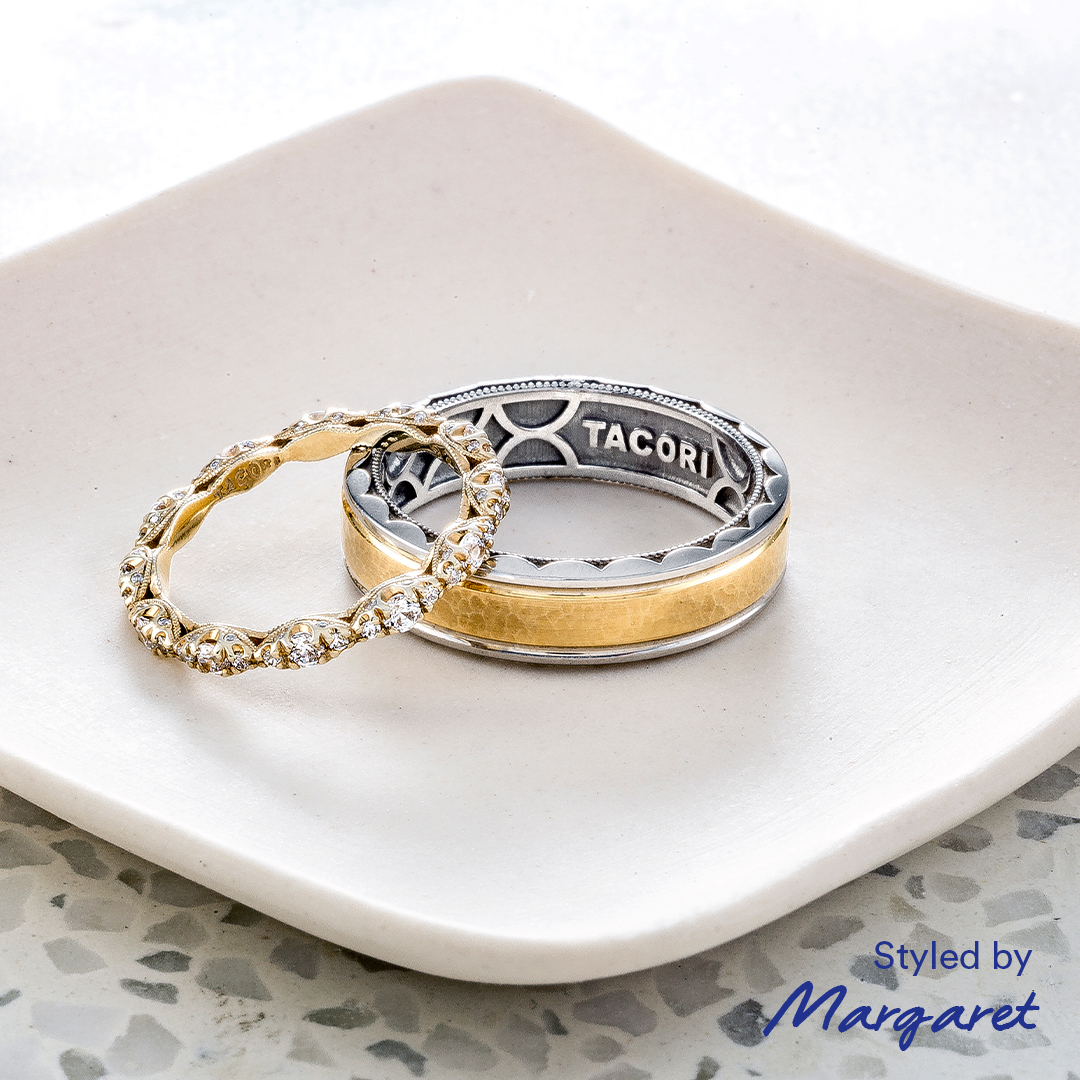 Mixed Finish
Petite Crescent
$5,290.00
USD
IN 18KT YELLOW GOLD
Many thanks to those of you who voted. The dream wedding rings were chosen by Adela, with her rose gold, non-traditional wedding bands. Leave a comment if you agree, or if you had another favorite. Or, leave a comment to let us know what Styling Challenge we should ask our expert Tacori Stylists to style next! xo