Trend alert! With A-listers like Kate Middleton, Isla Fisher, and Keira Knightley all opting-in on the mixed metal engagement ring and wedding band look, you'll be in super stylish company when you take this approach to your wedding ring stack. The key to making the look work when your wedding and engagement rings don't match? Use authenticity and individuality as your guiding forces. And with today's engagement ring styling trends all about breaking the mold to create something that feels truly you, here's how to unleash your inner magpie and explore all your options when creating mixed metal and stacked bands.
Set the Scene
Yellow gold, rose gold, white gold, platinum, oh my! Why just have one metal when you could have two? Depending on whether you're looking for something subtle or an all-out statement, more low-key effects can be created by pairing gold with rose gold, while for a more directional style, rose gold accenting platinum can create a bold look.
For a more nuanced nod to this trend, mixed metals can be further customized into the settings of the ring itself such as in the crescent fabrics or engagement ring setting. Tacori experts are always on hand to discuss how to create and customize your own engagement ring.
Dantela
$4,020.00
USD
IN 18KT ROSE GOLD
Not including center diamond

Dantela
$4,330.00
USD
IN 18KT WHITE GOLD
Complementing Styles
Another key consideration when deciding on your engagement and wedding ring duo is an overall style to keep your look cohesive. If you're after a more minimal and modern aesthetic for your engagement ring, for example, it's a good idea to keep to this theme for your wedding band too. Unmatched wedding and engagement rings are still worn as a pair—when you're mixing metals, your ring styles should still complement each other. The same advice goes for more statement, romantic or vintage engagement ring styles.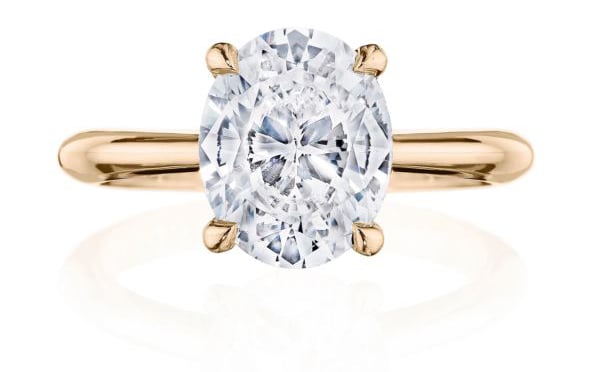 RoyalT
$3,090.00
USD
IN 18KT ROSE GOLD
Not including center diamond

RoyalT
$1,890.00
USD
IN 18KT YELLOW GOLD
Unique Shapes
While forging the relationship between your rings is important, that doesn't necessarily mean it has to follow the more traditional banded path. With so many elegant and exciting shapes now in the wedding ring remit, from our more playful Crescent collection such as criss-crossed, contours, ribbon twists, bezel-set in baskets, there's really no end to the interplay between your rings.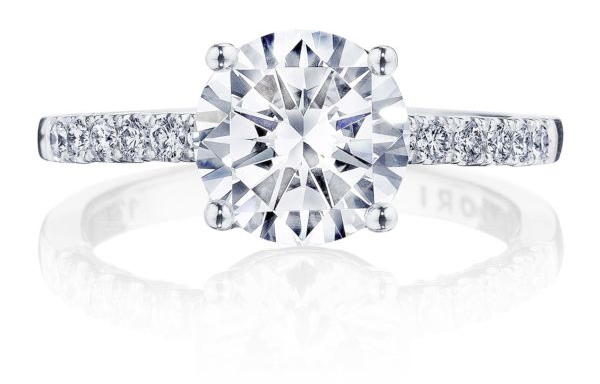 Coastal Crescent
Not including center diamond

Sculpted Crescent
$2,050.00
USD
IN 18KT ROSE GOLD
Color-Play
Just because you're mixing metals, doesn't mean you can't have a little fun with your stone selections too. While some prefer the diamond to take center-stage, other brides-to-be like to play with color-pops, which can be achieved by playing with the gemstones on a stackable Sculpted Crescent wedding ring. Think pink or blue sapphires, rubies, or emeralds through to statement black diamonds in a variety of ring coverages. And, for the more color-bold bride, try stacking several wedding bands to create a sparkling-chic rainbow effect, or opt-in on the something blue trend.
Dantela
$2,690.00
USD
IN PLATINUM
Not including center diamond

Sculpted Crescent
$1,690.00
USD
IN 18KT YELLOW GOLD, HALF-WAY
Unifying Feature
Get into the details of your pairing, by uniting them with a single feature. It could be a diamond pavé element on the band, or two rings from the same Tacori collection such as Dantela or RoyalT—all designed to work in synchronicity whatever metals you choose.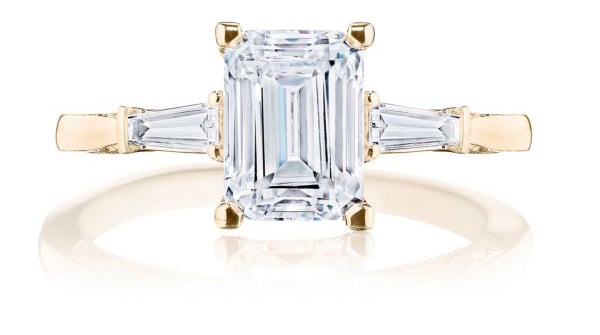 Simply Tacori
$3,890.00
USD
IN 18KT ROSE GOLD
Not including center diamond

RoyalT
$11,790.00
USD
IN PLATINUM, ETERNITY
Once you've picked the perfect pairing of metals, shapes, and stones, show the world with an effortless engagement ring selfie.
Discover More Tacori:
The Shape Guide: The Marquise Cut