Undoubtedly, the allure of the mixed metal engagement ring and wedding band look is more than a trend. This approach to curating your wedding ring stack is appealing in its versatility, with authenticity and individuality acting as the guiding force for making this wedding ring stack work.

So no, your engagement ring and wedding band metals don't need to match in order to go well together, much like how you and your partner's differences are often complementary. Today's engagement ring stying revolves around shattering conventional norms, and creating a mixed metal and stacked band allows you to build something totally distinct.

Without further ado, here's how to make the wedding rings of mixed metal bridal stacks work together.
Set the Scene - Choose Your Mixed Metals


Do you want a subtle mixed metal stack or an all-out statement? Low-key metal pairings can be created by pairing two warm metals together, like gold with rose gold. But for a bolder style go for a warm metal and a bright metal, such as rose gold with platinum.

You may want to choose your metals based on your skin tone. Certain metals may look more flattering against specific skin tones. For example, rose gold often complements warmer skin tones, while white gold or platinum can work well with cooler tones.

Dantela
Coordinate the Styles


Another key consideration when deciding on your engagement and wedding ring duo is an overall style that will keep your look cohesive. If you're after a more minimal and modern aesthetic for your engagement ring, for example, it's a good idea to keep to this theme for your wedding band too. Unmatched wedding and engagement rings are still worn as a pair— and when you're mixing metals, your ring styles should still complement each other. The same advice goes for more statement, romantic or vintage engagement ring styles.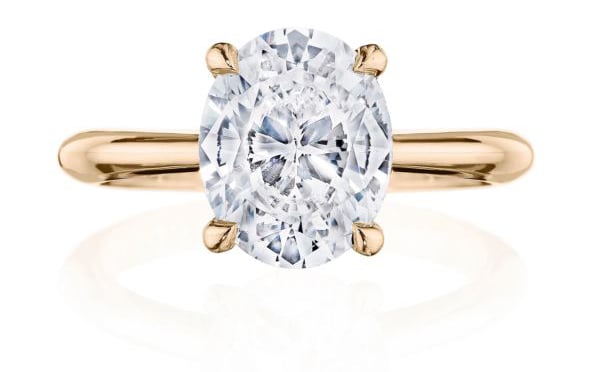 RoyalT

RoyalT
Mix or Match Unique Shapes
Make your mixed metal wedding set more playful, or more cohesive, by mixing or matching accent stone shapes. Matching stone shapes - such as adding pavé to the ceiling of both - can add a unified sparkle, while selecting different accent stones can create a more nuanced sparkle. You can't go wrong when it comes to sparkle. There's no end to the potential interplay of shapes and light in your wedding ring stack.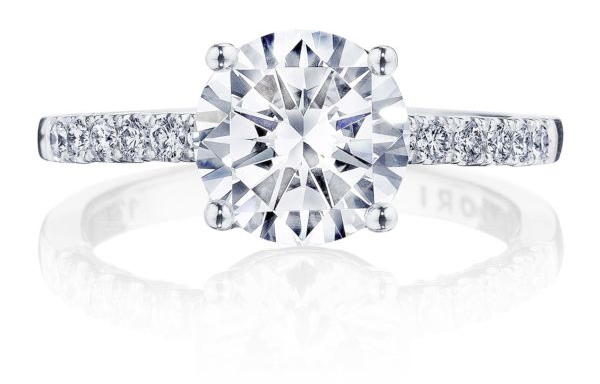 Coastal Crescent

Sculpted Crescent
Play With Color
Just because you're mixing metals, doesn't mean you can't have a little fun with your stone selections too. While some prefer the diamond to take center-stage, other brides-to-be like to play with color-pops, which can be achieved by playing with the gemstones on a stackable Sculpted Crescent wedding ring. Think pink or blue sapphires, rubies, or emeralds through to statement black diamonds in a variety of ring coverages. And, for the more color-bold bride, try stacking several wedding bands to create a sparkling-chic rainbow effect, or opt-in on the something blue trend.

Sculpted Crescent
Add A Unifying Feature
Design elements like milgrain, pavé detailing, and Crescent Fabrics can add synchronicity to mixed metal ring stack by uniting your engagement ring and wedding band with a single feature. For example, you could choose a Simply TACORI Crescent Fabric to give a minimalist aesthetic to both, whereas you can add lace-like detailing to each ring with a Dantela Crescent fabric.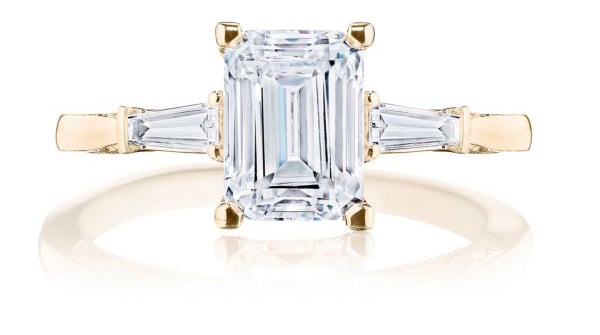 Simply Tacori

RoyalT
Your mixed-metal wedding rings are sure to be unlike any other ring stack.
Discover More TACORI:
The Best Wedding Bands for Emerald Cut Engagement Rings
How to Choose the Right Precious Metal for Your Engagement Ring
12 Of Our Favorite Yellow Gold Engagement Rings
Our Guide to Rose Gold Engagement Rings