They don't make them like they used to, and the same can be said for vintage style engagement rings. If you love an antique look from glamorous eras in the past, vintage engagement rings have a romantic beauty that draws you in.
To get technical with terminology, an antique engagement ring is over 50 years old, which now means anything made before the 1970s. A vintage engagement ring is a conversational term that some use to mean older than 20 years, and others use the term "vintage engagement ring" to describe a new ring styled to look like a ring from an older era.
We handcraft every ring in our California Design Studios for superior quality that looks and feels like the finest rings from 100s of years ago or are styled as vintage engagement rings for women, and yet are imbued with modern craftsmanship for that strength and structure that will keep your ring safe for years to come.
We've selected a few of our favorite vintage style engagement rings for women...
Vintage Engagement Rings For Women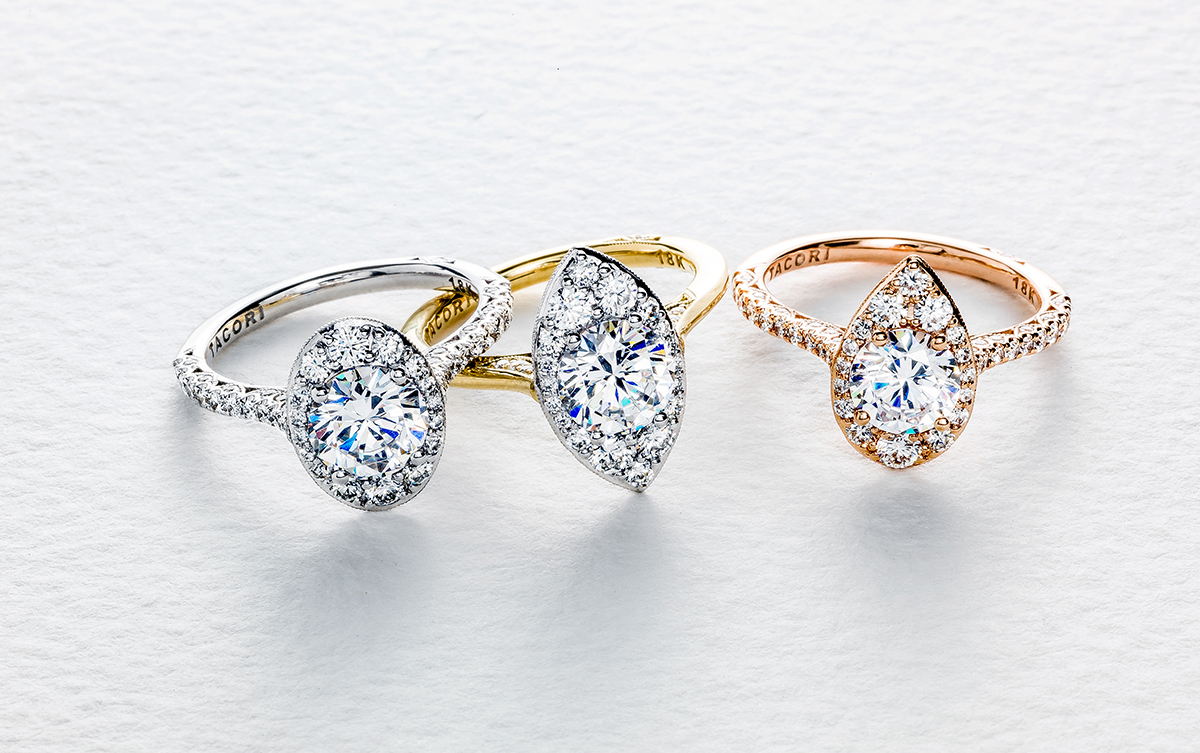 Vintage engagement rings often showcase unique shapes that stand apart from a round solitaire. That's why we love these Inflori illusion rings, which take a classic round-brilliant diamond and delivers vintage flair by transforming it to look like a 3- carat oval, 3-carat marquise or a 4-carat pear.
Inflori
STYLE HT2576RDPS65PK
Inflori
STYLE HT2577RDMQ7YW

Inflori
STYLE HT2576RDOV65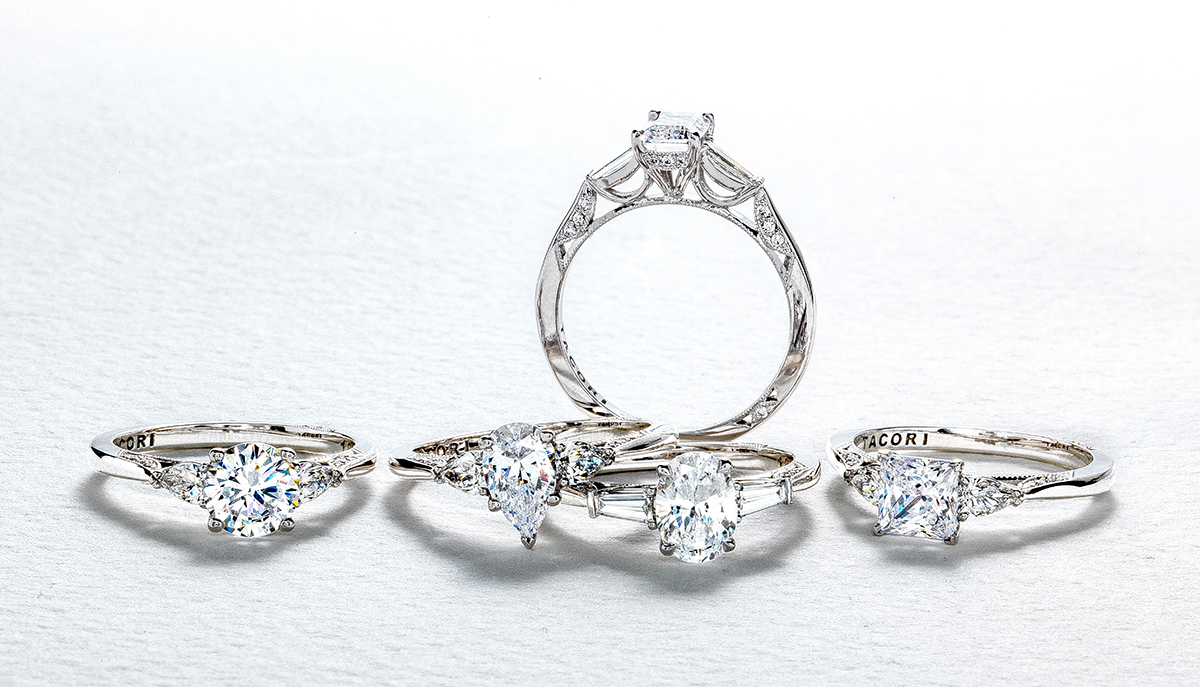 Vintage engagement rings often featured fancy diamond shapes like baguettes and pears. With clean lines and elegant simplicity, these three-stone rings offer a timeless vintage trend for brides today.
Simply Tacori
STYLE 2668RD65W


Simply Tacori
STYLE 2668PS9X6


Simply Tacori
STYLE 2668EC7X5W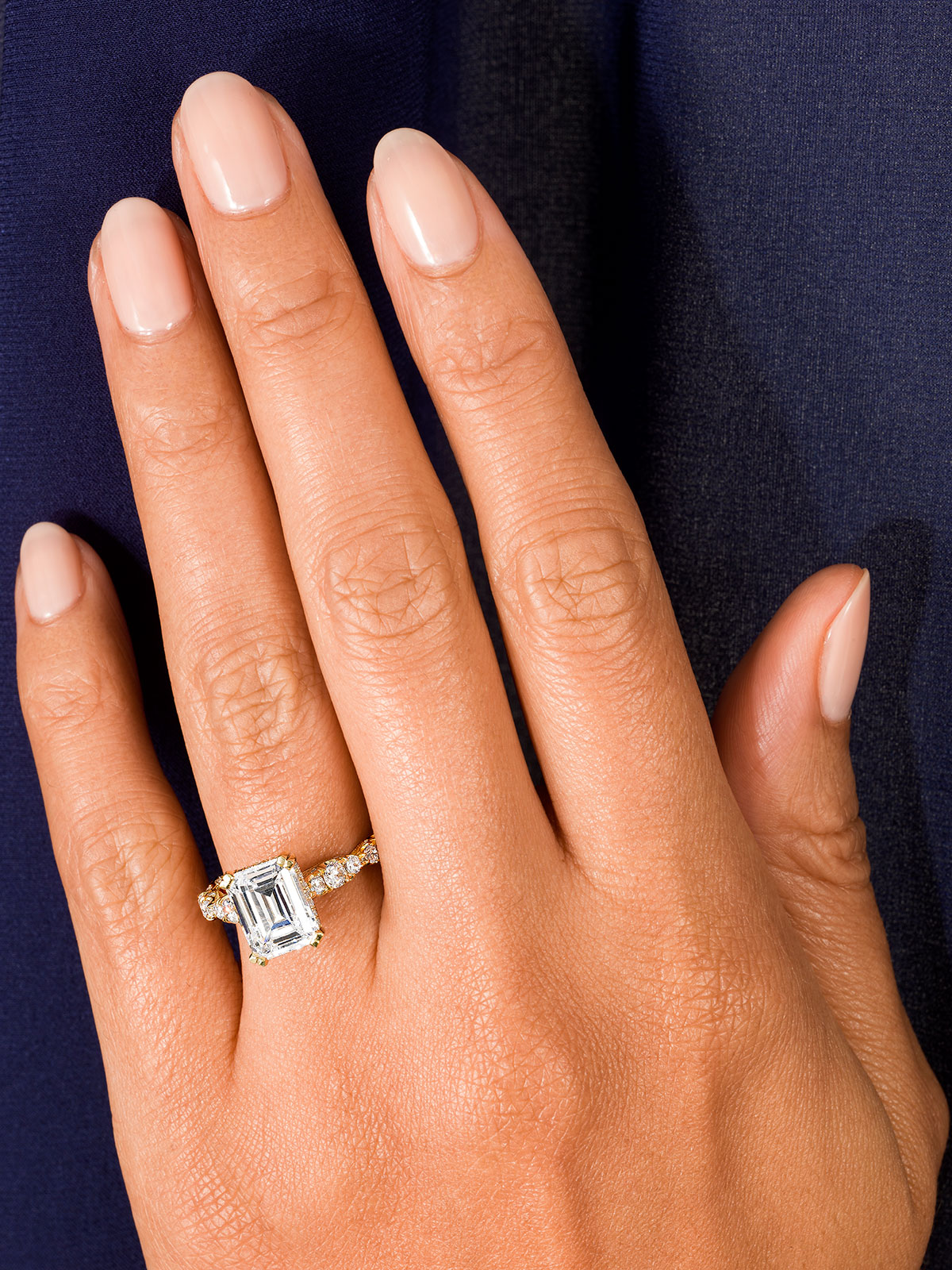 Another hallmark of vintage engagement rings is the pride of artisanship and detailed design work on the setting itself. In this vintage style engagement ring from Tacori, our designers have created uniquely detailed diamond marquise shapes along this band of the ring, which adds romance and heirloom appeal.
Petite Crescent
STYLE HT2558EC85X65PK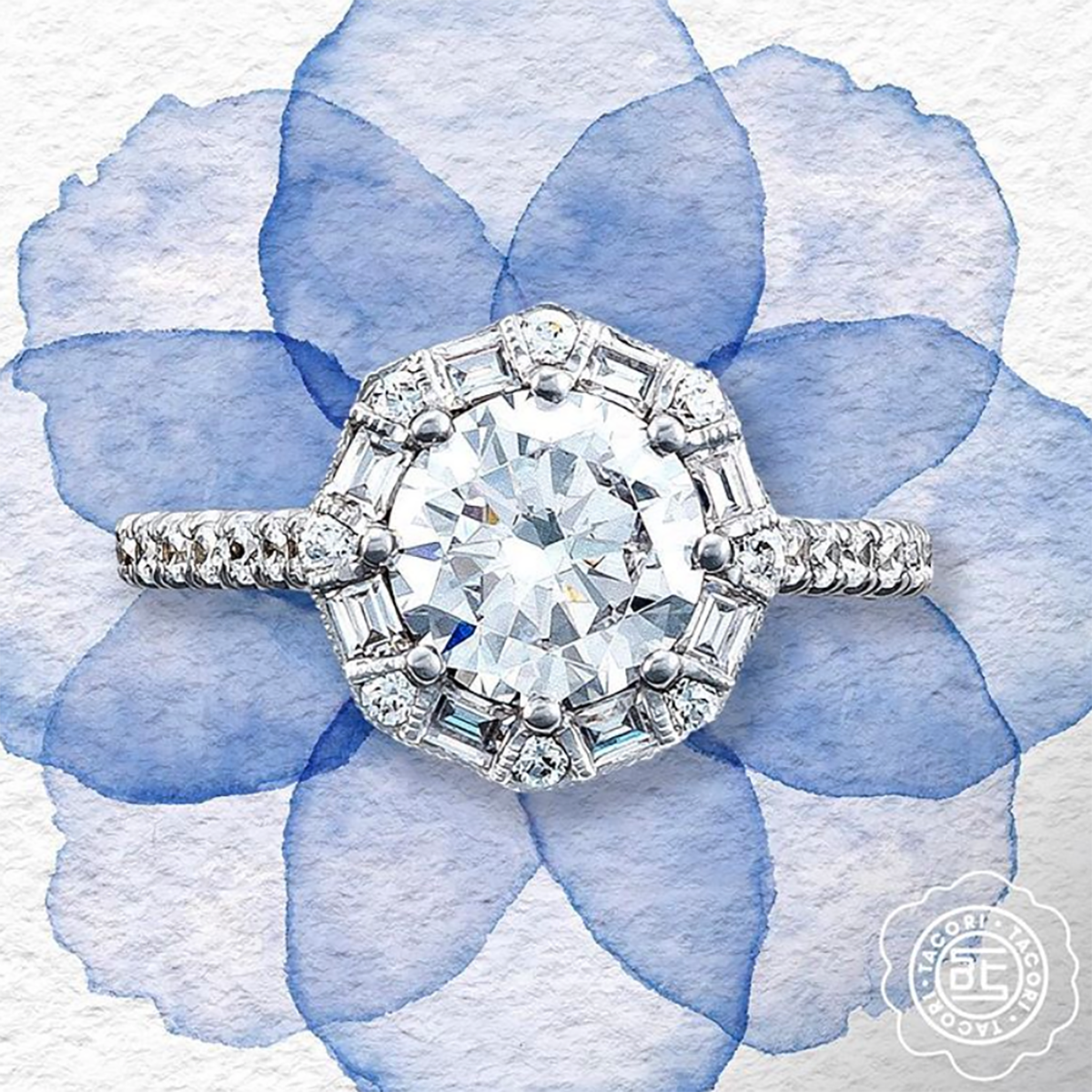 One of our all-time favorite rings with vintage details we love. The decorative bloom detail of alternating baguettes surrounding the center stone delivers an Art Deco, Edwardian aesthetic. Tacori's commitment to old-world craftsmanship creates a look that's both timeless and totally today.
Petite Crescent
STYLE HT2556RD65W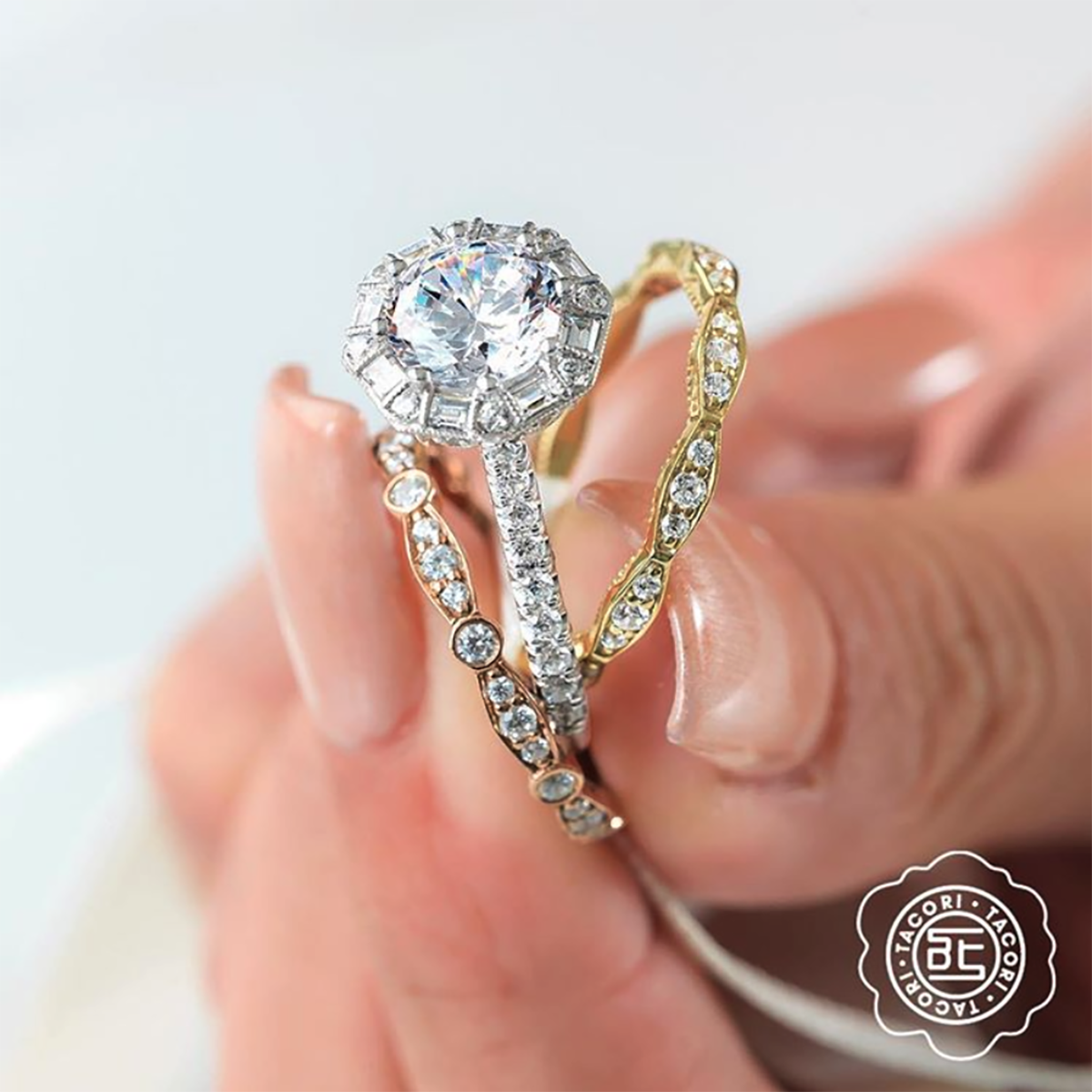 A truly regal combo. This vintage engagement ring for women delivers a vintage look with the Art Deco style bloom punctuated with baguettes and round diamonds dancing around the round center. Pair it with diamond bands in different shapes, sizes and colors for a modern flair.
Sculpted Crescent
STYLE 47-2ETPK


Petite Crescent
STYLE HT2556RD65


Sculpted Crescent
STYLE 46-25ETY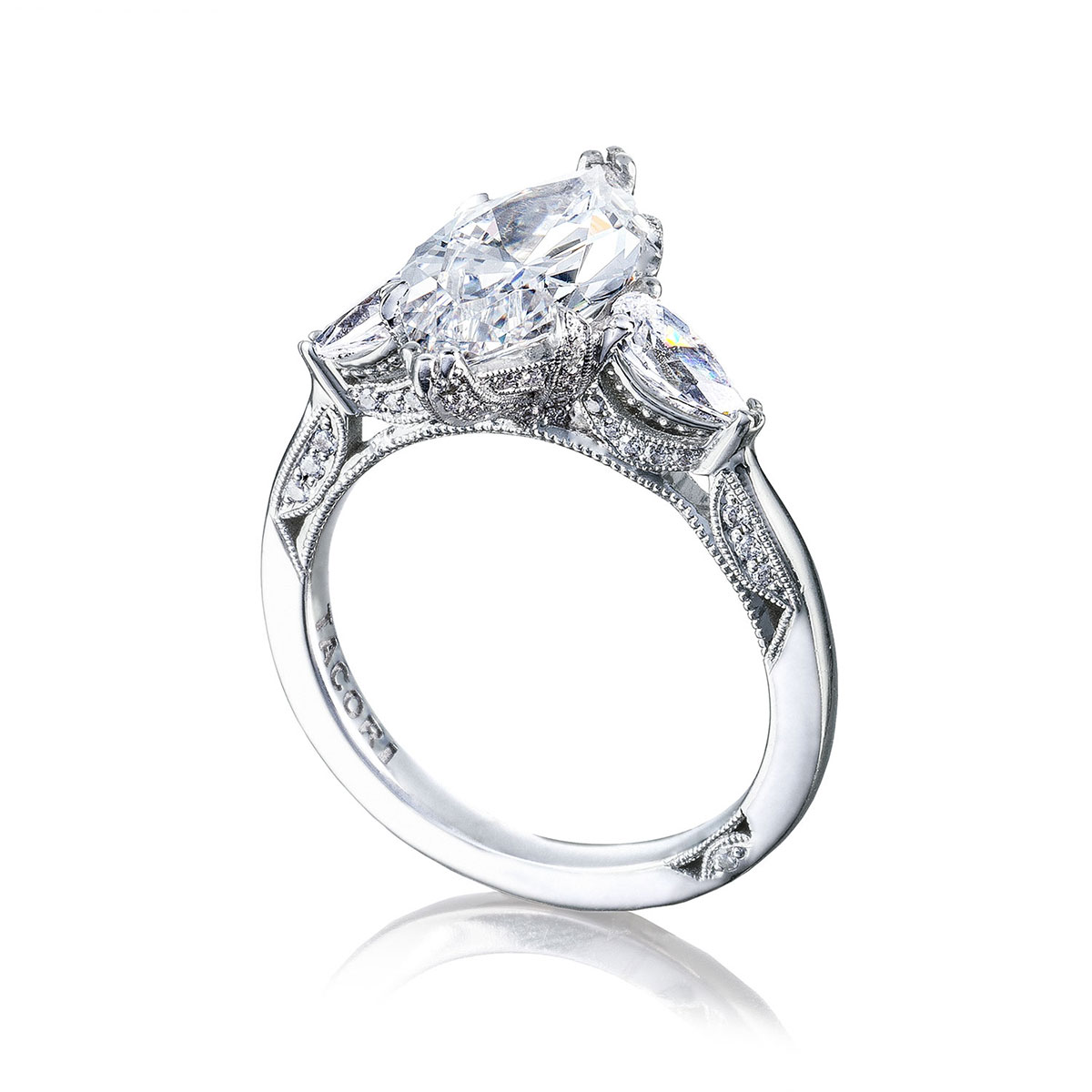 Three-times the charm. A diamond to represent your past, present and future. The marquise-shaped center adds an antique vibe to this unparalleled ring.
RoyalT
STYLE HT2628MQ15X75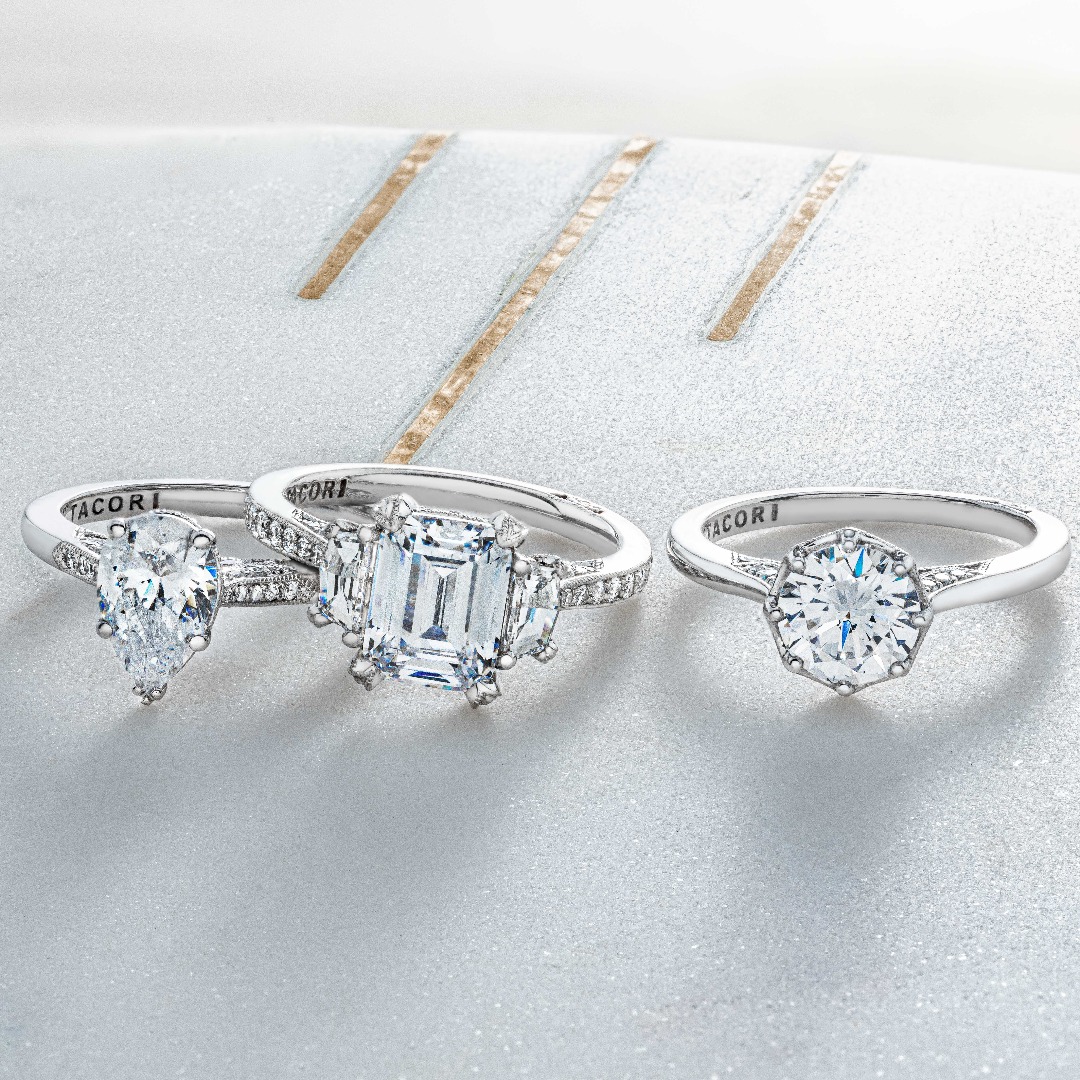 Give a nod to the cocktail ring era with a center stone that gives an Art Deco edge.

Simply Tacori
STYLE 2651PS8X5


Simply Tacori RoyalT
STYLE HT2656EC


Simply Tacori
STYLE 2653RD8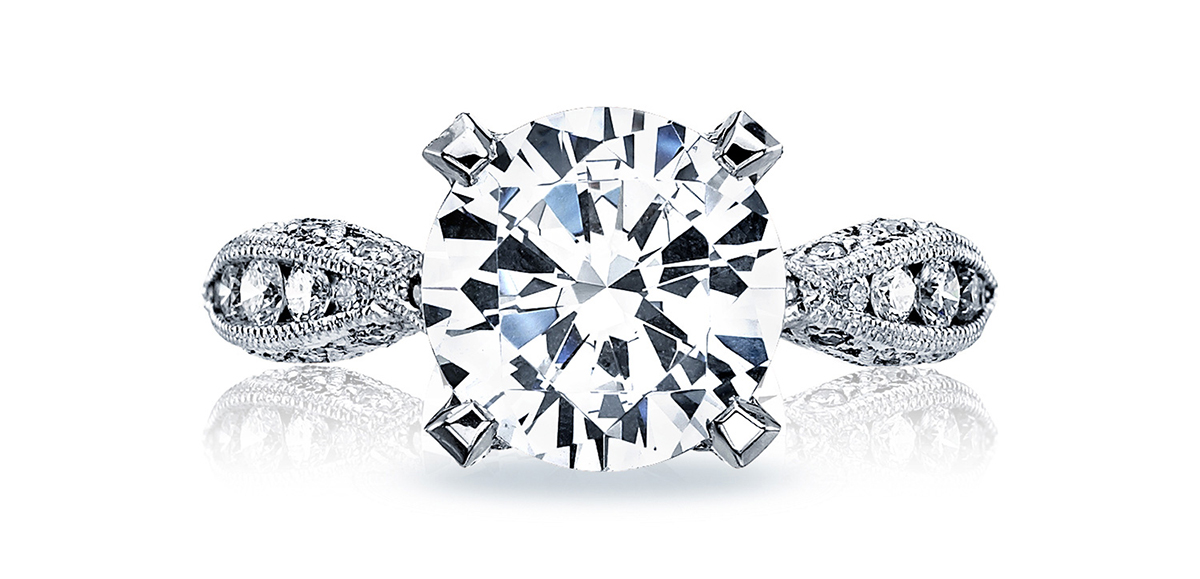 This one is worthy of your legacy. The intricate four-prong pavé-set gallery beneath the center diamond of your choice is evocative of a budding flower reaching ultimate beauty. Truly a one-of-a-kind engagement ring that will take breaths away for years to come.

RoyalT
STYLE HT2602RD95
$8,990.00 USD IN PLATINUM
Not including center diamond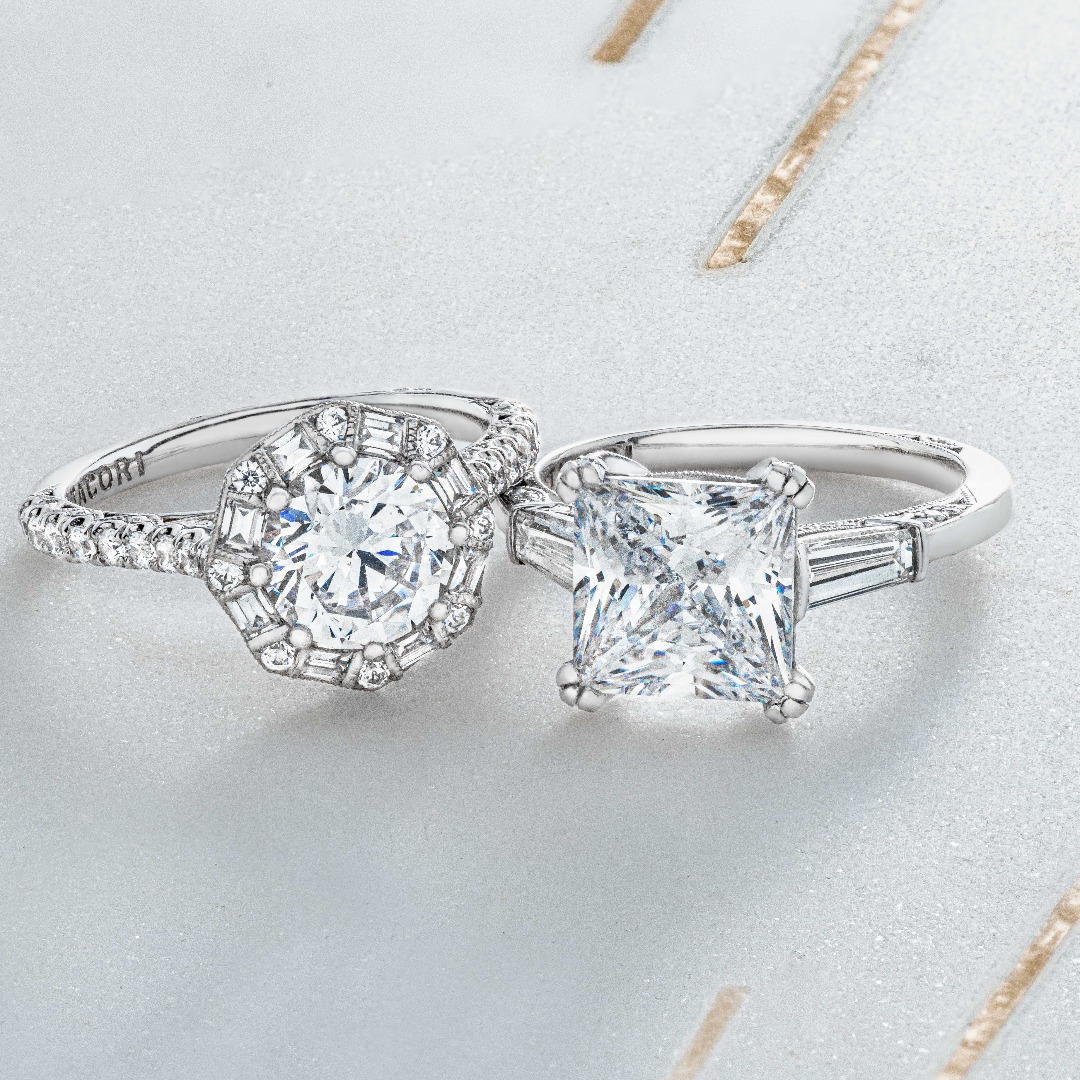 Clean, crisp lines with intricate hidden details, these beauties are truly iconic vintage styles for a new generation.
Petite Crescent
STYLE HT2556RD65
$6,990.00 USD IN PLATINUM, ETERNITY
Simply Tacori RoyalT
STYLE HT2657PR7
$8,890.00 USD IN PLATINUM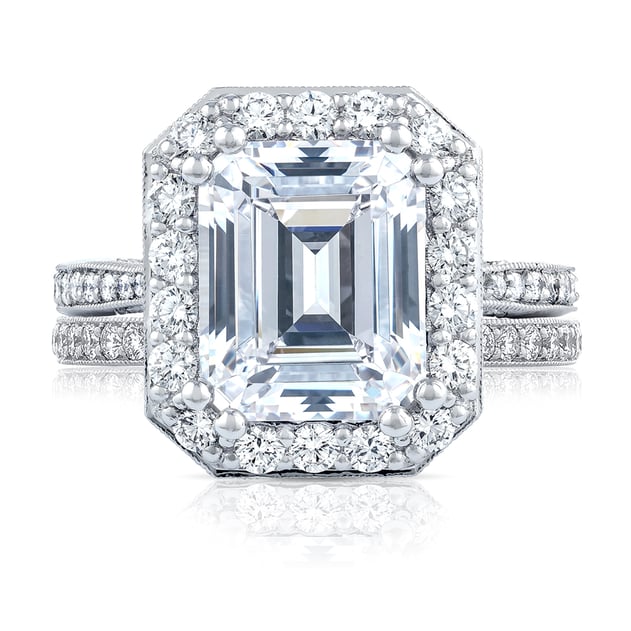 Effervescent shine that channels the glitz and glamour of the Art Deco era. The emerald-cut center with a bloom and graduated pavé-set diamonds on the band to pop, creating an exquisite all-angles sparkler.

Simply Tacori RoyalT
STYLE HT2652EC9X7
$7,970.00 USD IN PLATINUM
Not including center diamond



This combo instantly adds Gatsby-esque glamour to your wedding band with horizontally-set baguette-cut diamonds.
RoyalT
STYLE HT265865


Simply Tacori
STYLE 2654EC75X55


Already have a vintage style ring from Tacori that you love? Tag us in your pictures with @TacoriOfficial and #LoveTacori for a chance to be featured.


Discover More Tacori:
The Shape Guide: Emerald Cut Engagement Rings
The Shape Guide: The Marquise Cut