While the classic solitaire engagement ring may rule supreme as the most popular engagement ring style, three stone engagement rings are a close contender. The cluster of three precious gems—symbolically representing the past, present, and future—makes the three stone engagement ring setting uniquely primed for styling possibilities.
What Are Three Stone Engagement Rings?
Also known as a trilogy or trinity ring, three stone engagement rings are made up of three stones that are believed to represent not only the past, present, and future, but also friendship, love, and fidelity. A solid choice if you're looking for a ring with added depth and meaning, this storied engagement ring setting is effortlessly versatile, and options in design mean there's a three stone engagement ring to suit every style.
Are Three Stone Engagement Rings Popular?
Iconic and timeless, three stone engagement rings have been a popular choice for centuries. First rising to prominence in the Georgian and Victorian eras, the three stone diamond ring setting experienced a revival in the 20th century. Its most recent surge in popularity can be attributed to the now iconic three stone engagement ring that Prince Harry designed for his then bride-to-be, Meghan. Featuring a cushion cut diamond center stone flanked by two round diamonds that belonged to Princess Diana, this ring has inspired countless versions. The beauty of this engagement ring setting: a chance to marry heirloom stones with hand-chosen diamonds in a one-of-a-kind engagement ring.
What Stones Can Be Set in a Three Stone Engagement Ring?
Depending on your taste and style, your three stone engagement ring might feature three equally sized stones of the same cut for a balanced effect, or two smaller stones offsetting a larger center diamond. You can also try matching cut stones for symmetrical synergy or have two different shaped stones flank the center and create a dynamic contrast.
At TACORI, we've updated the classic three stone look by choosing unexpected side stone options like tapered baguettes, Cadillac cut diamonds, pear-shaped diamonds, or half-moon diamonds. These complementing shapes create memorizing light play, setting the center stone ablaze.
Not all side stones have to be diamonds. Precious colorful gemstones, a birthstone, or heirloom stones all work. The sky's the limit when it comes to creating beautiful three stone combinations.
Meet Our Favorite Three Stone Engagement Rings
When you have three stones to play with instead of one, options abound. These are some of our most popular three stone engagement ring styles, each with its own special characteristics.
Refined Simplicity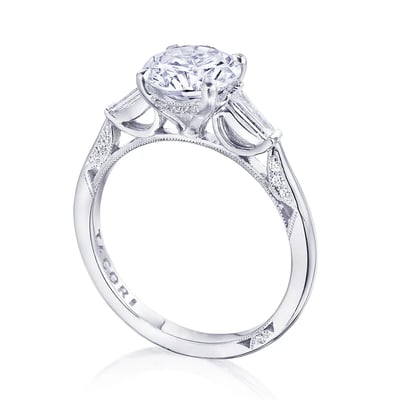 If you're looking for a three stone engagement ring that combines minimalism with subtle detailing, our Simply TACORI 3-Stone Engagement Ring is the one. Featuring baguette side stones, this ring celebrates the contrast between angular and fluid diamond shapes. The streamlined top view is complemented by the hidden bloom of diamonds below the center stone and ornate metalwork and diamond-infused inner crescents visible in side profile.
Marquise Sides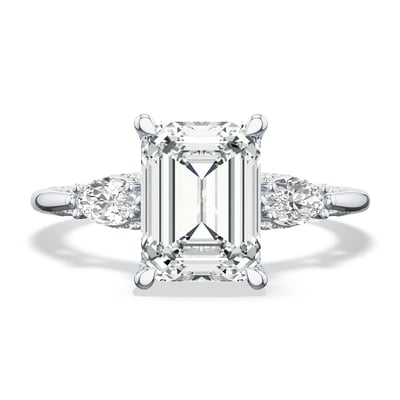 For a modern take on the classic three stone setting, this Simply TACORI 3-Stone Emerald Engagement Ring is a trilogy of elegance. Marquise side stones sit on raised TACORI crescents, punctuated with milgrain beading and completed with a hidden bloom. Shining out from all angles, this is elevated minimalism at its finest.
Fit For a RoyalT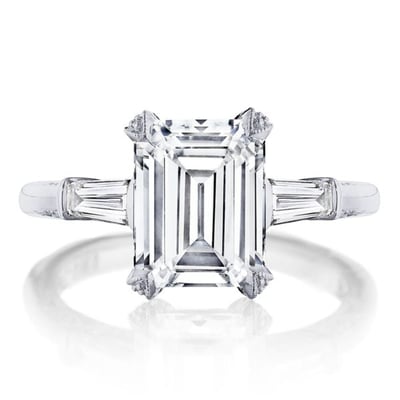 RoyalT
STYLE HT2657EC
Our RoyalT collection reigns supreme with exquisite three stone engagement ring options. Teaming up with the modern edge of Simply TACORI, this Simply TACORI RoyalT Emerald 3-Stone Engagement Ring features a four-prong setting infused with diamonds that give way to baguette side stones. The cathedral setting's side profile showcases ornate metalwork and milgrain beading punctuated with diamond crescents.
Triple Elevation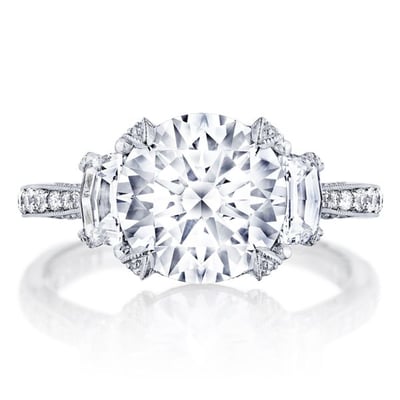 RoyalT
STYLE HT2656RD95
Few engagement rings demonstrate the power of three better than the Simply TACORI Round RoyalT 3-Stone Engagement Ring. Two side Cadillac diamonds flank a round center stone (you can choose an oval or emerald cut as well) with pavé set diamonds on the band. Diamond infused prongs hold the crown in place, with hidden blooms under each diamond plus diamond crescents on the sides. Truly mesmerizing every way that you look at it.
Diamond Intense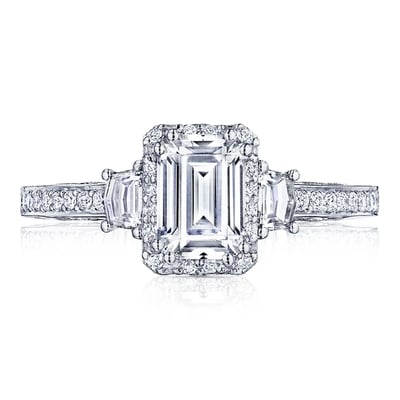 Did you know you could bloom a three stone engagement ring? The Dantela Emerald 3-Stone Engagement Ring demonstrates the magical blend of a center stone bloom and two high-intensity Cadillac side stones to enhance the diamond coverage. With almost no metal visible from the top view, pavé set diamonds on the band add to the dazzling diamond dance for unparalleled luminosity.
Whatever three stone engagement ring style you choose, it's always a good idea to regularly clean and maintain your engagement ring to keep it in optimum condition for years to come.
More Tacori:
Delicate and Thin Band Engagement Rings
Why Choose a Classic Engagement Ring Setting?
Engagement Rings With Hidden Details
Minimalist Engagement Rings You'll Love
The Best Solitaire Engagement Rings
Why Choose a Classic Engagement Ring Setting?
How To Choose a Pave Engagement Ring