Emerald cut diamond engagement rings are one of the biggest engagement ring trends we're seeing right now. Graceful and enduringly glamorous, today, the emerald cut remains one of the most sought-after fancy shapes for engagement rings. Boasting elegance and a timeless yet contemporary edge, the emerald cut is as versatile as it is chic, offering many different ways to work this iconic shape into your style.
Beloved by the A-list, iconic emerald cuts have adorned the likes of Grace Kelly, Jennifer Lopez, Liz Taylor, Beyoncé, and Amal Clooney to name a few. The versatility of this stunning diamond cut makes for a sparkling array of options, from minimalist to maximalist, vintage to contemporary, subtle to statement. Long story short, there's an emerald-cut engagement ring for every style.
One of the oldest diamond shapes, the emerald cut originates back to the 1500s when stonecutters would cut actual emeralds into the distinctive rectangular shape. This helped reduce pressure during the cutting process and prevented chips in the stone. Diamond cutters then adopted this technique, and in the 1920s, the emerald cut diamond was created. The era of Art Deco and flapper girls, the emerald cut diamond became synonymous with the clean lines and symmetry that was so in vogue during this period.
Why Choose an Emerald Cut Diamond Engagement Ring?
Emerald cut diamonds are loved for their understated, yet classic beauty. With their long lines and satisfying symmetry, emerald cut diamonds are an elongated rectangular shape, which has elegant vintage vibes but with a modern clean, contemporary edge.
Emerald cut diamonds feature chiseled step cuts and straight, parallel linear facets to create a different diamond fire effect to other shapes. With a greater surface area than other shapes such as round brilliant cut, this makes the diamond appear larger, while the liner facets give it a mirror-like shine, with flashes of both white and colored light.
And, with its elongated shape, it's a flattering diamond cut, helping to create a slender effect on the finger.
Because of its large surface area, the emerald cut diamond is thought to be symbolic of its wearer having an open heart. Refined, innately glamorous, and truly timeless, the emerald cut diamond delivers some serious presence without looking too fussy or ornate, making it a popular choice for minimalists and those looking to make a statement.
Making a stunning solo stone, emerald cut diamonds work well as solitaire settings, and can also be enhanced by a halo or bloom of additional diamonds to boost the sparkle factor. They can also be three-stone engagement settings for an Art Deco mood.
Discover our lineup of emerald cut diamond engagement rings…

The Ornate Emerald
This three-stone emerald cut RoyalT engagement ring features a diamond intense triple bloom and cadillac-cut side diamonds, for a bold and Art Deco take on the emerald cut diamond engagement ring trend.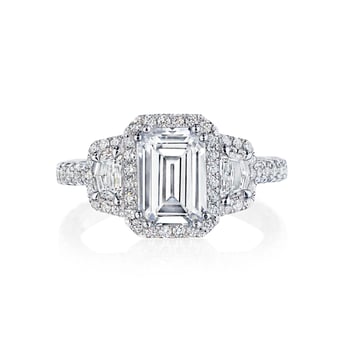 Not including center diamond
The Modern Emerald

A beautiful emerald cut diamond solitaire for the minimalistic bride seeking a classic engagement ring. Designed by our founder, Haig Tacorian, it features a four-prong emerald cut center stone, with a hidden bloom nestled just underneath to enhance its side profile with subtle sparkle. A high-polish band and diamond studded signature Crescent at the resting point of the ring keeps it oh-so elegant and refined.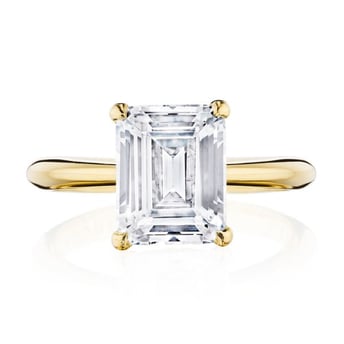 RoyalT
Not including center diamond
The Three-Stone Emerald

This Simply Tacori emerald cut diamond engagement ring features contrasting pear-shaped side stones graduating to the center. Intricate metalwork and diamond studded crescents add to the all-angles shine of this radiant ring.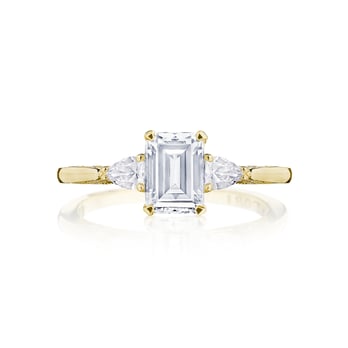 Simply Tacori
$3,990.00 USD IN 18KT YELLOW GOLD
Not including center diamond
The Minimalist/Maximalist Emerald

With its timeless vintage aesthetic and clean, contemporary lines, the Simply Tacori Emerald 3-Stone Engagement Ring is the best of both worlds. Minimalist up top, maximalist down below, it features an exquisite diamond studded four-prong emerald cut center stone, flanked by two baguette diamonds for that linear diamond balance. From the side profile, a hidden bloom of diamonds is nestled under the crown, while diamond infused crescents and milgrain detailing add even more dimension and texture.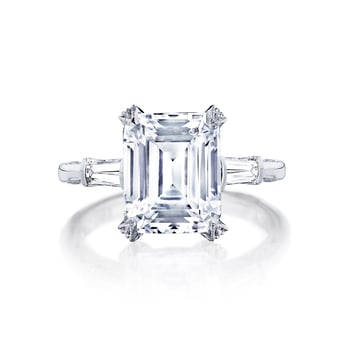 Diamond Cuts Guide:
Oval Cut Engagement Rings Guide
The Marquise Cut Engagement Ring
The Princess Cut Engagement Rings
Cushion Cut Engagement Rings Guide
Round Brilliant Cut Diamond Guide