Are you going for gold? Well, this one's for you. Yellow gold is one of the bestselling precious metals for engagement rings thanks to its glamourous vibes and warm, sunny hues. We've selected 12 of our favorite yellow gold engagement rings for you to love.
Reasons To Choose a Yellow Gold Engagement Ring
Yellow gold engagement rings were the go-to standards for couples tying the knot from the 1960s to 1980s. When Prince Harry proposed to the Duchess of Sussex, Meghan Markle with a diamond ring set in a Welsh yellow gold band, the love for yellow gold reignited.
While it packs plenty of personality, yellow gold is actually a super versatile precious metal, working with many different styles and looks. Great for all skin tones, you can also mix and match yellow gold with other gold colors too for a statement effect.
At TACORI, we work in 18K gold for its weight and its exquisite saturated yellow hues. Because pure gold is soft (platinum is the strongest precious metal), our yellow gold contains a mix of harder metals to allow for the intricacies of TACORI designs.
And, with the rise of yellow gold fashion jewelry - whether it's with gold layered necklace chains, statement rings, or dainty golden huggie earrings, a yellow gold engagement ring is a natural fit.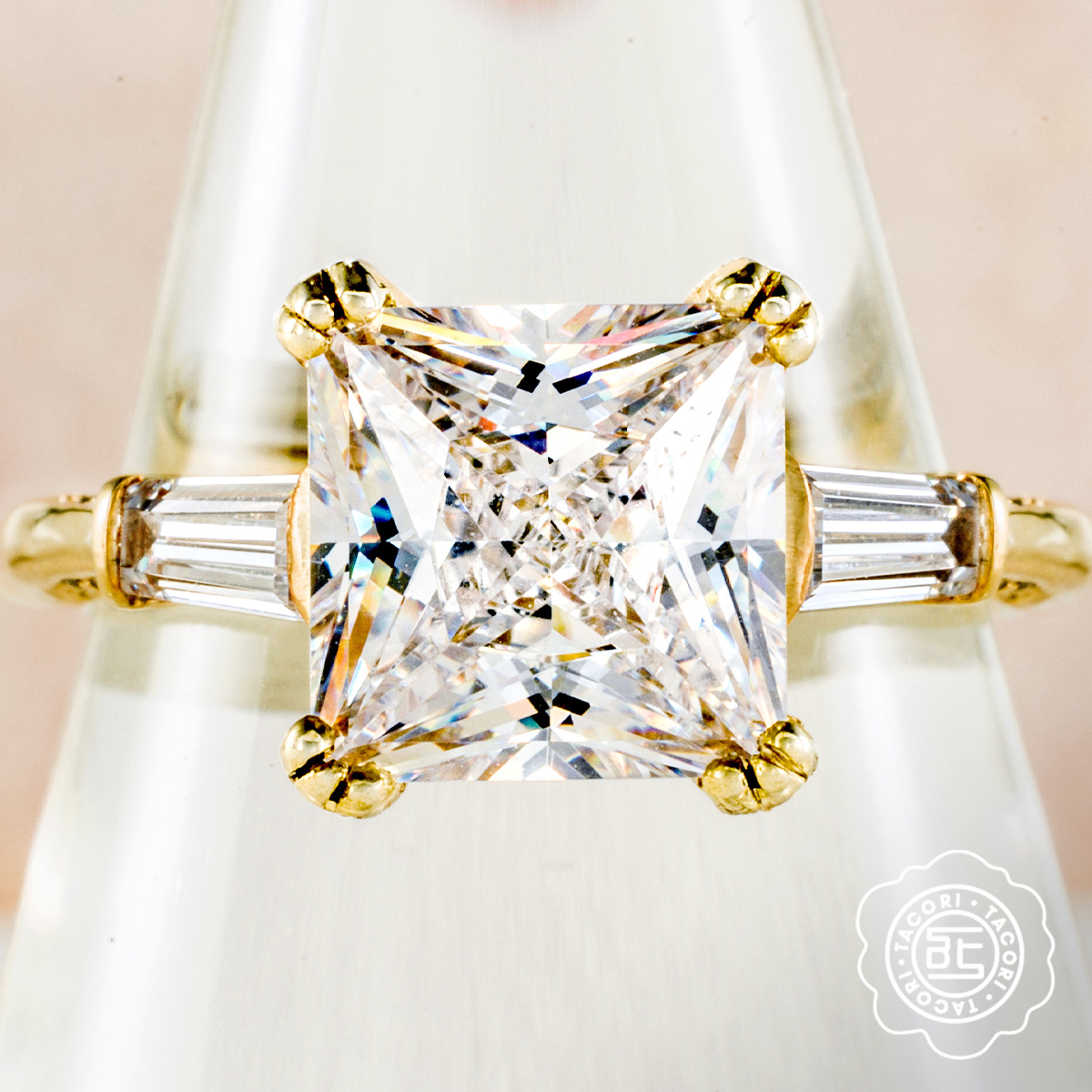 RoyalT
STYLE HT2657PR7Y
Celebrate your past, present, and future with a 3-stone yellow gold engagement ring. This golden Princess cut diamond yellow gold engagement ring is perfectly accented with tapered baguettes for modern elegance.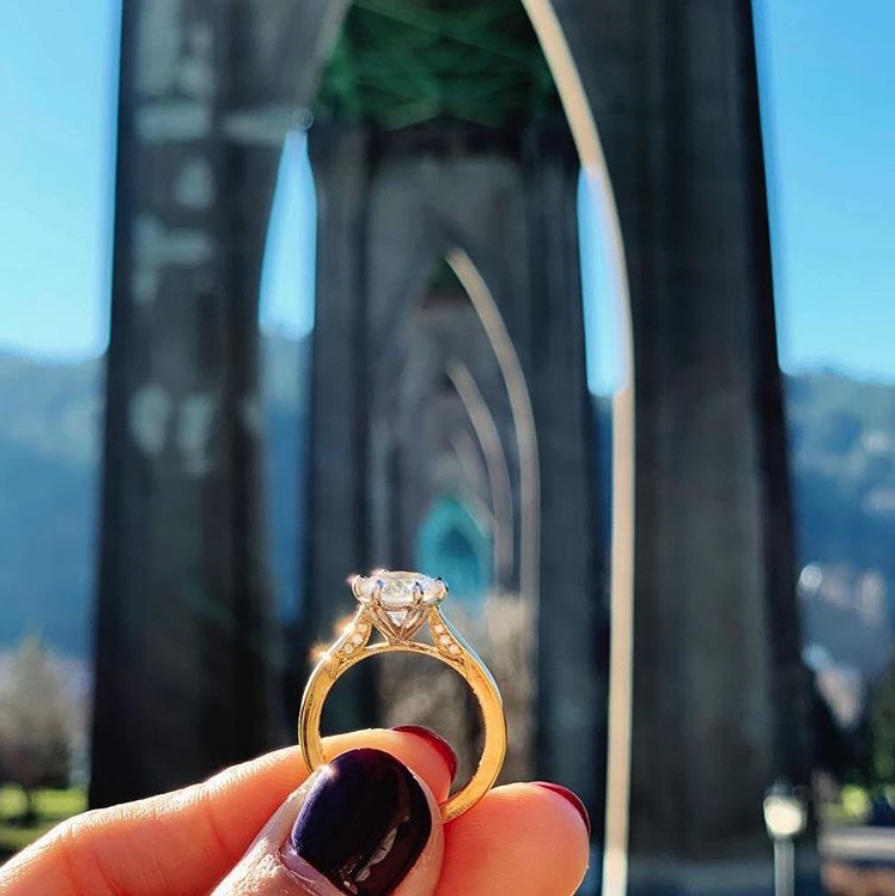 Simply Tacori
STYLE 2650RD65Y
Cathedral engagement ring setting in Cathedral Park. Stunning capture by @corinnachelsea. The beauty of Tacori rings is truly in the details.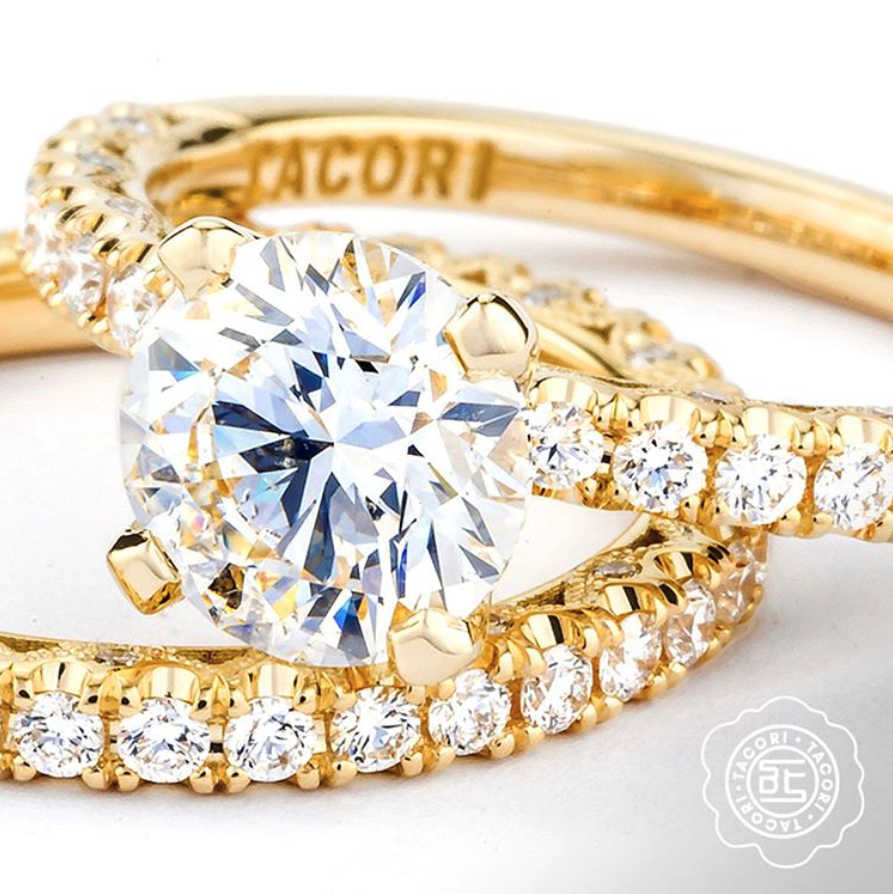 Petite Crescent
STYLE HT2545RD65Y
Petite Crescent
STYLE HT254525BY
Bring on the golden sunshine. What do you think? Would you wear a stacked yellow gold wedding ring set like this?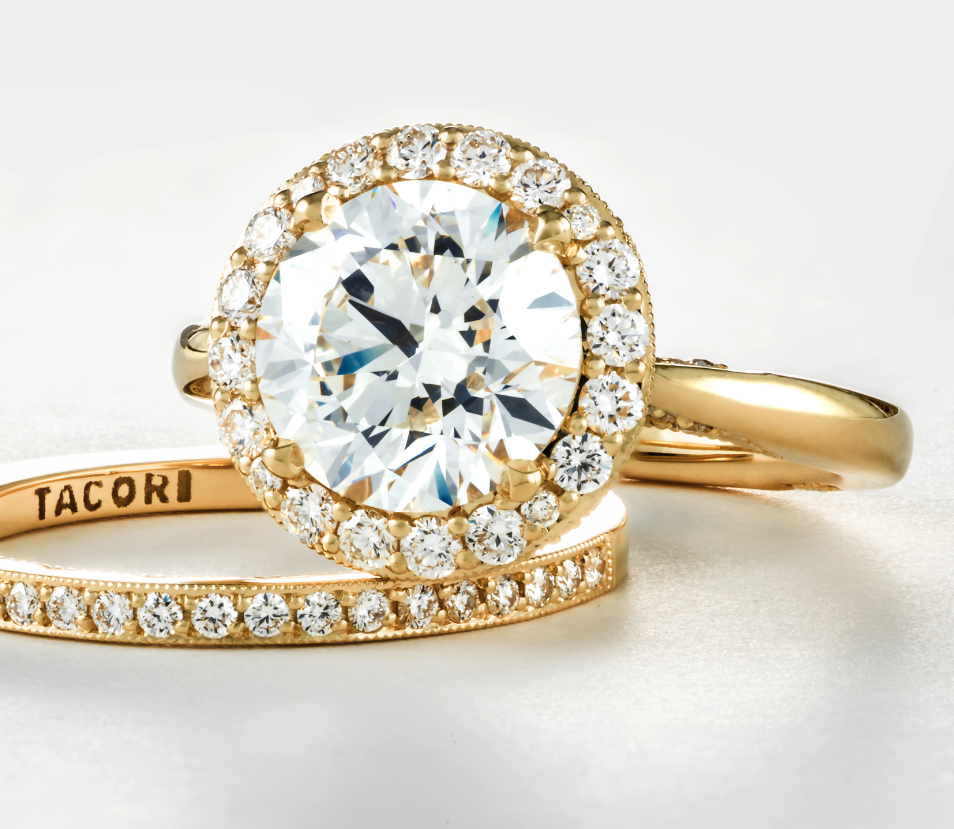 RoyalT
STYLE HT2651RD95Y (special order)

RoyalT
STYLE HT2626B (special order)
Try a simply irresistible TACORI Bloom to make your center diamond appear 30% larger. And even more radiant in yellow gold.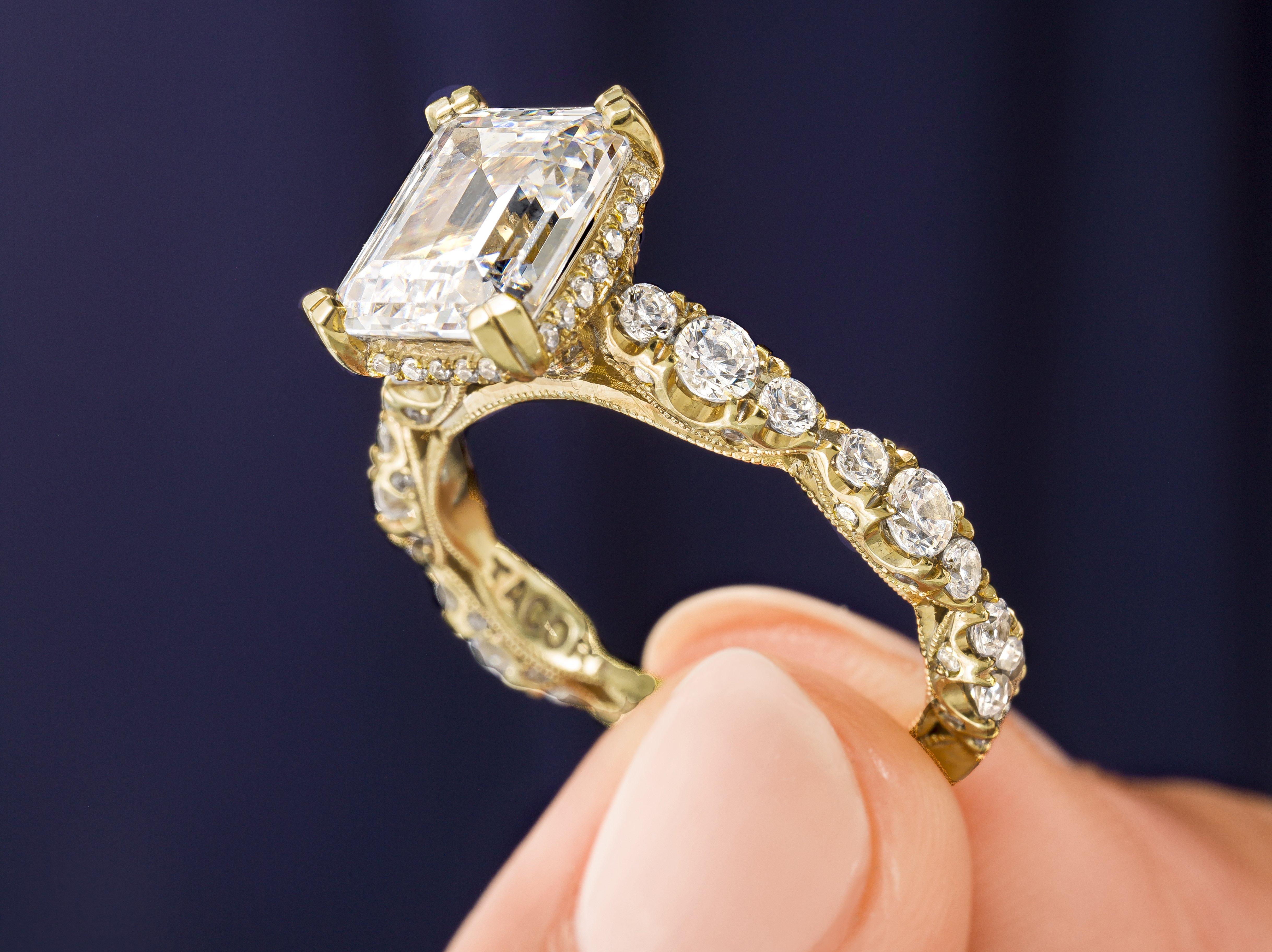 RoyalT
STYLE HT2654EC9X7Y
We fully support a statement engagement ring. Whether you're going for the "bigger the better" engagement ring approach or trying to stand out from the rest with an east-west marquise yellow gold engagement ring - we have a ring for you!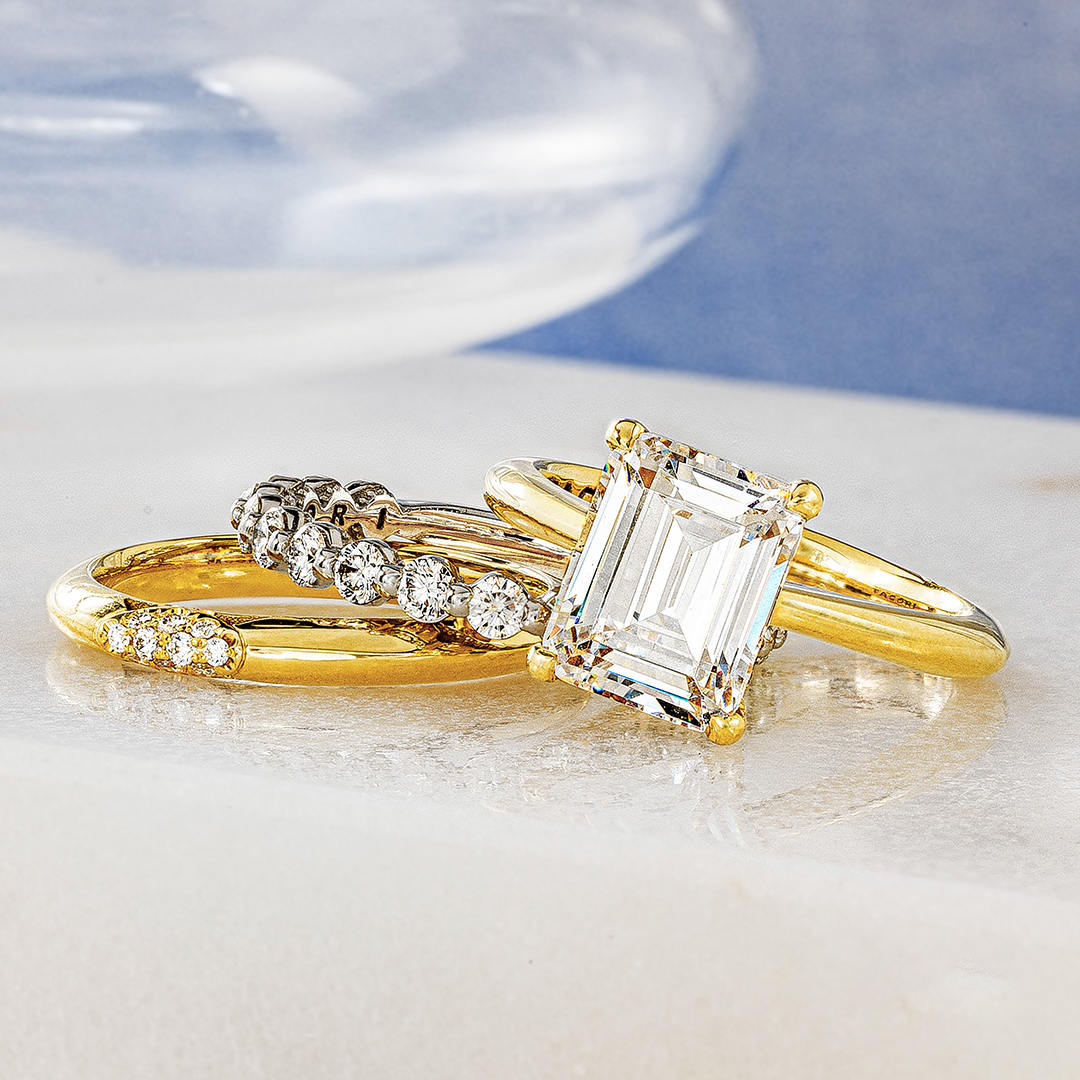 RoyalT
STYLE HT2671EC95X75Y
RoyalT
STYLE HT2671BY
$1,890.00 USD IN 18KT YELLOW GOLD


Sculpted Crescent
STYLE 2666B12Y
$2,990.00 USD IN 18KT YELLOW GOLD, HALF-WAY
This classic yellow gold engagement ring is made even more special when it's styled with the perfect signature bands to add dimension and personality.
RoyalT
STYLE HT2670RD10Y
$7,590.00 USD IN 18KT YELLOW GOLD
Not including center diamond
To see it is to love it. A golden bloom and diamond band help this style shine as bright as the sun.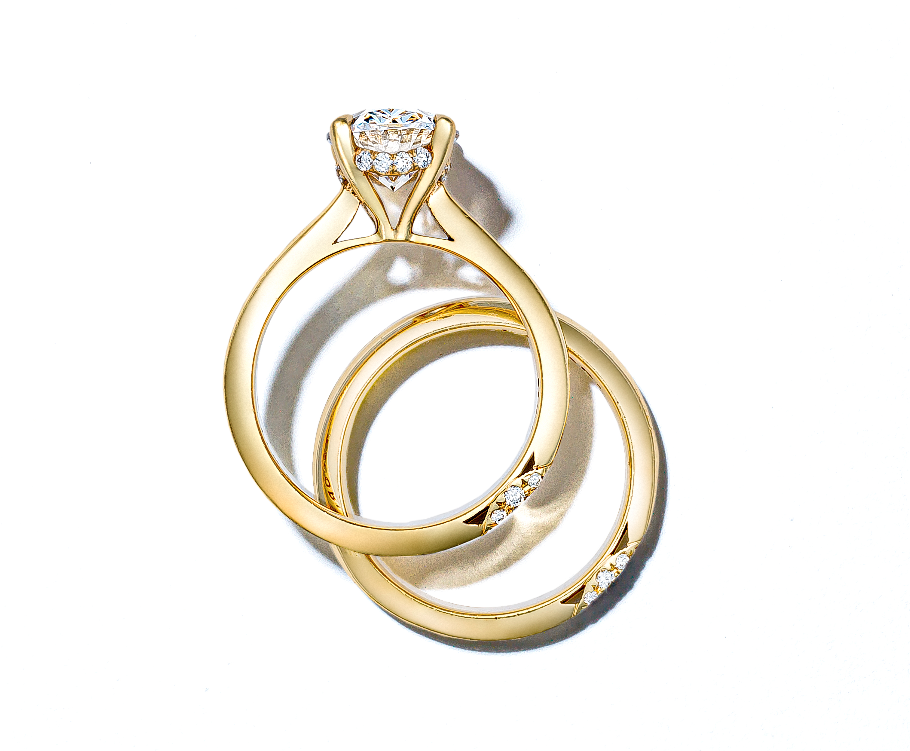 RoyalT
STYLE HT2671OV10X8Y
RoyalT
STYLE HT2671BY
Perhaps one of our most stunning styles, the yellow gold Founder's Ring. Our founder, Haig Tacorian added a secret bloom of diamonds under the center gallery to light up the center stone to create a new look that's totally TACORI. And like all great works of art, this ring bears the artist's signature. Look for the starburst of diamonds signature at the foundation of the ring.
Already have a yellow gold, TACORI engagement ring? Be sure to tag us in your pictures on the gram @TacoriOfficial, #LoveTacori for a chance to be featured!
And remember, virtually any Tacori engagement ring can be personalized in yellow gold just for you. Find a retailer near you who can show you their selection of Tacori engagement rings in person.
More Tacori:
Reasons To Love Platinum Engagement Rings
Favorite Rose Gold Engagement Rings
How To Do Mixed Metal Engagement Rings