Looking to accentuate the center stone of your engagement ring with a dusting of accent diamonds for elevated radiance? Some call them halo engagement rings; at TACORI, we call them blooms. Our bloom engagement ring settings take the halo engagement ring effect to a new level, bringing character and charisma to every ring through hidden details and statement designs.
To discover a TACORI bloom that's right for your engagement ring, begin by exploring the options here.
What is a Bloom or Halo Engagement Ring Setting?
The TACORI bloom engagement ring setting is our take on halo engagement rings. It features an envelope of smaller diamonds that encircle your center stone, either directly edging it, sitting just below it, or hiding underneath it. Blooms can be the same shape as your center stone or create the illusion of an entirely different diamond shape. And a bloom can feature on a solitaire engagement ring or enhance a ring with multiple stones.
What center stones can you use in a halo engagement rings?
Diamonds are the most common choice for both the center stone and the halo stones. However, some people opt for colored gemstones like sapphires, emeralds, or rubies for the halo to add a unique touch.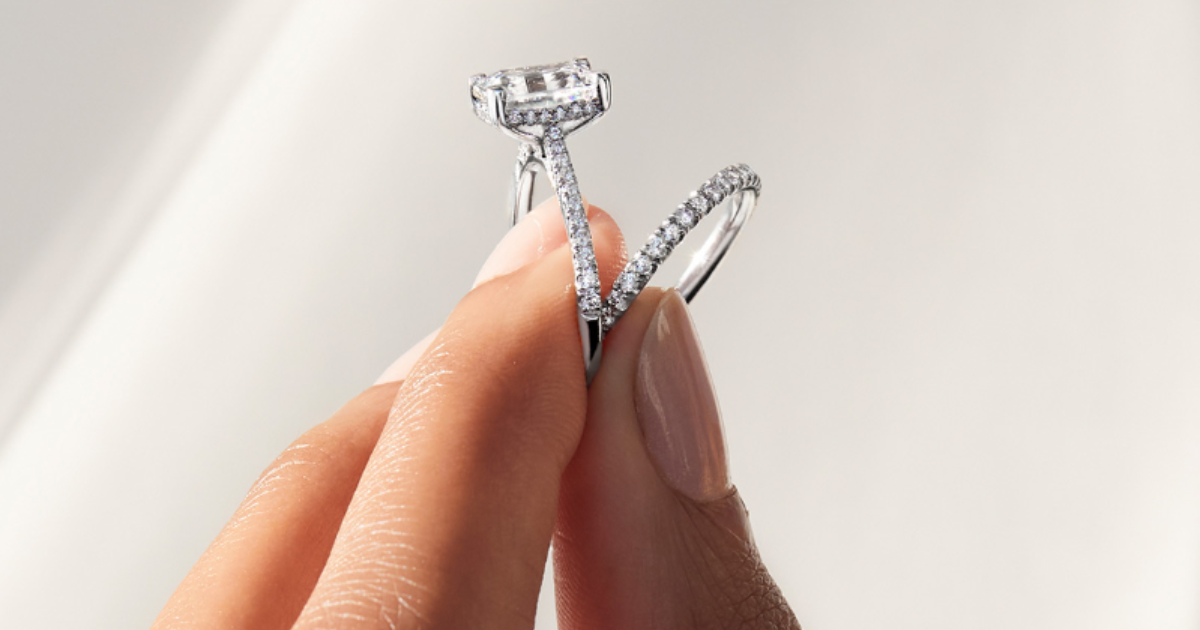 Why Choose a Bloom or Halo Engagement Ring?
An exquisite design detail unique to TACORI, each bloom is expertly crafted to add definition, depth, and diameter to your engagement ring center stone, making the diamond appear even larger. A bloom engagement ring not only gives the illusion of size and brilliance, but the smaller pavé set diamonds create an elevated textural vibrancy.
A stellar choice if you're looking for a less metal, more diamond effect, each bloom has a different diamond spread, or width of the diamond when seen from above. Pair your bloom engagement ring setting with a pavé set diamond band to amp up the diamond coverage even further.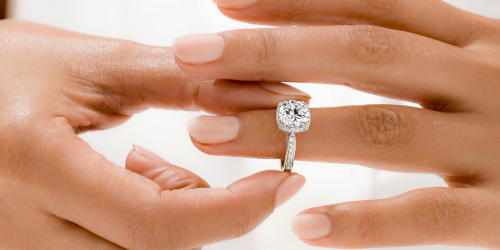 Meet the TACORI Blooms
At TACORI, you have several options for enhancing your engagement ring with a bloom that suits the style of your ring and your personality. These are some of our popular bloom offerings.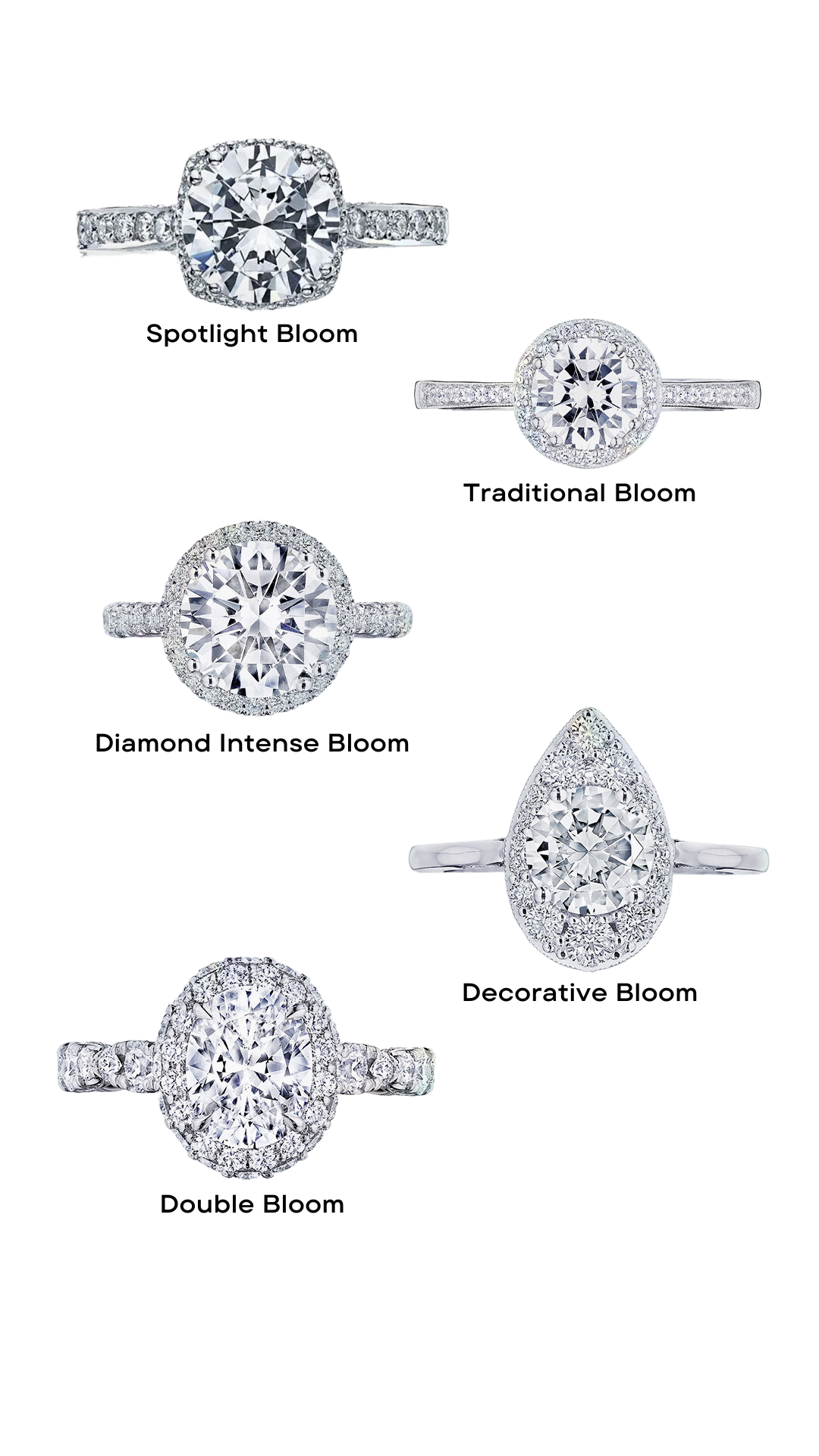 Spotlight Bloom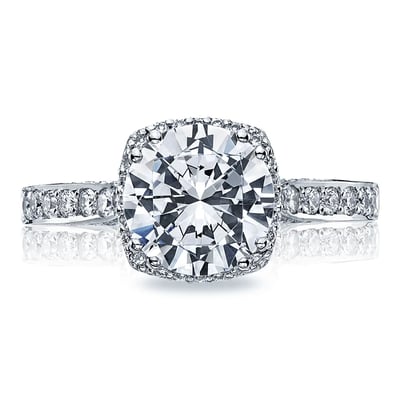 One of our most subtle blooms, the spotlight bloom offers a delicate dusting of diamonds just below the circumference of the center stone, creating a layered, spotlight effect and an elevated shine. Featured in our Dantela collection, the spotlight bloom gently enhances the prominence of the center stone, making it appear larger.
Traditional Bloom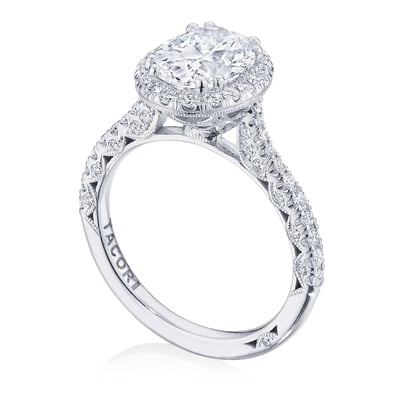 One of our fuller coverage diamond blooms, the traditional bloom offers a seamless spread of bright cut diamonds that encircle the center stone for maximum sparkle. Making the center stone appear up to 30% larger, the extended diamond spread creates a diamond-forward, minimal-metal look. You'll find traditional bloom engagement rings across multiple collections.
Diamond Intense Bloom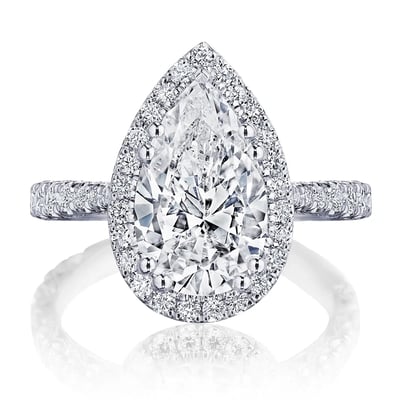 Step up your diamond coverage with the diamond intense bloom. With very little metal appearing from the top or side profiles of the crown, this bloom features larger set diamonds than the other blooms, to create its own diamond fire. Available in multiple collections.
Decorative Bloom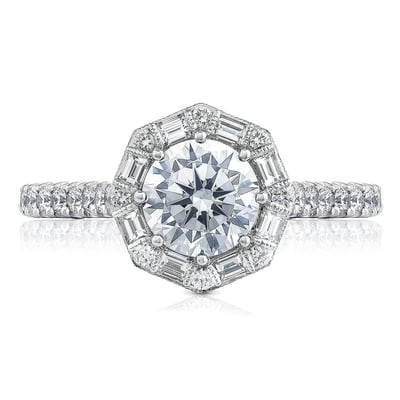 The most ornate and heirloom of our blooms, decorative blooms give a nod to more gilded times, with distinct antique vibes and intricate design details. The Art Deco-inspired bloom featured on the Petite Crescent Round Bloom Engagement Ring has an octagonal shaped crown and alternating diamond bloom accents and baguette diamonds for a timeless elegance and iconic style.
Double Bloom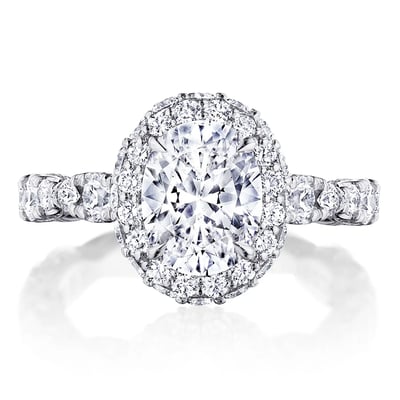 Maximize the brilliance of your center stone with the double bloom. Shining from every angle, this diamond-forward bloom leaves almost no metal visible on the crown, other than the prongs. The center stone is encircled by a bloom of diamonds that graduate into a second bloom. This additional bloom wraps around the sides of the crown to create a full spread of diamonds for a stunning effect.
Hidden Halo or Bloom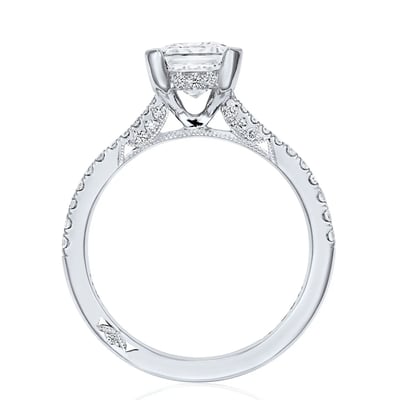 If you're looking for something more nuanced and subtle, a hidden halo engagement ring or hidden bloom is for you. Featuring a delicate and dainty circle of diamonds just below the center stone, the hidden bloom elevates the side profile of your ring with added luminosity, while keeping things minimal and strikingly elegant up top.
Whichever design you go with, always make sure you keep your bloom engagement ring in tip-top shape with regular cleaning for optimal shine and vibrancy.
More TACORI:
Delicate and Thin Band Engagement Rings
How To Choose a Pave Engagement Ring
Best Solitaire Engagement Rings
Whatever you decide, our TACORI design team is always here to offer expert guidance.