Trending now, but designed to be loved for a lifetime, fine jewelry takes on contemporary new twists and is served up in unexpected and creative ways for 2022. Time-honored classics are reimagined to meet our modern lifestyles, while layering necklaces, stacking, and styling offer a fresh perspective on personalization.
Jewelry sparks joy and inspires individuality, and at the heart of all jewelry trends right now is a desire to curate your own collection! Wardrobing your look with beloved pieces for your every day, and weaving in those more statement pieces for special occasions.

From hoops of all sizes to tennis bracelets, channeling the glamour of yellow gold or adding bold brights into your edit, our COO + Design Director, Nadine Tacorian shares her top jewelry trends.
Tennis Bracelets For the Style Win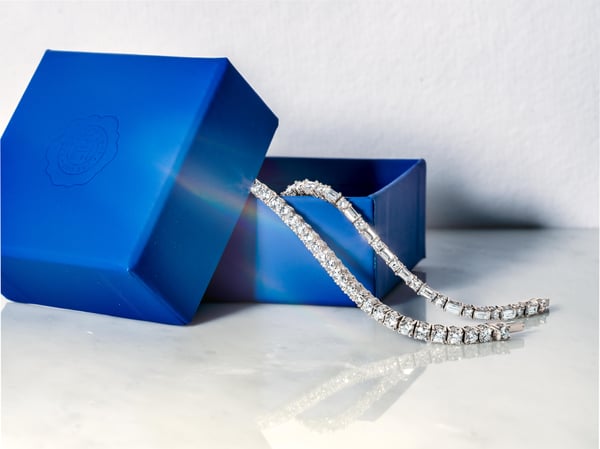 If you haven't heard of this iconic jewelry piece, you might be wondering what a tennis bracelet actually is? The tennis bracelet gets its name from champion American tennis player, Chris Evert who in the '80s, stopped a match as her diamond bracelet had flown off her wrist. She refused to continue the game until her bracelet was recovered. And, so the tennis bracelet as we know it today was born. The style of bracelet dates back to the '20s when it was known as the 'eternity bracelet'. Adored and coveted for its innate elegance and ability to work with any outfit or look, its relevance today is down to its classic vibes, making a strong case for everyday diamonds with relaxed nonchalance and flair.
Alluring across the generations with its sculptural simplicity and sparkling symmetry, whether you choose matching diamond cuts or mixed, the tennis bracelet pairs perfectly with other jewelry or as a statement solo bracelet. Its charisma and charm are all yours for the styling.
Hoops of All Sizes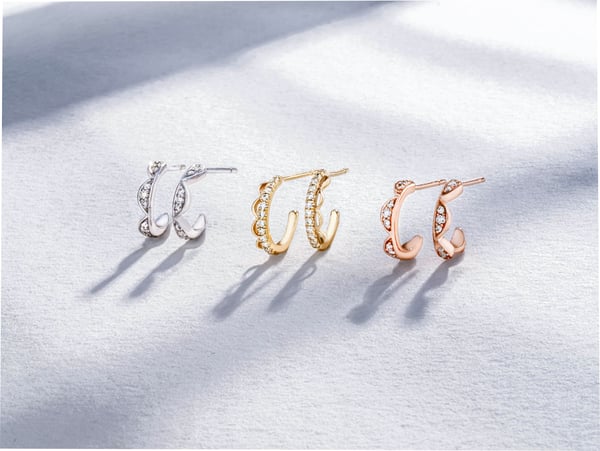 The staple of all discerning jewelry collections has to be the humble hoop. Hoop earrings are like the LBD in your wardrobe, while statement hoops had their moment, today's hoops come served in every size, from huggies to larger hoops. Whether matching and balanced, or mixed and curated, the beauty of this trend is it's all down to your personal style.
Power pieces for every occasion, if you're wondering how to put in hoop earrings, try larger hoops in the lower piercings, smaller hoops above them, moving up to huggies in the higher points. And, if you don't have piercings higher up, you can always add in a few cuffs for extra effect.


Classic Stud Earrings With a Twist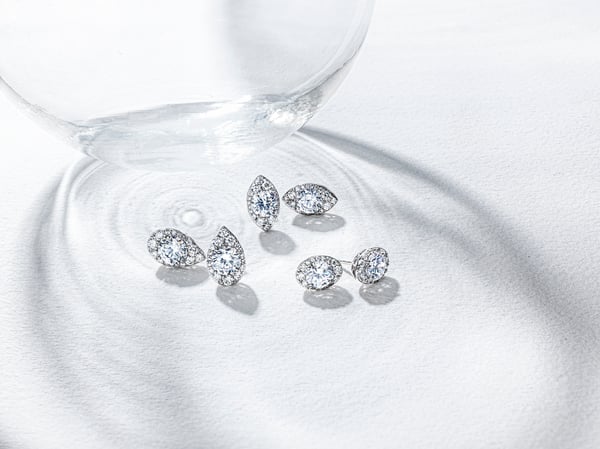 You may be familiar with the Tacori Blooms for engagement rings, but did you know you can also bloom your diamond stud earrings too? Trending and timeless, classic diamond studs with bloomed effects are perfect for adding a bolder brilliance to your look.
Transform your round cut diamonds into pear, marquise, or oval studs, or amplify your round cuts with an exquisite envelope of diamonds to send your ear sparkle stratospheric. And, from Single to Double Bloom effects, you can curate your level of shine even further, for studs you'll love forever.


Layering Necklaces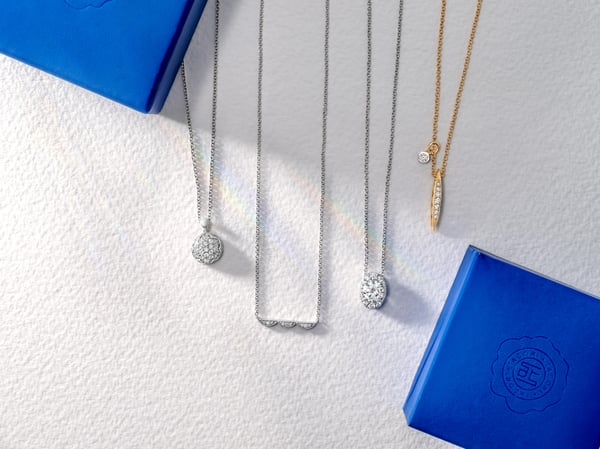 In previous years layering necklaces were all about varying the lengths to play with proportion and space. And, while that's still a relevant take, for right now, necklace layering has evolved even further to encompass a mix and match attitude to different styles and textures. Whether diamonds, gemstones, mixed metals, monograms, the combinations are endless and effortless. Working with necklaces you may already have, plus new pieces for the year, find your favorites and curate your daily edits depending on mood and outfit.


Statement Eternity Bands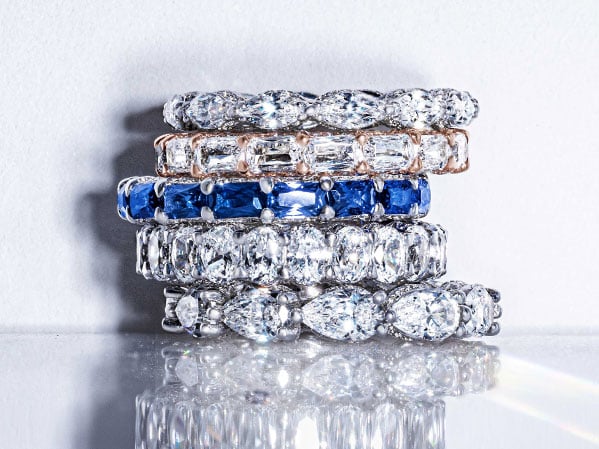 While stacks are a trend that's still going strong, for this year, there's a lot to be said for saying more with less. And, this is where the statement eternity band is having a major moment. Bold, confident, and joyful in its own right, let it stand out in its singularity, giving it a prime spot all of its own and letting it shine out.
If you already have your eternity band curated as part of a stack, try a deconstructed stack effect, spreading the rings out across multiple fingers for an equally impactful and directional look.


Kaleidoscopic Color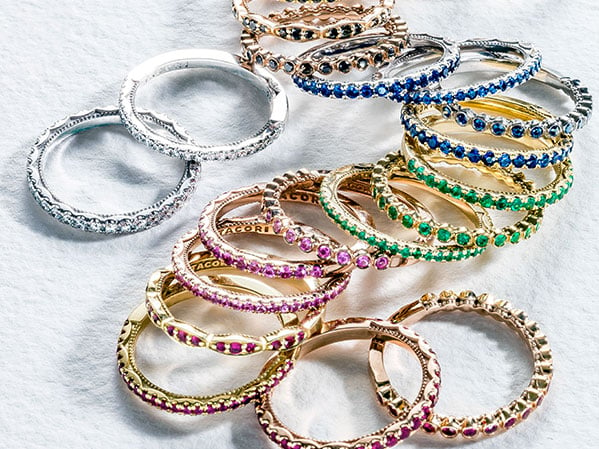 You may have heard of the term 'dopamine dressing' in recent years. This is where the clothing and accessories we choose truly sparks joy and happiness for us and those around us. Few jewelry trends nail this better than vibrant gemstone jewels. Wear the rainbow in precious gemstone pieces that resonate with your mood and your mindset. From rubies to emeralds, work your colors and mix them together for even more impact.
Yellow Gold Sunshine Tones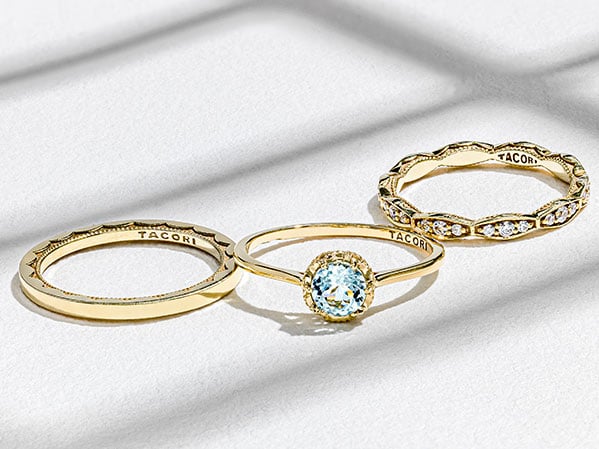 A favorite in the engagement ring trends, it stands to reason then that for 2022, yellow gold is a favorite look for every jewelry piece from hoops to bracelets. Sun-drenched optimistic tones with a hint of old-school glamour, yellow gold loves to be styled layered, stacked, solo, or mixed with white or rose gold for a vibrant and eclectic look that's all you.
More Tacori:
Matching Jewelry Sets You'll Love