Sophisticated and classic, the oval cut diamond is one of the most popular fancy diamond shapes of the moment. Its iridecent beauty brings all the glamour, while its easy-to-style shape offers all the engagement ring options whether more minimal or all-out statement.
While oval diamond shapes have been around for many years—the first known oval cut dates back as early 1304, the oval diamond cut we love today was created in the early 1960s. The most famous oval cut diamond is the Koh-i-Noor or 'mountain of light' which is part of the British Crown Jewels. Another famous oval cut ring was made for Princess Diana in 1981, and is now worn by Kate Middleton. While it's not a diamond but rather a 12 carat sapphire, it retains its iconic status as one of the most popular oval cut rings of all time. The oval cut diamond engagement ring continues to reign in popularity in modern times with A-listers Blake Lively, Hailey Bieber, and Kristen Dunst all attesting to that.
Why Choose an Oval Cut Diamond Engagement Ring?
Oval cut diamonds have many appealing qualities that make them one of the most sought-after diamond shapes out there. Bursting with brilliance and fire, an oval cut diamond has 57-58 facets like a round brilliant cut diamond. With a more elongated, statement silhouette, oval cut diamonds have the ability to look bigger than their actual carat size. Compared to a round brilliant cut diamond of the same carat weight, oval cut diamonds have a greater surface area, so they appear larger on the finger.
With their elongated rounded shape, oval cut diamonds are less prone to chipping, so are a practical choice as well as looking elegant and refined. Visually lengthening the finger, oval cut diamonds are a flattering choice, while adding a little extra visual interest to a classic solitaire silhouette.
A truly versatile and timeless diamond cut, no matter how you wear it or stack it, the oval cut diamond works in a variety of settings from solitaire to three-stone engagement rings.
If you're new to oval diamonds, or just now considering what diamond shape is right for your personal style, here's what to look for in oval-cut diamonds.
What To Know About Oval Cut Diamonds
Safety: As you'll be wearing your diamond engagement ring for many years, to many places, for many activities, you want your oval cut diamond to be safe from damage. Because the oval shape doesn't have any sharp angles or corners, an oval is less prone to chipping or damage, compared to other fancy shapes.
Optical Oval Illusion: The oval has larger surface area than a round shape, so an oval diamond with the equal carat weight as a round-cut diamond can often appear larger to the eye. It's a small, yet big difference.
Just the Facets: An oval diamond is considered a fancy shape version of a round brilliant-cut diamond, giving elongated elegance. Typically cut like a round brilliant-cut diamond, an oval diamond usually has 57 or 58 facets, giving similar visual quality.
Finger Slimming Effect: The oval cut diamond has an elongated appeal that can often make your finger look longer. Good to know for all those future ring selfies.
Look for the Bow Tie: Bow ties may be something you want to see on a wedding day, but keep a close lookout on this diamond feature within the oval diamond. According to the GIA: "Expect to see a bow tie. A 'bow tie' in diamond parlance is a dark bow-shaped pattern across the table of the diamond. A diamond's facets act like a series of mirrors that gather light from around you and return it to your eye. As you look at the stone, the dark contrast you see is a reflection of your head and shoulders blocking light from entering the diamond. The closer your face is to the diamond, the more pronounced the bow tie will be. If the diamond is cut well, the bow tie will be minimal, but once you are in front of the diamond, there will always be some measure of a bow tie."
Oval Appreciation Club: Oval diamonds offer amazing brilliance in an unusual shape, which is why many trendsetters are choosing oval cut diamonds today. The oval diamond shape often attracts people who have an appreciation for the classics, with a touch of unique sophistication.
If you're new to oval diamonds, or just now considering what diamond shape is right for your personal style, discover our lineup of the best oval cut diamond engagement rings.
The Classic Tacori Dantela Ring, with an Oval Diamond.

Our iconic and beloved Dantela setting featured with an oval diamond. If you're a TACORI lover looking for a forever home for your oval diamond, this ring may just be for you.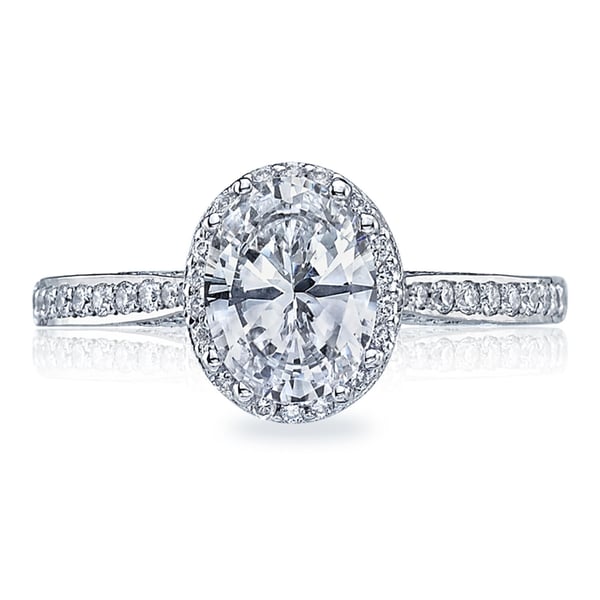 Dantela
Not including center diamond
East-West Directionally Chic.
Here we take an unexpected elongated diamond shape like the oval, and flip it horizontally. The look is totally modern, yet also timeless and elegant with a touch of diamond accent to elevate it beyond basic. This delivers a natural low-profile fit on the hand that's supremely well-suited for everyday wear.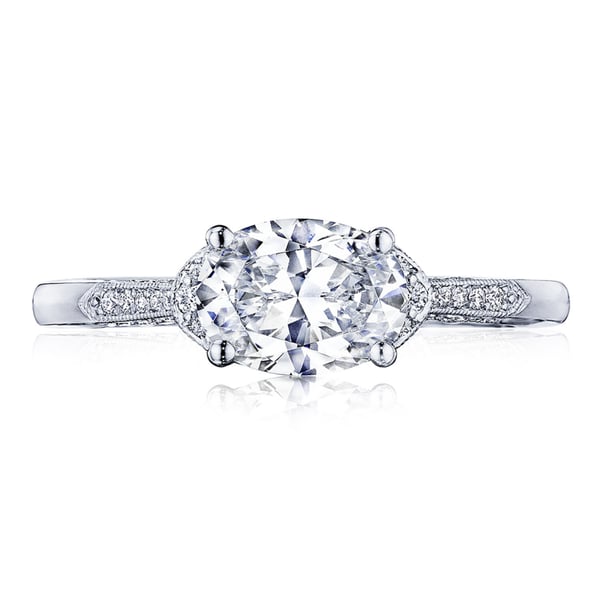 Simply Tacori
Not including center diamond
Simple Can Be So Beautiful.
Still horizontally chic, this East-West ring from our Simply Tacori collection keeps the touch of diamonds surrounding the oval, but leaves the sophisticated setting in high shine.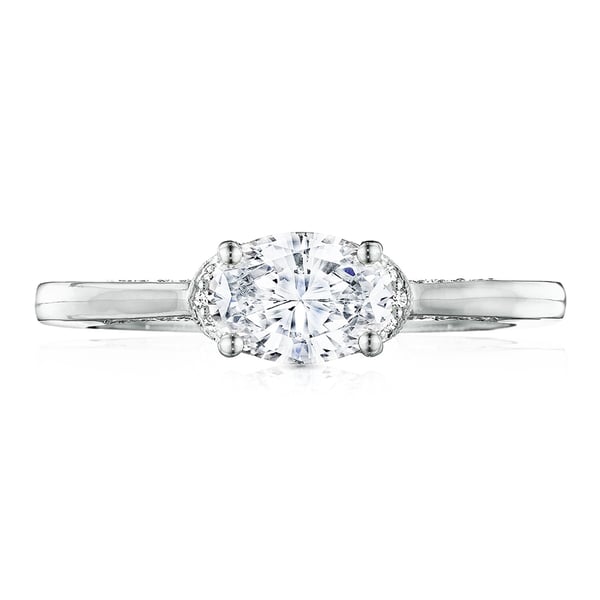 Not including center diamond
Simple, but never plain. A diamond-bright band, paired with a classic four-prong setting. Especially with an oval diamond, this is a beautifully unique take on the solitaire from our Coastal Crescent Collection.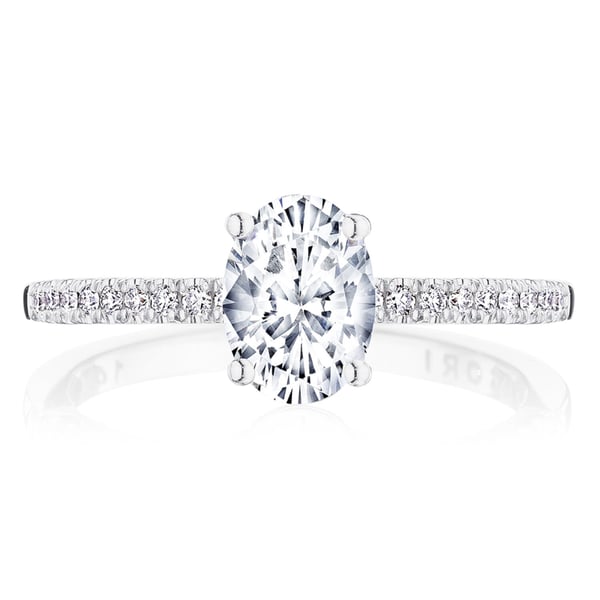 Not including center diamond
6 Prong Setting
Sometimes it's the smallest things that make the biggest difference. The 6-prong setting here creates a more detailed design than a 4-prong setting.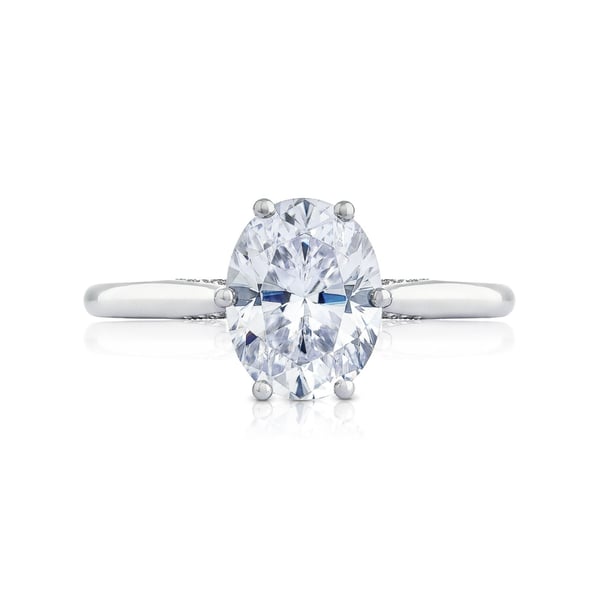 Not including center diamond
Simple, with a Touch of Diamonds

Here, we add a touch of diamonds along the tapered band that tastefully adds a bit of designer detail and sparkle to this classic 6-prong setting.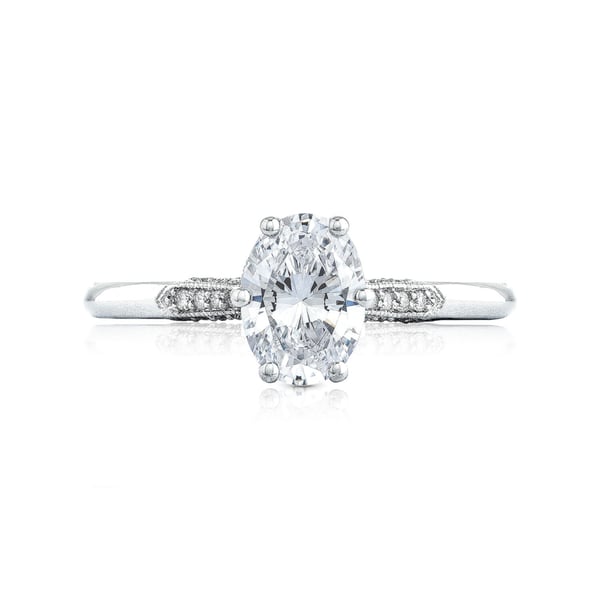 Not including center diamond
Three Stone Diamond Charm

In this Simply Tacori style, we add two perfectly proportioned round brilliant diamonds alongside the oval center diamond to create a three-stone ring worthy of the past, present, future legacy.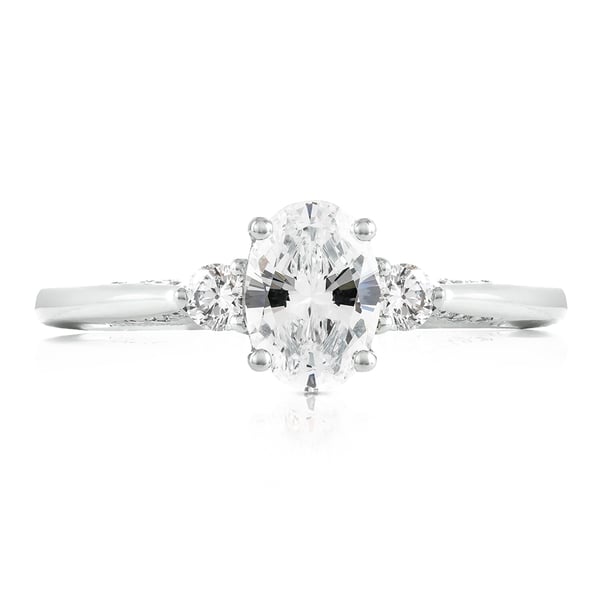 Not including center diamond
A Ribbon Runs Through It

An eternally popular look, the oval stands out beautifully at the center of this diamond eternity ribbon wrap. A classic 4-prong setting keeps it understand. HINT HINT: This ring is the beauty that's featured in the "headline" of our blog post. It's from our Coastal Crescent Collection, available in 14k gold, 18k gold, or Platinum.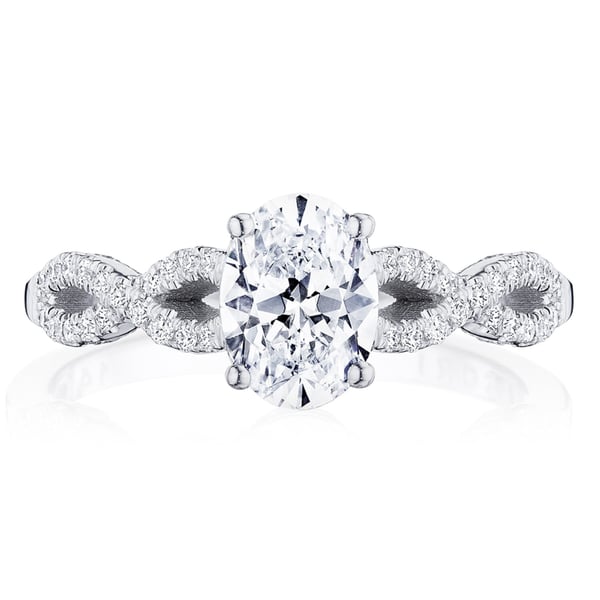 Not including center diamond
Unexpected Elegance
Here, we pair an oval center diamond with Cadillac-cut side diamonds. This unexpected combination creates such a cool diamond contrast that's endlessly interesting.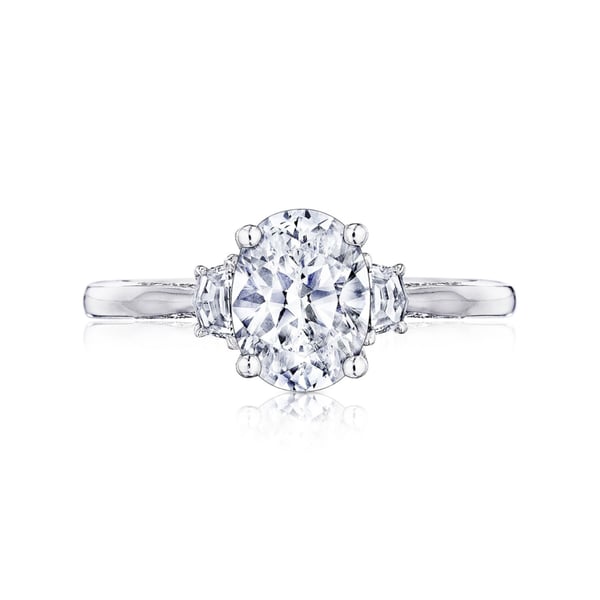 Put a Bloom on it. (And more diamonds, too)

With this style, we add even more diamond oomph to the three-stone look by adding a perfectly engineered bloom of diamonds encircling the oval. Pave-set diamonds dancing along the band just continues that disco diamond ring of amazingness. This oval ring truly shines.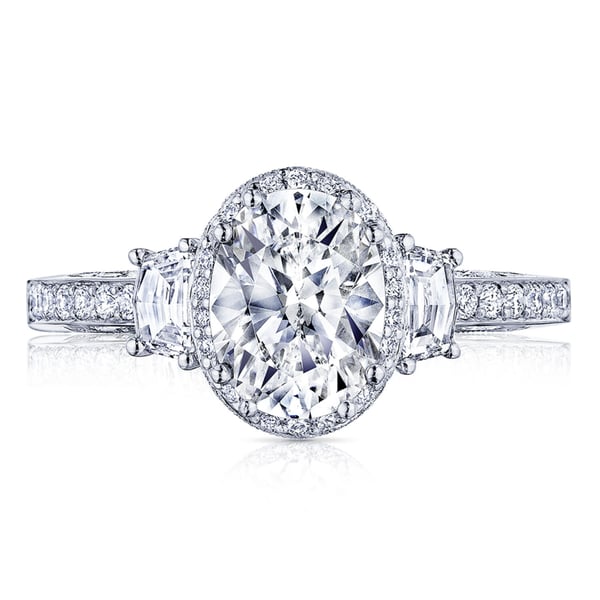 Dantela
Not including center diamond
Just the Bloom
The elegance of a simple solitaire, with a bloom of diamonds encircling the oval to highlight its unique appeal. It's a totally Tacori take on the solitaire.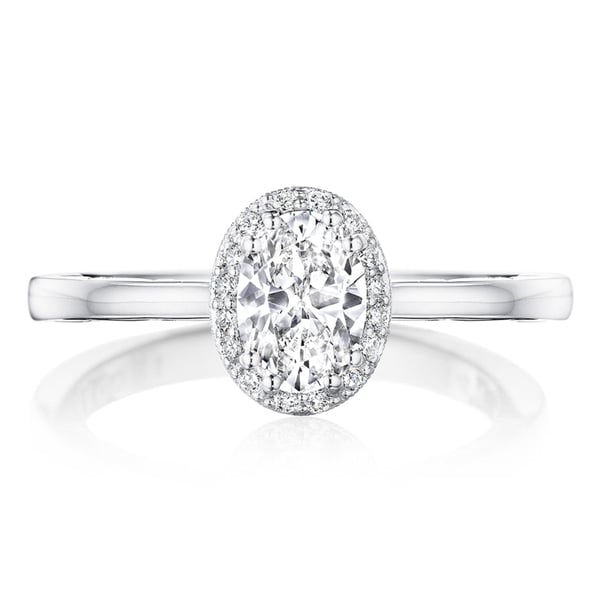 Not including center diamond
The Bloom, plus a bit more

Taking it to the next level, this oval diamond is encircled with a diamond-bright bloom, with added diamond intensity from the french-set diamonds along the band. Definitely a "Wow" ring.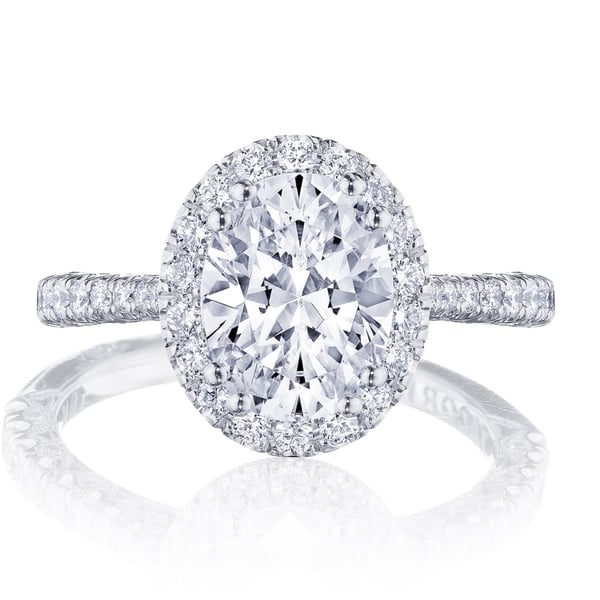 Not including center diamond
Who's ready for RoyalT?

For the 2-carats and up club, RoyalT rings offer a showcase for larger center diamonds. This ring features a standout oval diamond, held aloft within a 4-prong picture frame setting and an elegantly tapered classic platinum band. The outward simplicity and sophistication of this ring belie the understated artistry that goes into every Tacori design. The Tacori RoyalT Collection is all about the details, so click through to see more views and the difference that the Royal Treatment makes.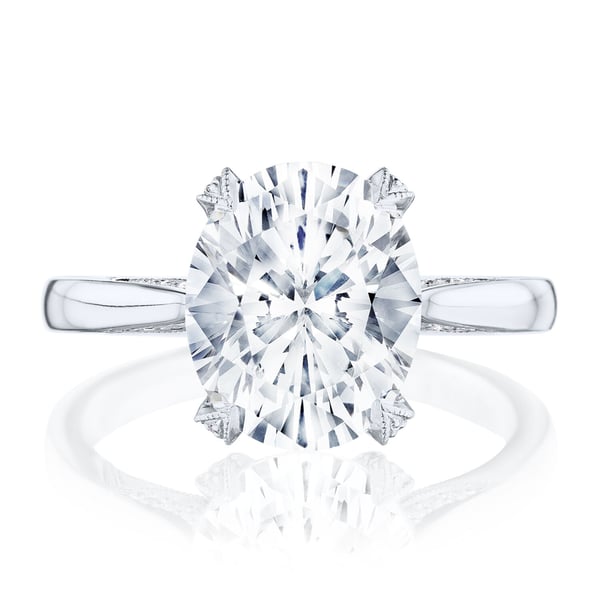 Not including center diamond
More Royal Treatment

Look to the graduated diamonds along the shoulders of the band to see how they build toward this incredible oval diamond center stone. If you love more diamond intensity around the circumference of the ring, you may love this RoyalT setting.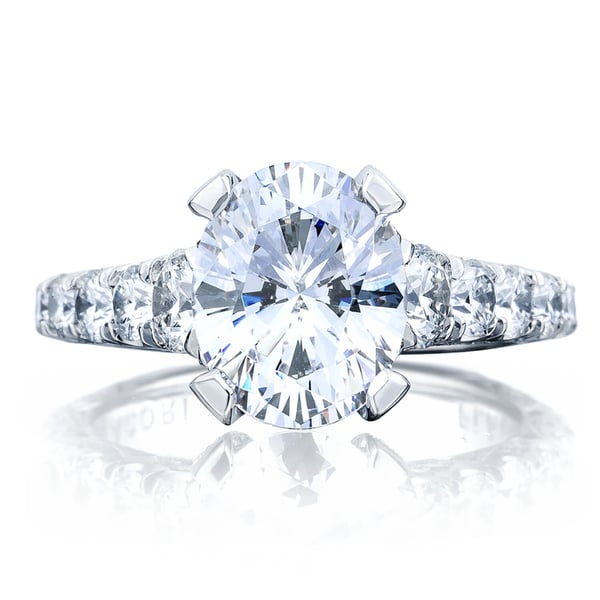 Not including center diamond
Tapered Baguettes for the Win

An unexpected side stone duo of tapered baguettes create a beautiful shape for the ring, which maintains a solitaire-esque silhouette. The step-cut faceting of the side stones create an incredible juxtaposition to the brilliant cut of the oval.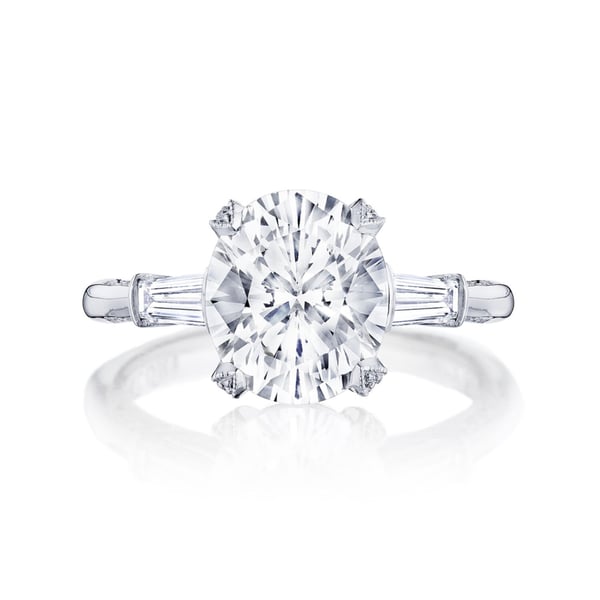 Not including center diamond
The Perfect Pair
Adding even more interest to the oval diamond, our designers brilliantly take the asymmetrical shape of pear diamonds and use them as side stones in a symmetrical placement. Diamond intense, totally unique, pears & oval together may just be the perfect pair.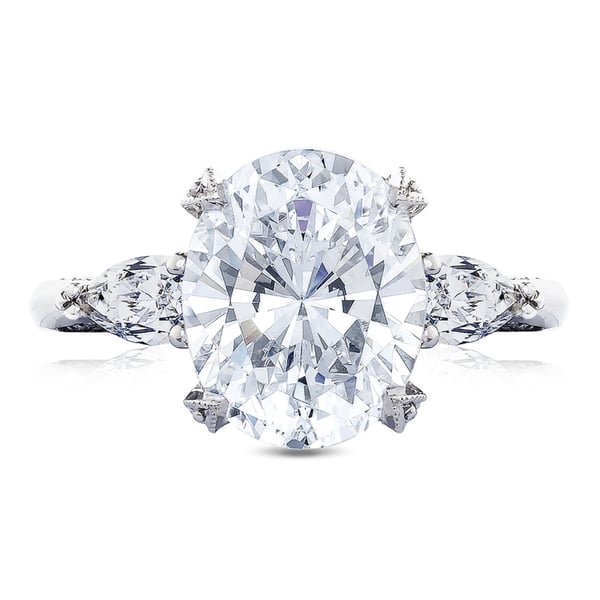 Not including center diamond
More is More
Cadillac-cut side stones carry that oval shine broadly across the finger and are enhanced with the string of diamonds along the band. Shimmer and shine.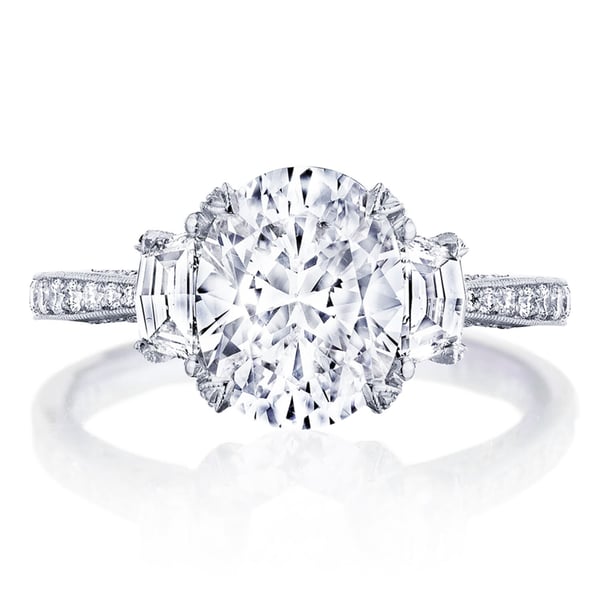 Not including center diamond
Whether less is more, or more is more, virtually every TACORI engagement ring can be made to measure to accommodate your oval diamond or any other diamond shape or size you like.
And when you choose to marry an oval diamond with a TACORI setting, it's an ode to the oval diamond shape like you've never seen it before.
At Tacori, our engagement rings are sold as "semi-mounts", meaning without the center diamond. That choice is yours! What we love about designing semi-mount engagement rings is that it provides Tacori lovers flexibility in terms of choosing the preferred carat weight or the cut and shape of the center stone made to match with their Tacori setting; in other words, it enables you to design your dream engagement ring. Each ring is totally made-to-order and unique for the person who wants to design their dream ring.
Diamond Cut Guides:
Emerald Cut Engagement Rings Guide
The Marquise Cut Engagement Ring
The Princess Cut Engagement Rings
Cushion Cut Engagement Rings Guide
Round Brilliant Cut Diamond Guide