Maximize the beauty of your center diamond cut by choosing a unique cushion cut diamond ring from TACORI. Our cushion cut engagement rings are perfectly engineered to carry their size with grace. You'll recognize a cushion cut diamond by its rectangular or square shape, with their gently rounded corners that highlight the diamond's clarity and overall brilliance. Because the sides of the diamond are not perfectly straight, the curved silhouette resembles that of a pillow, hence the reason for the name "cushion cut."
What is a cushion cut diamond?
Long before we had the technology to create perfectly round-shaped diamonds like we have today, this type of cushion cut was used to shape some of history's most beautiful and well-known diamonds.
Cushion cut diamonds rose to popularity in the 1800s and were considered valuable due to their ability to disperse candlelight beautifully, which made it more dynamic and brilliant than other stones of the day.
For that reason, the cushion cut diamond was, and still is, one of the most timeless and classic diamond shapes in which diamonds have been cut.
Also known as "pillow cut" diamonds or "candlelight diamonds" (referring to the way they were cut prior to electric lights, when diamonds were measured in sparkle by the brilliance they exhibited in candlelight), the cushion cut diamond cut and shape has largely evolved due to technological advancements in diamond cutting techniques, as well as different lighting standards in which a diamond might shine.
A diamond today looks much different under fluorescent office lights, than it would in a candlelit salon in the 1800s.
With the advent of more modern diamond cutting techniques, the most common cushion cut diamonds today are referred to as a "modified cushion cut", which still have the pillow-esque shape of a traditional cushion cut diamond, but which differs from the classic version by its additional faceting which increases brilliance.
Modified cushion cut diamonds today give you the option to choose different faceting patterns, each of which would create a different looks (e.g. antique, crushed ice).
Buying a cushion cut diamond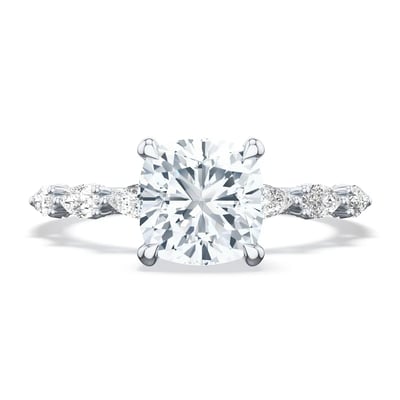 When looking to buy a cushion cut diamond engagement ring, you first need to decide what overall style you're going for and determine the shape of the stone, whether that be square cushion or rectangular cushion, as well as what type of faceting you prefer.
It's also important to understand the ring style that is best for the diamond – whether you want to frame your diamond in a simple metal band with little ornamentation so that the stone shines on its own, or whether you want to incorporate vintage details in the setting that enhance the diamond and tell more of a design story.
What is so beautiful about a cushion cut diamond is that you can achieve an artistic antique vintage look, or a more modern clean look.
Because of the variety of looks and unique style that a cushion cut diamond can offer, cushion cut diamonds are not always common or easy to find. If you have your heart set on a cushion cut diamond, it's important to give yourself enough time to find the perfect diamond that meets all of your expectations.
Tacori has hundreds of engagement rings, in every shape and style, for you to find "the one" that's perfect for you.
Is a cushion cut diamond right for you?
The continued demand for cushion cut diamonds really speaks to the desire to have a unique look with the engagement ring.
Each cushion cut stone is individually unique in shape and faceting, and allows flexibility with designs and provides the option to either go with a more modern style or create a more nuanced vintage piece.
We love working with clients who desire something unique and have a custom order in mind. And there's often no better way to do that, than with a special hand-selected diamond. Just like every woman's engagement ring, every diamond tells a story!
A cushion cut diamond is perfect for anyone who wants a little bit more romance in her ring, as our cushion cut engagement rings call back to a time of old Hollywood glamour while still remaining contemporary and modern.
Nothing says romance like a Tacori ring engagement ring, with a cushion cut diamond at the heart of the setting.
Perfectly engineered cushion blooms
If you love the look of a cushion cut diamond, but perhaps are drawn to the brilliance of a round cut diamond, our designers may have another option for you to consider. Perhaps one of the most beautiful collections of Tacori engagement rings, the Dantela collection, is an option you may love.
The Dantela collection, showcases a "cushion bloom" of perfectly engineered spotlight diamonds surrounding the center diamond which give the appearance of a cushion cut diamond, while using a traditional round brilliant cut diamond.
This diamond shape has breathtaking brilliance and appeal, in the light of day and under the romance of the moonlight.
Whatever your vision is for your ring, the designers at Tacori are here to bring your vision to life.
More questions? Please contact your nearest authorized Tacori Retailer for more information on where to buy these spectacular engagement rings.
Diamond Cut Guides:
Emerald Cut Engagement Rings Guide
Oval Cut Engagement Rings Guide
The Marquise Cut Engagement Ring
The Princess Cut Engagement Rings
Round Brilliant Cut Diamond Guide