Need help choosing an engagement ring metal? From white gold to platinum, and yellow to rose gold, each precious metal has its own color and energy. We'll walk you through the metallurgy of the precious metals and the points to consider when choosing the best metal for your engagement ring or wedding band.
At TACORI, we make our metals in house. Sure, it would be easier to purchase pre-mixed metals, but we can only ensure the premium quality if we do it ourselves. So we create proprietary metal from raw ingredients; weighing, melting, alloying, and refining, all inside of our California Design Studio.

Choosing A Metal For Your Engagement and Wedding Rings
The metal in your engagement ring or gold necklace are alloys; which is a mix of two or more metals, or one metal with a non-metal element. Alloying a metal enhances its properties and allows colors to be made. We wouldn't have gold, silver, or platinum jewelry without alloys, because these metals in their purest form are not hard enough to hold their own shape.
This is why it is so important to know what your metal is made of. An 18 karat gold ring foundation has a higher proportion of base metal - or gold - than a 14 karat gold ring foundation, which in turn makes the 18 karat gold ring foundation more valuable.
That said, the base metal isn't always the most valuable metal in the alloy. At TACORI, our white gold is a mixture of gold and palladium. Palladium is actually more expensive per ounce than gold, but we use it because the alternative, nickel, is a common allergen.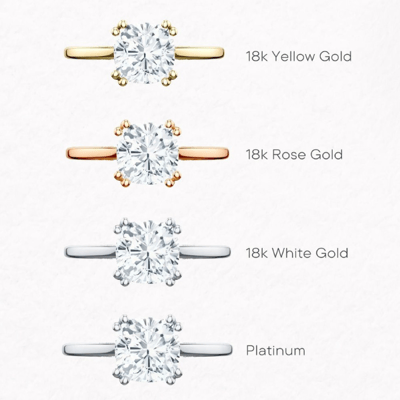 Why Choose a Yellow Gold Engagement Ring?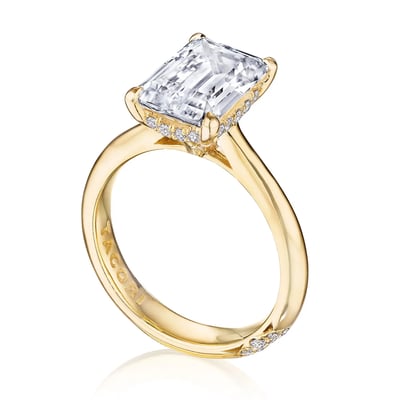 A yellow gold engagement ring is simply iconic; it's quintessentially glamorous with a vibrant and sunny personality. Little wonder that yellow gold has been making a comeback lately as one of the most popular engagement metals and for wedding bands too.
Incredibly versatile, yellow gold engagement rings complement all aesthetics, from minimalist to maximalist. The color appeals to vintage style seekers as well as those looking for a modern spin. Perfect for all skin tones, yellow gold engagement rings can be paired with a platinum or rose gold wedding band to create a colorful effect.

Compared to platinum, yellow gold is more prone to scratches, but with regular maintenance and cleaning, your engagement ring will be a timeless treasure you'll love for years to come.
Why Choose a White Gold Engagement Ring?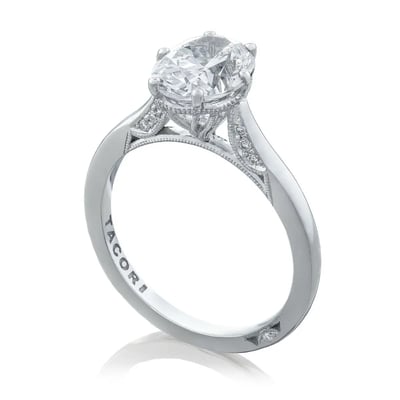 White gold as an engagement ring metal is timeless. It showcases the brilliance of any center stone diamond, pavé, or bloom, and sets colored gems like rubies or sapphires ablaze. In addition, white gold engagement rings suit every style and skin tone.
Because gold is naturally yellow in color, to arrive at the signature white hue we add in platinum, which is a lustrous silvery-white in pure form. The resulting white gold alloy retains a hint of yellow, to which we add a thin coating of the metal rhodium to give the 18K white gold its vibrant white appearance. Replating your ring with rhodium will immediately restore the white glow.
Although white gold is softer than platinum, it's more durable than yellow gold. Still, each time the metal is scratched some gold is lost, so it's best to avoid wearing your white gold engagement ring during any abrasive activity and avoid exposing it to chemicals in order to retain its rhodium plating.


Why Choose a Rose Gold Engagement Ring?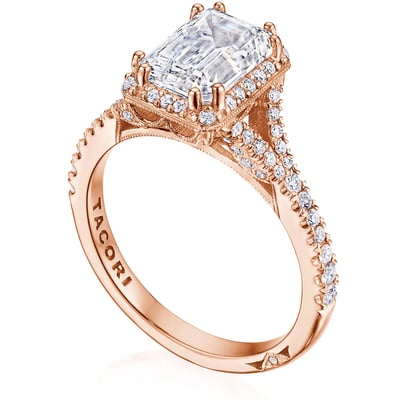 Exuding a warm, blushed radiance, rose gold is the perfect engagement ring metal to capture the romance of your love story.
Our rose gold engagement rings use an extra-proprietary formula that blends metals into a tone that is unmatched in its brightness. Rose gold is not plated with other metals, so it tends to be stronger and doesn't scratch as easily.
Rose gold engagement rings pair perfectly with wedding bands in other shades of gold. Try a sunset stack with a yellow gold wedding band or let the brilliance of a white gold wedding band set off the blush tones of your rose gold engagement ring.
Why Choose a Platinum Engagement Ring?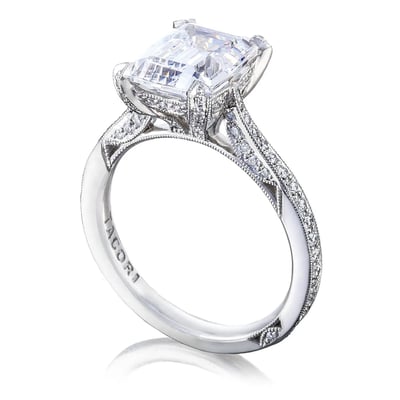 Platinum is our preferred engagement ring metal, thanks to its purity and durability. Scratches to platinum become part of the metal's patina, or a satin-like finish that occurs over time. Considered a mark of the metal's ongoing strength, the patina of a platinum engagement ring adds to its desirability.
Naturally white platinum won't yellow with age. Its colorless luster makes it the perfect canvas to spotlight your diamonds, from center stones to micro diamonds or pavé.
Our TACORI platinum engagement rings use at least 95% pure platinum, which is higher than the industry standard, mixed with a small amount of other platinum group metals to create an exceptional alloy that can be crafted into elevated engagement ring settings. Platinum weighs 40% more than 18K gold, adding to the band's longevity and prong protection for your diamonds.
Another benefit of platinum is that it's a hypoallergenic metal, making it an attractive option for those with sensitive skin or metal allergies.
Whatever engagement ring metal you choose, it's always a good idea to regularly clean and maintain your engagement ring to keep it in optimum condition for years to come.
More FAQs About Choosing A Metal for Your Engagement Ring


Which metal is best for engagement rings?
Platinum is favored for engagement rings due to its durability, hypoallergenic nature, and natural white color that doesn't fade. It holds gemstones securely and develops a unique patina over time. If you're an active person, or if you intend to wear your engagement ring day in and day out, platinum is the best metal for you. It's pricer, but it's qualities make platinum a prestigious choice. However, the best metal depends on personal preferences, style, and budget.


What metal is traditional for engagement rings?
Yellow gold takes the crown in the realm of traditional engagement ring metals. It's like the classic black dress of the jewelry world – timeless and forever in style.


Does the choice of metal affect the overall cost of the engagement ring?
Absolutely, the choice of metal does impact the cost of an engagement ring. Platinum is the most expensive due to its rarity and durability, while gold and its variations (white, yellow, rose) have different price points based on karat and color. Alternative metals like titanium or tungsten are generally more affordable options.


What metal complements the sparkle of diamonds in an engagement ring?
White metals, such as platinum and white gold, are excellent choices for complementing the sparkle of diamonds or other gemstones. Their cool tones and reflective qualities enhance the brilliance of the stones, allowing them to stand out and shine.
More Tacori:
12 Of Our Favorite Yellow Gold Engagement Rings
Our Guide to Rose Gold Engagement Rings
Everything You Need to Know About Platinum Engagement Rings
How to Clean Your Engagement Ring
Delicate and Thin Band Engagement Rings
How To Choose a Pave Engagement Ring
Best Solitaire Engagement Rings
Whatever you decide, our TACORI design team is always here to offer expert guidance.