The choice of an emerald cut engagement ring center stone is a testament to your bold and unique style. To complement the remarkable characteristics of the emerald cut, such as its elongated shape and vintage allure, it is important to find a wedding band that accentuates these features. The band should enhance the captivating play of light and shadow resulting from the stepped facets of the stone.
For inspiration on how to pair your emerald cut engagement ring with a wedding band, check out the best wedding band options for emerald cut diamond engagement rings, and the options for customization.
Emerald Cut Diamond Characteristics
An emerald cut engagement ring is exquisite. Its clean lines and a sharp symmetrical structure have an elegant aesthetic that also appeals to those that have modern, minimalist preferences.
Emerald cut diamonds are step cut, which means that they have fewer facets than other diamond cuts, and in turn, give off a very unique, fiery light. While considered less sparkly than other cuts, this cut stands out with clean lines and the emphasis that it puts on the stone's clarity.

The emerald cut diamond's distinct edges offer a wonderful opportunity to combine with other diamond cuts in the wedding band, creating a stunning visual contrast. Imagine the brilliance of round or princess-cut diamonds gracefully adoring the band, beautifully complementing the emerald cut's clean lines on allure.

On the other hand, if you prefer to highlight the emerald cuts' sleekness and smoothness, a high-polish wedding band is an excellent choice. A mirror-like finish enhances the diamond's sparkle, adding an extra layer of brilliance to your ring stack. The result is an eye-catching display of light.
Wedding Bands for Emerald Cut Engagement Rings
While your engagement ring takes center stage, the wedding band has the power to complement and enhance its beauty without stealing the spotlight. Your engagement ring will still be the star of the show, but your wedding band can enhance and boost that interplay with light.
---
Enhanced Luminosity
If you're looking to enhance the luminosity of your ring stack, choosing an eternity band is a fantastic option because it will help you achieve a diamond-forward look. You'll select the cut of diamonds on the eternity band based on the look that you'd like to achieve.
---
Complementing Cuts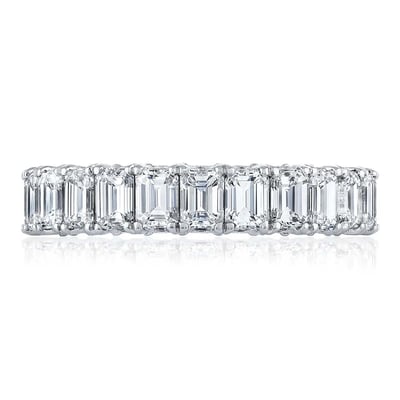 RoyalT Emerald Cut Diamond Eternity Band
Echoing the facets in your emerald cut engagement ring, the RoyalT Emerald Cut Diamond Eternity Band makes an exquisite wedding ring. Playing off the engagement ring's center stone, this wedding band features emerald cut diamonds dancing along the ceiling in full eternity coverage, round-brilliant diamonds set along the inner face of the ring for that all-angles sparkle.
---
Mixed Shapes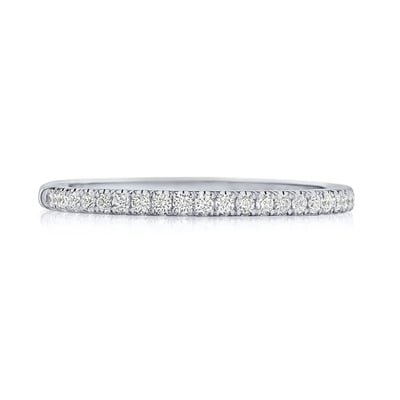 Simply Tacori French Pavé Diamond Wedding Band
Contrast the angular facets of your emerald engagement ring with softer, rounded shapes in your wedding band. The Simply Tacori French Pavé Diamond Wedding Band in 1.5mm, one of TACORI's thin band wedding rings, features French pavé round brilliant cut diamonds set along the ceiling of the band, in your choice of half-way for a high-polish element, or eternity coverage for a full 360 diamond look. The round brilliant cut pavé diamonds lift the overall luminosity of the look with a delightful sparkle.
---
Emerald Cut, Elevated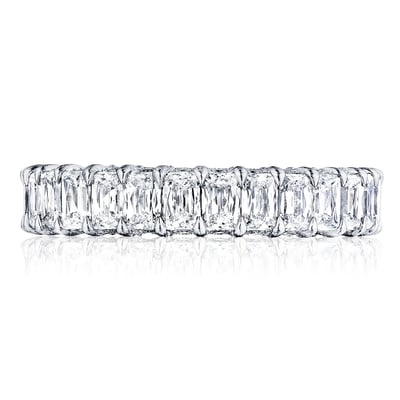 RoyalT Tacori Exclusive Cut Diamond Eternity Band
If you're looking to take the diamond intensity of your emerald cut engagement ring to the next level, the RoyalT Tacori Exclusive Cut Diamond Eternity Band could be the wedding band for you. This wedding band features diamonds with the traditional emerald shape, but these diamonds are reimagined with 57 facets that give a sparkle equal to that of round brilliant cut diamonds.

With the extra faceting, each diamond appears 20% larger than a traditional emerald cut diamond of the same carat weight. The effect? Serious light reflection that elevates the overall fire and shine of the wedding band and emerald cut engagement ring pairing.

For added diamond detail, pavé diamonds are set into the inner face of the ring, creating a truly multidimensional effect with over 3.81 carats of diamonds in play.
Time To Shine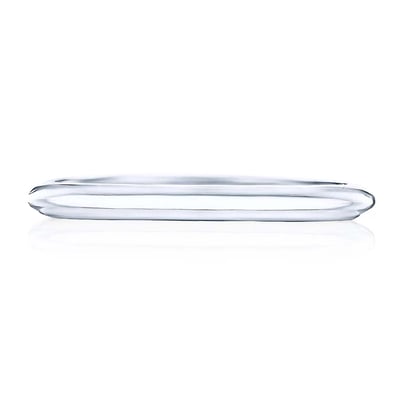 Founder's Collection High Polish Finish Wedding Band
If you're looking for less diamond intensity and a more subtle, elegant engagement ring pairing, consider The Founder's Collection High Polish Finish Wedding Band. The high-polish simplicity of this beautiful band places the emerald cut diamond of your engagement ring front and center. In true TACORI style, the band features a diamond-intense crescent signature at the resting point of the ring.
To truly find the best wedding band for your emerald cut engagement ring, we recommend deciding the overall effect you want to achieve—high-shine or elevated diamonds, and then try on a few different combinations to find the one that resonates the most with your style.
More Tacori:
Emerald Cut Engagement Rings Guide
How To Choose a Pave Engagement Ring
Striking and Simple Engagement Rings Guide
Delicate and Thin Band Engagement Rings
Minimalist Engagement Rings You'll Love
The Best Solitaire Engagement Rings
Whatever you decide, our TACORI design team is always here to offer expert guidance.