Less can be so much more when it comes to engagement rings and your ring doesn't have to feature a gigantic gobstopper gem to be a conversation starter. If you're a fan of functional style with a keen eye for timeless, trend-proof pieces, then a minimalist or simple engagement ring will likely be your go-to. And, as it's a piece you'll be wearing every day, it's super important to find a style that totally vibes with your aesthetic and overall lifestyle on a daily basis.
From perfectly pared-down to nuanced notice-me, the goal is striking a balance of sparkle and sophistication that elevates your look without dominating it. Striking in their simplicity, statement in their subtlety, with hidden depths and details, prepare to obsess over our edit of contemporary and oh-so-refined minimalist engagement ring options.
Minimalist Engagement Ring Styles

Simple Statements
Anything but boring or uniform—and going all-in on crisp, contemporary designs—our Simply Tacori collection makes all the impact with quietly, unexpected details. Placing the solitaire diamond front-and-center, offering an eye-catching twist thanks to its tapered band of engraved diamond details.


Simply Tacori
Simply Tacori
Simply Tacori
Understated Elegance
Celebrate the confident crisp and clean lines of a strong silhouette. For the bride who wants their diamond served up crisp and clean, our RoyalT Founder's and Simply Tacori RoyalT are stellar options. Whatever diamond cut you choose—we particularly love the defined edges of the emerald-shaped solitaire—these four-pronged stunners are minimalist but with a brilliance that positively radiates.
RoyalT
Simply Tacori RoyalT
For Your Eyes Only
Keep your ring ever-so romantic and intimate with secret details that only you can see. From our signature diamond-cuddled crescent in our Coastal Crescent collection or even adding a secret layer of diamonds just under the center stone, hidden layers add a new spin on modern love.


Coastal Crescent
Founder's Ring RoyalT
Clean Lines
For the minimalist looking for engagement ring styles that aren't all about the sparkle, Sculpted Crescent settings play with a chic fabric crescent with intricate metalwork and no added stones, so the center solitaire takes all the focus. Opt for a brilliant round diamond set against platinum, on a thin band and then raised on a cathedral cushion with subtle engraved accents encasing the solitaire.


Sculpted Crescent
Radiance Redefined
Create the illusion of a larger center stone with an effortless diamond bloom. Add diamonds along the shoulders to lift the luminosity without looking too fussy.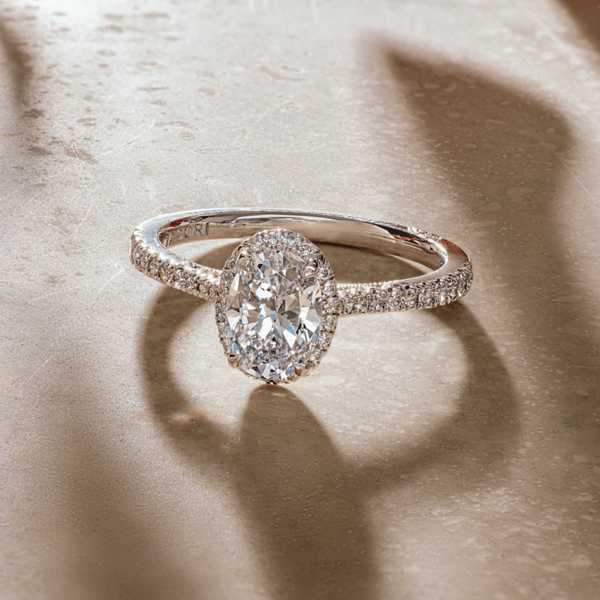 Simply Tacori


Effortless Style
Effervescent sparkle, but without being OTT, Clean Crescent designs spin a new perspective, elevating the center diamond with a sophisticated French-cut setting, which riffs off the strong statement of the diamond-encrusted band. Anything but an attention-seeker, this ring quietly steals the show.
Clean Crescent

Are you team minimalist engagement rings? Comment below and let us know! And be sure to follow us on Instagram, Facebook, Twitter and Pinterest for more design spotlights.
More Tacori:
How To Clean and Care For Your Engagement Ring
The Best Engagement Ring Trends of 2024
Why Choose a Platinum Engagement Ring
The Best Solitaire Engagement Rings
Striking and Simple Engagement Rings Guide
Delicate and Thin Band Engagement Rings