Are you looking for a simple engagement ring? One that's both understated and striking?
At TACORI, we believe that an engagement ring doesn't have to be complicated to be eye-catching. Just take a look at our crescent fabrics - while some are obviously intricate, others are all about clean lines and strong silhouettes. No matter the level of intricacies, every crescent fabric adds depth and dimension, even to clean and simple engagement rings.
Likewise, any meticulously-crafted minimalist engagement ring can be a statement in its subtlety. The open spaces, smooth lines, and crisp arches make for meaningful silhouettes.
Demonstrating that an engagement ring doesn't have to be overly intricate or extroverted to stand out, simple engagement ring designs trade look-at-me opulence for meticulous design, hidden details, and simple but inimitable diamond, milgrain, and crescent decorations.

Why Choose a Simple Engagement Ring?
They're timeless




A simple engagement ring will stand the test of time. As ring trends come and go, a simple engagement ring will remain an evergreen classic; never clashing with the couture of the day.

They're the perfect foundation for a ring stack




A

simple engagement ring

makes the most exquisite foundation for your

wedding stack

. It offers plenty of

opportunities for stacking with a more ornate

diamond-studded wedding band

, leaving potential to add anniversary or eternity bands

over the years. When you start simple, you can build up the detailing from there; adding statement rings or colorful

gemstone bands

as you like.

They're practical




If you're active, work with your hands, or want an

engagement ring that's easier to keep clean and sparkling,

simple engagement rings

can be lower maintenance than more intricate rings. They tend to be daintier in size, too, making them a great choice for smaller hands.
It's worth noting that opting for a more refined engagement ring doesn't mean you have to sacrifice on style. Far from it. There are many options that fall under the more minimalist engagement ring category, so you can find something that truly speaks your love language.
Striking & Simple Engagement Styles to Love
From diamond cuts to metal choice and detailing, the possibilities are endless. These are a few designs worth considering:
Solitaire Engagement Rings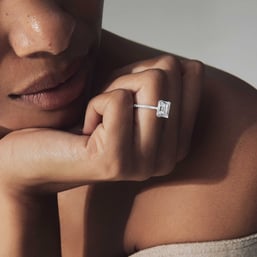 Celebrated for its pure, uncomplicated elegance, the solitaire has been the most popular choice of simple diamond engagement rings for decades, and for good reason. Classic and enduring, solitaire engagement rings make the center stone the star of the show.
With diamond-directional, strong silhouettes, solitaires exemplify a quiet confidence that's second to none. The four- or six-prong setting of the solitaire provides the center diamond with maximum light exposure, resulting in a 360-degree radiance that's hard to beat.
Three Stone Engagement Rings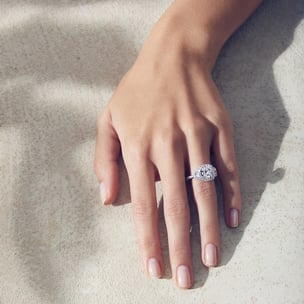 While the solitaire is often the go-to choice for simple engagement rings, there are some styles of three stone engagement rings that fit the criteria, too. Most simple three stone engagement rings feature a center diamond with smaller accent diamonds on either side, mounted on a clean band.
These rings make for a more diamond-forward alternative to the solo statement of the solitaire. Representing your past, present, and future as a couple, the three stone engagement ring introduces an extra layer of storied symbolism while keeping your look streamlined and minimalist.
The Different Diamond Engagement Ring Cuts
A simple engagement ring can feature any diamond cut, from traditional to fancy. Round brilliant, princess, and cushion cut are considered the quintessential diamond shapes and are the most perennially popular simple engagement ring choices, thanks to their enduring, timeless, and refined appearance.
Synonymous with classic style, the round brilliant cut is one of the most sought-after diamond shapes. Its symmetry and brilliance produce exceptional reflection and fire, making it an ideal choice for a more minimalist engagement ring.
The princess cut is characterized by its square shape and 90-degree angles. Its charm rests in the four beveled sides that create maximum shine.
For a softly squared silhouette with a pillow-like appearance, the cushion cut is a minimalist fan favorite. This cut features a romantic, vintage-esque aesthetic that brings out the stone's maximum vibrancy in all types of lighting, including candlelight.
Looking for a diamond cut that's a little more unusual?
Try oval, pear or teardrop, emerald, or marquise. Each of these diamond cuts brings its own personality and flair to an engagement ring.

For instance, the popular fancy diamond shape of an oval cut helps elongate the finger and makes the stone appear larger, and the iconic rectangular shape of emerald cut brings its unique vintage vibes. Pear-shaped diamonds make for a more asymmetrical effect on the finger for added intrigue, while the marquise cut has regal roots, offering one of the most visually distinctive diamond cuts and creating a slender finger effect.
To get a little more creative with your center stone, you can also choose a horizontal orientation for your diamond, also known as east-west. This works for oval, marquise, or pear diamond shapes, and establishes a truly unique effect which imparts a little extra intrigue to your simple engagement ring style.
Striking & Simple Engagement Rings With Hidden Details
The cut of your diamond center stone will determine the overall aesthetic of your ring, but there are many other nuanced or hidden details you can choose to make it a truly personalized symbol of your unique love story.
Simplicity denotes a more streamlined silhouette and refined elegance, but when artfully designed, a simple engagement ring will still stand out. With an emphasis on exquisitely crafted details and a focus on nuanced inner embellishments, the perfect simple engagement ring design will add an extra layer of love that's all yours to enjoy.
TACORI Crescent Fabrics
Take our TACORI crescent fabric, for example. A meticulous design that's difficult to replicate, it has taken our artisans years to get the technique just right and infuse it into our engagement rings for an extra layer of unique detail. Every TACORI engagement ring has a touch of crescent detailing - whether it's a full 360 degrees of crescent fabric, or a single Signature Crescent on the resting point. The crescent maintains the heritage of TACORI and provides the TACORI touch.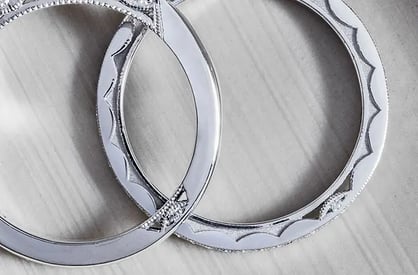 Hidden Blooms
Another of our signature effects, the hidden bloom, features a delicate ring of diamonds just under the crown. Representing the depth of your love, the hidden bloom adds an extra dimension of shine to your engagement ring without being too overt.
If you want to bring a touch of subtle sparkle to your ring, consider the option of adding a tiny dusting of diamonds into the prongs of your ring, as demonstrated by our Simply TACORI Solitaire Engagement Ring. This quietly elegant style enhances the shine of your center stone with a boost of lifted luminosity without appearing too fussy or ornate.
For even more intrigue beneath the center stone, our Simply TACORI Oval Solitaire Engagement Ring features a delicate milgrain detail which appears to drape down from the crown. Inspired by the tiered layers of a wedding dress, the delicate details of this ring remain close to your finger so as not to distract from the elegant minimalism of the center stone.
Thin Bands
The band choice for your engagement ring can create varying effects. A thinner band for your engagement ring will give the center stone a larger appearance and works well for those with smaller or thinner fingers. Thicker bands create a more balanced or metal-forward effect for a larger center stone and provide a canvas for more diamond detail.
---
Favorite Four: Simple Engagement Ring Ideas
With this knowledge of design approaches, details, and center stone cuts, it's time to discover four simple engagement ring ideas, each with its own personality and style.
Exquisite Elegance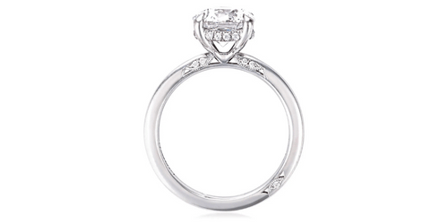 For a simple engagement ring with an edge, the Simply Tacori Round Solitaire Engagement Ring is an exquisitely elegant option. Simplicity redefined, the round brilliant cut diamond shines out from a classic 360 foundation where the prongs supporting the center stone attach to the band from a single point, creating a delicate, floating effect.
The high polish finish of the band adds to the minimalist vibes from the top, while the Simply Tacori crescent fabric adorns the inner band with a dusting of diamonds and milgrain detailing. For a final accent, a hidden bloom of small diamonds just below the crown creates extra all-dimension sparkle. (Note: If round isn't your favorite diamond cut, you can always opt for emerald, oval, princess, or pear.)
Striking Simplicity

The perfect balance of bold and refined, the Sculpted Crescent Solitaire Engagement Ring is a diamond-forward, modern take on the classic solitaire silhouette. Featuring the diamond cut of your choice—round, cushion, princess, emerald, oval, or pear—the center stone is held in a four-prong setting for that floating effect.
For added radiance, the band is imbued with double rows of brilliant round diamonds separated by a meticulous milgrain detail along the shoulders. Flowing sculpted crescents adorned with delicate diamonds punctuate the side profile of the ring, while a layer of diamonds bordered in milgrain drape just under the crown, enhancing the overall light play and texture of the ring.
Signature Style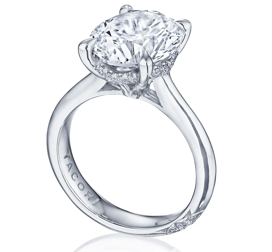 Characterized by its clean lines, modern simplicity, and refined radiance, the Founder's Collection RoyalT Solitaire Engagement Ring proves there is more than meets the eye when it comes to simple engagement rings. Infusing a new mood into the classic solitaire engagement ring, our founder, Haig Tacorian, expertly crafted this ring to be eloquently nuanced, revealing hidden meaning.
You can choose a diamond with a round brilliant, oval, emerald, or princess cut, then mount it in a four-prong cathedral setting that creates a more structured effect. Under the crown, a hidden bloom of diamonds is nestled. Imparting a multi-dimensional shine, the bloom enhances the overall sparkle of the center stone.
As a final hidden detail, this ring features a diamond-studded crescent signature at its resting point. This style is an exceptional choice if you want to keep texture minimal and enjoy the interplay of gleaming precious metals with exquisite diamonds.
Timeless and True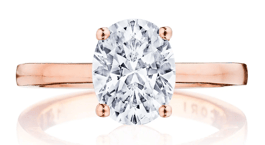 The enduring and endearing style of the Coastal Crescent Oval Solitaire Engagement Ring is both elegant and delicate. A must for any oval diamond lover, the oval solitaire takes center stage in this ring, flanked by four prongs and resting on a high polish band. Adorned with the coastal crescent fabric, the inner band of the ring features undulating crescents with diamonds punctuating the crest of each wave and edged with milgrain detailing. This style is available only in yellow, rose, or white gold and has a distinctly classic charm.
Today's simple engagement ring styles leave plenty to choose from. Whether you're a purist and prefer the diamond-meets-precious-metal option or you're looking for a ring infused with added texture, detailing, and layers, the most important thing is to find the ring that truly stands out to you and your partner. And, if you need a little more guidance, our Tacori experts are always here to help.
More Tacori:
Thin Band Engagement Rings Guide
Engagement Rings With Hidden Details
Minimalist Engagement Rings You'll Love
The Best Solitaire Engagement Rings