If there's one word to sum up 2023's most popular engagement rings, it's nostalgia. Couples are opting for throwback pieces with modern twists, paying homage to the classics while simultaneously celebrating contemporary freedom of expression. But why have we taken a turn towards such reminiscent styles? Our COO and design director, Nadine Tacorian, gives her take:
"The last few years have shown that life changes incredibly fast, but also that we can always carry the most affectionate pieces of the past with us. Engagement rings that hint at tradition are comforting, and mixing with modern design elements keeps them relevant."
From sentimental solitaires to blooms that elevate the light play, these are some of the latest engagement ring trends of the year (and our favorites).
--> More Reading: The Top Engagement Ring Trends of 2024
Top Engagement Ring Trends Of 2023
Oval Cut Center Stones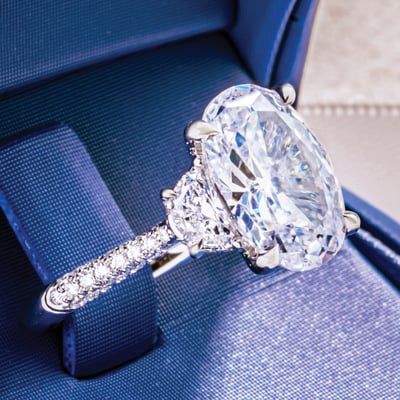 Oval cut diamonds have graced the fingers of high-profile figures in the past - think Princess Diana - and they're only growing in popularity today. In the last year, they've won the title of second-most popular engagement ring cut, contending with round (first) and emerald cut (third). This may be thanks to their recent appearances on the fingers of Hailey Bieber and Kim Kardashian, but even without celebrity endorsement, oval cuts are popular for a good reason. The elongated shape is exceptionally flattering, and with a larger surface area than that of a round-brilliant diamond of the same carat weight, they have a larger visual size that shows off their color and clarity.
Oval cuts are unique classics. For a subtly heirloom look, they're complemented by the elegant but clean lines of the Founder's or Simply TACORI collections.
Classic Blooms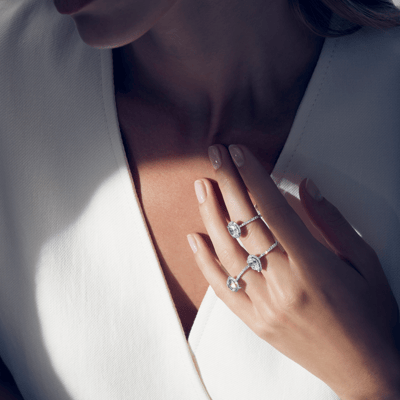 A classic bloom will enhance the center stone, making it appear larger and even brighter. This type of ornament exemplifies how a ring setting makes the ring's character, and many classic blooms add an undeniable opulence. Though a classic bloom is a common fixture in extra-opulent designs, many TACORI blooms are simple but inimitable; they're subtly glamorous, but mostly, they add a clean ring of sparkle.
Take a look at the classic bloom in this Dantela setting, which juxtaposes modern style with traditional taste, while contributing intrigue and brilliance.
Hidden Blooms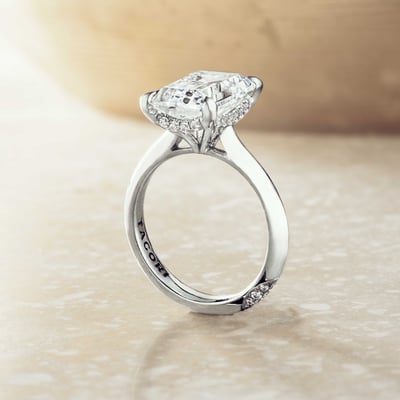 A hidden bloom plays off a classic bloom, but the difference is that the string of diamonds wraps around the base of the crown and is only visible from the side profile. It can add a surprise sparkle to a minimalist ring, while still maintaining that minimalism - or, it can further burnish an already diamond-intense setting. In either case, a hidden bloom introduces irresistible and unexpected light play.
Our COO and design director Nadine Tacorian has described how the hidden bloom on her own Simply TACORI engagement ring adds unexpected but beautiful flashes of light to her everyday.
"Sometimes when I'm sitting in the arduous LA traffic and my hand is resting on the steering wheel, my hidden bloom catches the sunlight and reminds me that I have so much to be thankful for."
Simple Solitaires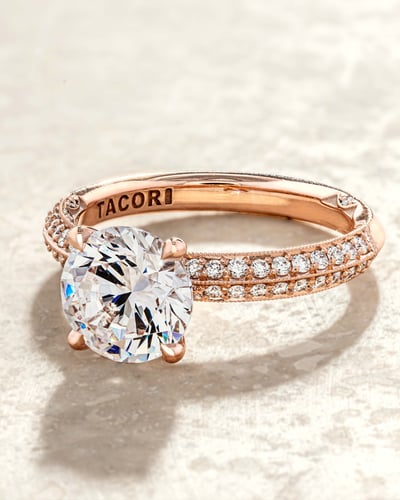 There are no shortage of ways to add flair to a solitaire engagement ring, but in 2023, we can appreciate that a ring doesn't need to be extremely ornate to be eye-catching. Simple solitaires can showcase technical excellence and the masterful craft of the artisans. Meticulously handcrafted design details - such as crescent fabrics and micro pavé - add texture, dimension, and personal touches while maintaining a minimalist aesthetic.
And while simple solitaires may fade in and out of the top engagement ring trends from one year to another, they're always going to work with whatever jewelry trend comes next. Simple solitaire engagement rings are evergreen classics that aren't without personality - like this Simply TACORI ring of a clean design with a touch of hidden detail.
More Than A Top Engagement Ring Trend Trend
A trending ring should still be a timeless ring, and all TACORI pieces are crafted with principles of good design and premium materials, so that they'll be wearable for a lifetime and beyond. Explore all of our engagement ring collections and choose the one that speaks to you.
What's new in 2024? Read Nadine Tacorian's predictions for the engagement ring trends that we'll see in the new year.

Discover More TACORI:
Striking Yet Simple Engagement Rings
The Best Engagement Ring Trends of 2024
Engagement Rings With Hidden Details
Minimalist Engagement Rings You'll Love
How to Create a Customized Engagement Ring