Considered the LBD of the jewelry world, diamond tennis bracelets have become synonymous with style thanks to their versatility, timelessness, and striking elegance. At the forefront of the everyday diamonds trend, tennis bracelets are both quietly impactful and subtly statement, adding just the right amount of balanced sparkle to the wrist. Tennis bracelets have grown in popularity in recent years, thanks to their go-with-any-outfit vibes and modern heirloom quality. If you're considering purchasing this ultimate investment piece, here's what to know about diamond tennis bracelets.
W

hat is a Tennis Bracelet?
A tennis bracelet features a continuous row of repeating, complementing diamonds—handpicked for their matching color, clarity, cut, and carat, set into a gold band. But that doesn't mean all diamond tennis bracelets look the same. There are many variations: You can choose a single row or multiple, identical or alternating diamond shapes, and different precious metals. The bracelet may include round, emerald, oval, or even pear diamond cuts. Sculptural and symmetrical, the tennis bracelet is fluid rather than rigid, making it an effortless and comfortable choice for everyday wear.
Why is it Called a Tennis Bracelet?
Tennis bracelets date back to the 1920s when they were known as diamond line or eternity bracelets due to their resemblance to an eternity ring with its row of repeating diamonds. Clean lines, symmetry, and geometrical shapes made tennis bracelets a highly appealing trend in the Art Deco era, as flapper girls would layer these bracelets—think early days of jewelry stacking—to create diamond cuff effects.
The style endured into the 1970s with new iterations and designs, capturing fashion's shift toward luxury pieces for everyday wear. In the 1980s, the term "tennis bracelet" was coined as a nod to the former world No.1 tennis player Chris Evert. Playing in the high stakes 1987 U.S. Open, Evert's diamond bracelet fell from her wrist, prompting her to request the match be halted so she could look for it. And so, the tennis bracelet was born.
Flash forward to today and the tennis bracelet has never been so sought-after. Its pragmatism infused with pure elegance makes it a truly timeless treasure that works for every aesthetic.
The TACORI Diamond Tennis Bracelet
Made with identical links, in either round brilliant, pear cut, or alternating round and baguette diamonds, each diamond for our tennis bracelets is hand-selected and matched by our gemology department. They select for color of G or better, and for VS1 or better.
The TACORI tennis bracelet chain is cast in-house with our proprietary metal formula. Each chain link is hand soldered and each stone is hand-set into the chain, one at a time. Although the stones look identical to the naked eye, they each have imperceptibly different shapes. The setters must adjust each link to securely fit the unique stone.
While we use a four-prong basket setting for most of our tennis bracelets, for fancy cut diamonds such as pear cuts, we use three prongs to accommodate the stone's shape. It takes a high level of skill to set these challenging cuts into the chain.
For that TACORI touch, TACORI Crescents studded with round brilliant accent diamonds are added to the side profile of each link, adding all-angle sparkle.
How to Choose a Tennis Bracelet
When deciding which tennis bracelet is right for you, there are a few considerations to make. For something a little more delicate and minimalist, opt for a smaller carat weight, for a heavier and bolder bracelet, go for a higher carat weight.
Color is also an important decision. Choose from yellow, rose, or white gold—each of the golds we use for our tennis bracelets are 18kt. Next up, decide on what diamond shape suits you. Do you like matching shapes or alternating? Classic or fancy? Defining these elements will help you find your tennis bracelet match.
Gold Tennis Bracelets
Wondering which type of gold to choose for your tennis bracelet? Here's a quick guide.
Yellow Gold Tennis Bracelet
Opting for a yellow gold tennis bracelet is a classic and timeless look. Pure sunshine in a metal, yellow gold is a stellar tennis bracelet choice to add color to any outfit along with elegance and grace.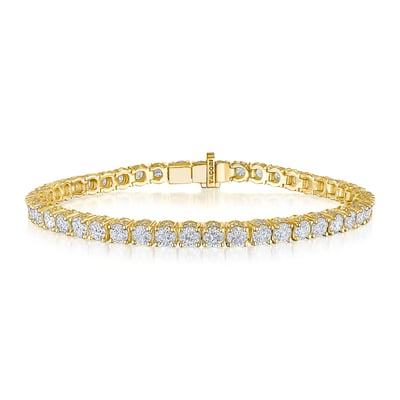 Rose Gold Tennis Bracelet
Rose gold tennis bracelets bring warmth to a look. With its gentle blush, rose gold helps accentuate the size of the diamonds in your tennis bracelet for an exquisite effect.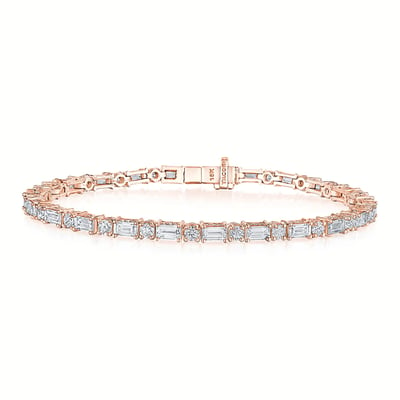 White Gold Tennis Bracelet
White gold tennis bracelets are the most quintessentially minimalist and quietly elegant of all the golds. Instead of adding color to the diamonds, white gold sets the diamonds ablaze with its complementing white hues, creating a brilliant shine. A popular choice for its more neutral styling stance, a white gold tennis bracelet is truly a universally adored piece.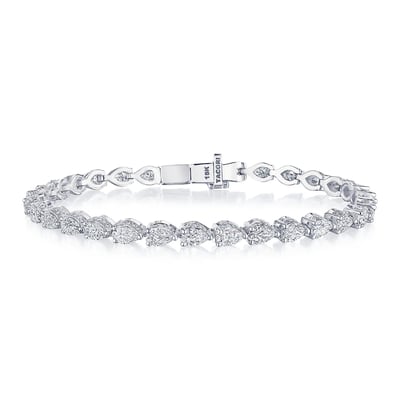 All TACORI gold tennis bracelets are made with our proprietary metal. For yellow gold, we use a mix of harder metals to safely allow for the intricacies and delicate details of our engagement rings, wedding bands, and fine jewelry. Our white gold is more durable than yellow gold and uses pure gold plus additional white metals to form an alloy, which is then coated with a thin layer of rhodium for a vibrant white hue. Our rose gold also uses a unique formula to create that contemporary blush glow. Since it's not plated with other metals, rose gold is stronger and more durable than the other golds. Each of our gold formulations are created for their strength and purity, to ensure your diamonds are set in place securely and will move effortlessly with you throughout your day.
Meet the Diamond Tennis Bracelets
Our Classic Crescent RoyalT diamond tennis bracelets come in the three gold options and different diamond shapes.
Round Brilliant Diamond Tennis Bracelet
First up is the classic round brilliant diamond tennis bracelet. Featuring an endless flow of round-brilliant diamonds, it truly embodies that less-is-more mood. Striking in its simplicity, this is a great choice if you're new to wearing a bracelet every day and will neatly complement any other jewelry you're wearing from wristwatches to rings.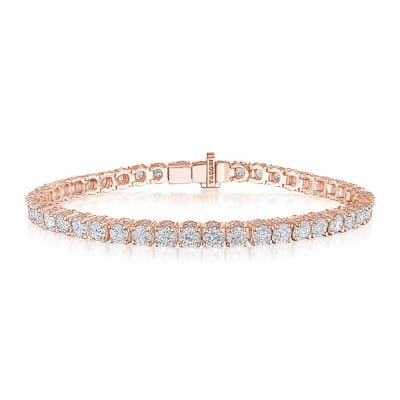 Pear Cut Diamond Tennis Bracelet
For something a little more statement, the pear cut diamond tennis bracelet is an exceptional choice. Gently asymmetrical, pear cut diamonds are set east-west, creating a cascading rippling effect from the round end to the angular point of the teardrop shape. The unique shape of the pear cut and three-prong setting make this a more diamond-intense option, allowing the diamonds to appear as if they are almost floating along the wrist.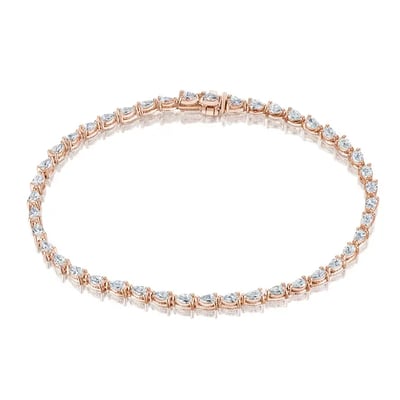 Baguette and Round Diamond Tennis Bracelet
For a tennis bracelet with a twist, the alternating pattern of baguette and round-brilliant diamonds creates a diamond dance like no other. The juxtaposition of the strong geometric lines from the baguette diamonds and eternal curves of the round cut diamonds adds a fire and shine that is singularly stunning.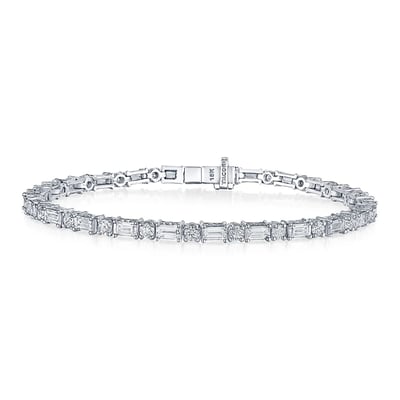 How to Style Your Diamond Tennis Bracelet
Styling your tennis bracelet is down to personal taste. A single strand may be exactly what you want, or you may decide to add more to the mix. For the ultimate arm-party, consider a stack of tennis bracelets with different diamond cuts to create light play and infuse more texture into your look.


Tennis bracelets also make an exquisite pairing with a delicate or ornate wristwatch. Keep things simple for a more minimalist take or make a statement by mix-and-matching your diamond tennis bracelet with other bracelets, including ones with different colored gemstones, metals, and widths of bracelets. With so much versatility, there is truly no wrong way to wear your tennis bracelet.
More TACORI:
How To Choose a Pave Engagement Ring
Matching Jewelry Sets You'll Love
Whatever you decide, our TACORI design team is always here to offer expert guidance.