Finding an engagement ring that truly captures the essence of your love and style can be both an exhilarating and an overwhelming journey. With so many engagement ring options available, it's hard to know where to start or even how to start. You may have seen rings that you like but aren't quite hitting the right notes in terms of the detailing, or you might have an idea in mind but can't find a ring that perfectly captures your vision. For an engagement ring that feels utterly unique and one-of-a-kind, a customized engagement ring may be the best option for you.
At TACORI, every engagement ring and wedding band can be customized with meaningful details by the artisans at our California Design Studios. Our team comes from all over the world to handcraft TACORI rings and our bespoke process gives us the unrivaled ability to create one-of-a-kind designs. Because each ring is individually handcrafted to order, it makes the process from vision to finished piece seamless and stress free.
Wh

y Customize an Engagement Ring?
For many couples, finding a ring that complements their love story is as straightforward as choosing from a designed collection. Others may find they like certain elements of a ring's design but want to make a few adjustments to it. And some couples want to create a completely unique engagement ring design based on their own vision. Engagement ring customization caters to every taste and style, allowing you to imbue your ring with details that resonate with your relationship and aesthetic. A customized design gives you the creative space to weave your love story into a ring that will continue to bring joy for the rest of your lives. Decades later, those bespoke details will take on even more meaning as your relationship evolves.
How

to Customize an Engagement Ring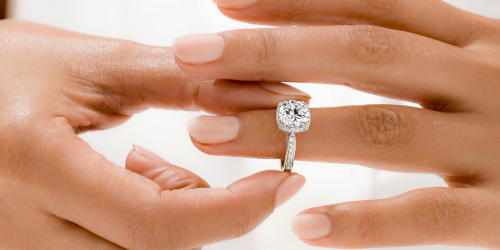 By choosing to customize your engagement ring, you are essentially building this breathtaking piece of jewelry from start to finish. You'll select a setting, foundation, metal type, center stone, and more. The options are virtually endless—and occasionally overwhelming. This guide can help simplify the process so you know what to expect at every step in the process.
Choose an Engagement Ring Setting
The first place to start when deciding on your engagement ring is to choose a setting. At TACORI, we offer three engagement ring settings, each with its own distinct silhouette and style.
The setting is an important decision since your choice here will affect the size and shape of your center stone, as well as how much or little precious metal you wish to expose. These are some of the popular options.
Solitaire Settings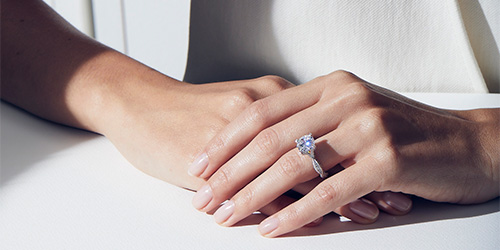 The most popular engagement ring setting is the classic solitaire. Beloved for its grace and elegance, a solitaire engagement ring makes the center stone the main attraction. Simple yet striking, this versatile setting accommodates far more than a minimalist look; in fact, it can be part of a statement design depending on your ring customization preferences. A solitaire engagement ring comes in either four- or six-prong settings and offers maximum light exposure to your center stone for an all-angle luminosity that's second to none.
Three Stone Engagement Rings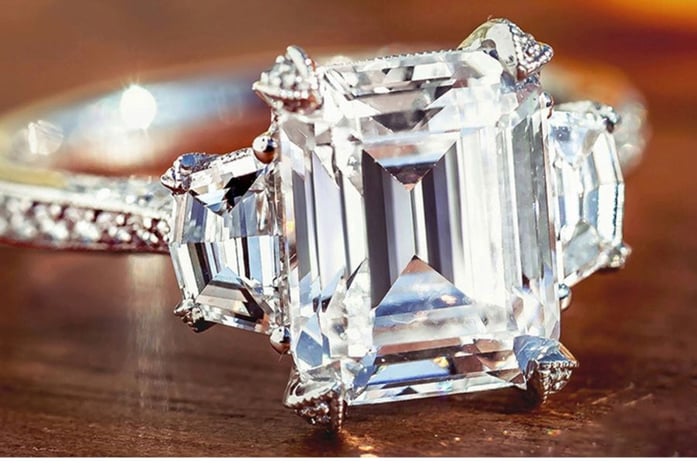 Symbolic and storied, the three stone engagement ring is another popular choice and offers plenty of variety and versatility. With the trilogy of stones thought to represent the past, present, and future, there's plenty of scope to imbue your own meaning into a three stone ring. Depending on the aesthetic you're going for, your center stone could be flanked by smaller stones of the same cut or you could go with different shapes for contrast. And you can always add a pop of color by using your favorite precious gemstones as side stones, too.
Bloom Engagement Rings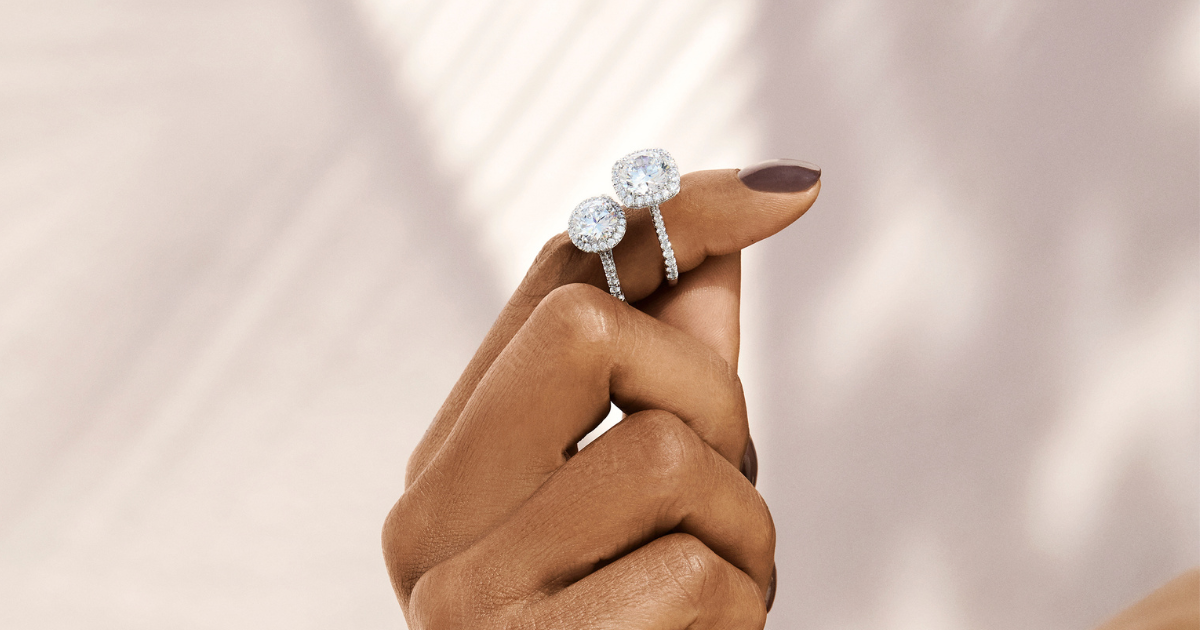 Some call it a halo engagement ring, we call it the TACORI bloom. Featuring an envelope of smaller diamonds either surrounding the center stone or positioned just below it, blooms are our unique approach to adding even more diamond coverage to your engagement ring to create the appearance of a larger center stone. Blooms can be the same shape of your center stone or can create the illusion of a different diamond shape, for example transforming a round center stone into a marquise shape. Every bloom has its own diamond intensity, allowing you many options to choose from for either a solitaire or three stone engagement ring.
Choose an Engagement Ring Foundation
The foundation refers to the part of the engagement ring that holds the center stone in place. The foundation also determines how high the stone sits on your finger, also known as its profile. At TACORI, we offer two engagement ring foundations. Each has its own stylistic and structural benefits.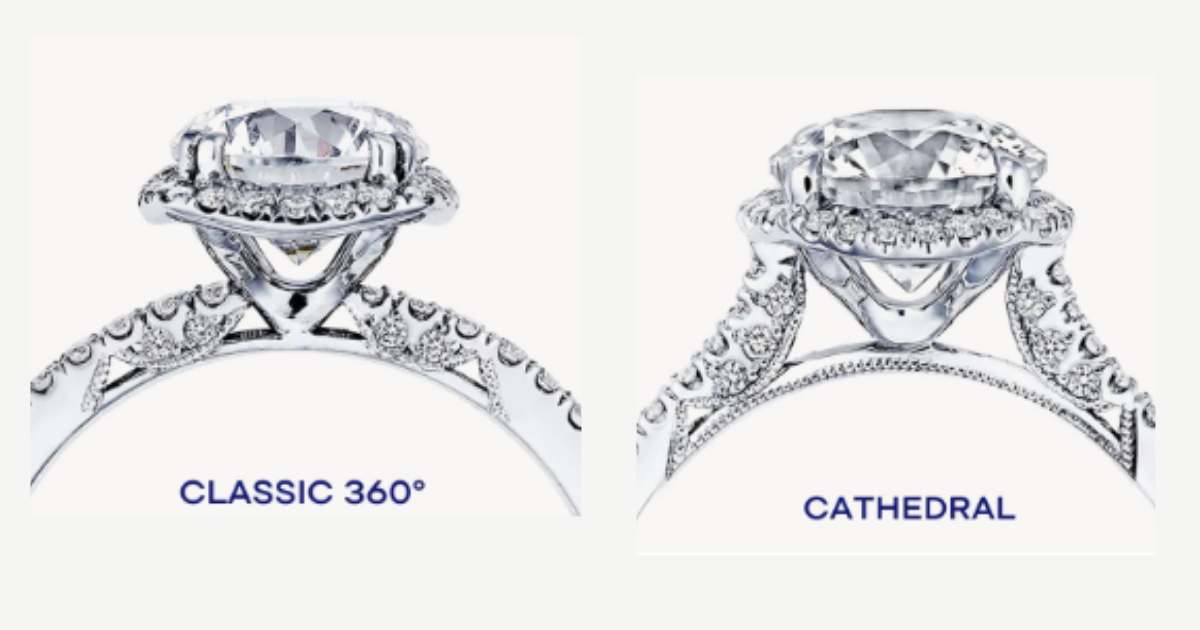 Classic 360 Foundation
The classic 360 foundation—sometimes called a basket setting, features precious metal prongs that attach the center diamond to the band at a single point, creating a floating effect for the center stone. But don't let its delicate appearance deceive you, as every TACORI ring is cast as a single piece of metal for unmatched structural integrity. This setting sits lower on the finger than the alternative cathedral foundation. Details can be imbued into this foundation by adding diamonds on the prongs, pavé and milgrain detailing, and a hidden bloom of diamonds just under the crown.
Cathedral Foundation
The cathedral foundation gets its name from those exquisite houses of worship with their distinctive arches, ornate ceilings, and other architectural wonders. It features a precious metal band that slopes upwards on either side of the center stone in a raised setting that allows for hidden detailing underneath the crown. Sitting higher on the finger than the classic 360, it provides space for a lower profile wedding band or anniversary band to stack neatly underneath. This foundation also offers added detailing under the crown such as pavé, milgrain, or high-polish metalwork, and a hidden bloom if that speaks to you.
Choose a Crescent Fabric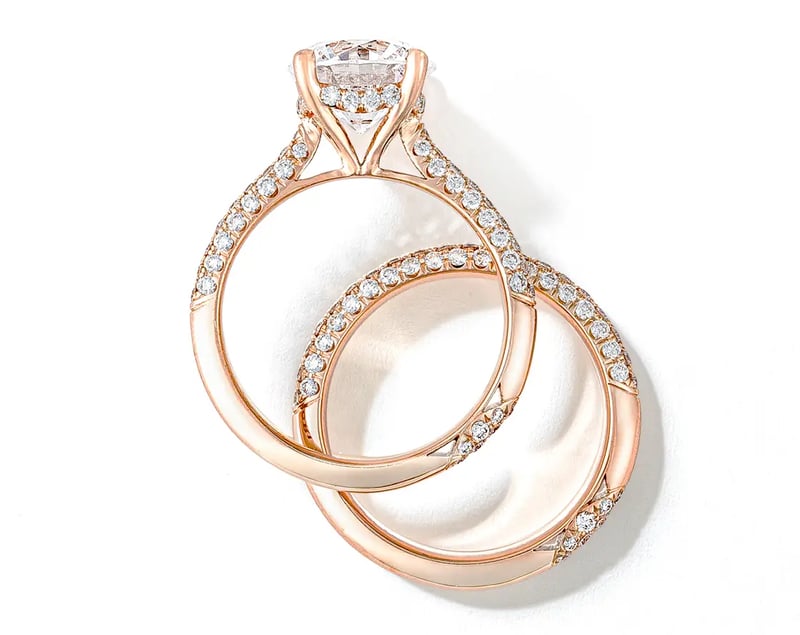 Next up, find your fabric. Our Crescent Fabrics decorate the foundation of the ring, adding depth and dimension from every angle. There are seven crescent fabrics to choose from, ranging from the minimalist, metal-forward Simply TACORI and Founder's to the sculpted metalwork of the Sculpted Crescent. If you prefer a more intricate look, you'll find added diamond detailing along with delicate ornate metalwork and arches in the Classic Crescent, and Petite Crescent fabrics.
Choose a Center Stone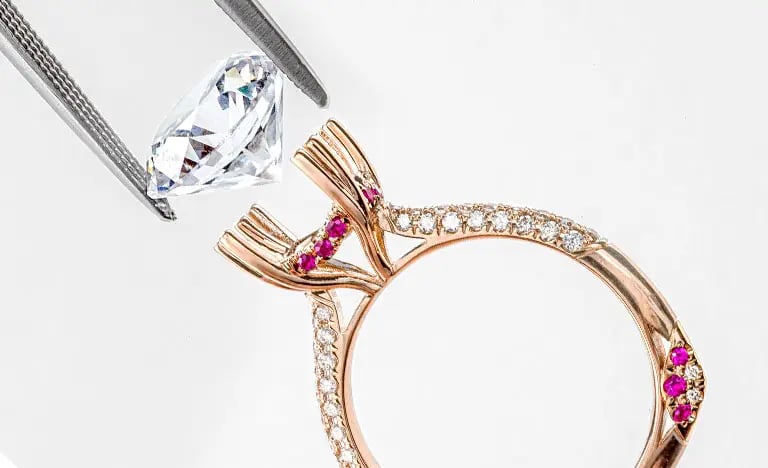 Choosing your center stone is where the ring really starts to take shape. Diamonds are the most popular engagement ring center stone, each with its own personality and flair. Round brilliant, oval, and emerald cut diamonds are some of the most popular shapes right now, thanks to their innate light-reflecting properties, elegant silhouettes, and timelessness. Princess, pear, cushion, and marquise are also stellar options. And, of course, you don't have to stop at diamonds! For those who appreciate a little color, add emeralds, rubies, sapphires, or other colored gemstones as your side stones for a totally unique look. For added effect, consider designing some of the diamond cuts—like oval, pear, and marquise—in an East-West orientation.
TACORI rings are sold as a semi-mounts, which means the center stone is purchased separately through your retailer. This allows you to select a stone that resonates most with you. Speak to your retailer about the 4Cs and explore the different diamond options that fit your budget and style.
All TACORI engagement rings can accommodate any center stone size or cut, so you can easily incorporate any meaningful or family heirloom stones into your ring to add to its uniqueness. And there are no modification charges to accommodate a different ring size.
Choose a Precious Metal
Seal your love in your favorite precious metal, choosing from platinum, yellow, rose, or white gold. All of the metals we use at TACORI are made in house with a proprietary formula to provide the best quality and exquisite finish.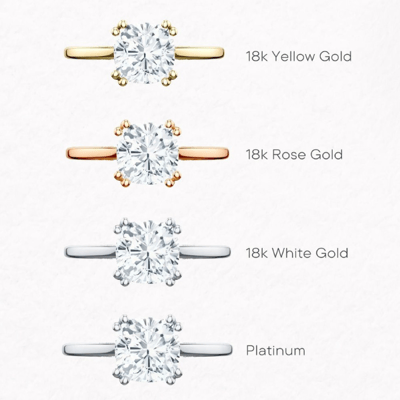 Platinum: This is our favorite precious metal. Why? Because it's the only metal that gets stronger with time—its patina is part of its desirability. It's pure, meaning it won't yellow with age and is hypoallergenic, plus it's heavier than gold, adding to the ring's longevity and protection for your diamonds.
Yellow Gold: Inimitably glamourous and truly timeless, yellow gold is a versatile metal that goes with every style. We only use 18K gold, which offers substantial weight and saturated yellow hues.
Rose Gold: With its blushed, warm radiance, rose gold is an exquisite choice. Using our proprietary blend, our rose gold is delicate, yet contemporary. As it isn't plated with other metals, it's a stronger gold and doesn't scratch as easily.
White Gold: White is the most popular engagement ring metal color, as it really sets off the brilliance of your diamonds. To give this gold its white appearance, we use pure gold and white metals to form an alloy. The 18K white gold is then coated in rhodium for a vivid white appearance. It's more durable than yellow gold, but still softer than platinum.
Add Personalization
For the finishing touches to your ring, TACORI specialists can help you add or alter design details. You may wish to add diamond detailing on prongs or under the crown, pavé on the shoulders, and customize or even combine fabric details. Whatever your style, our experts can help you through the process and create a custom engagement ring that meets all of your expectations.
The options are endless, so we recommend creating a vision or mood board to bring your ideas to life and bringing that board to your TACORI specialist to begin the design process.
How We Craft and Customize Your Engagement Ring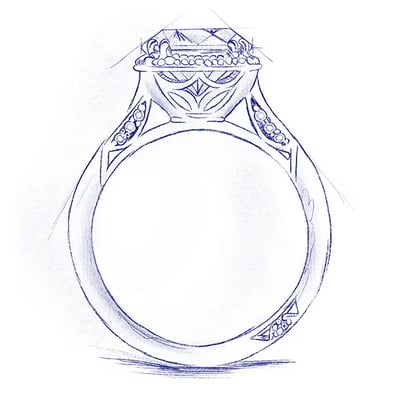 Once you have an idea of the engagement ring you want, the process begins with a consultation with a TACORI expert, where your ideas and engagement ring preferences are discussed in detail.
We use advanced computer-aided design (CAD) technology to make engagement rings extra personalized. After your consultation, the design team will send sketches to the CAD engineer to create a 3D digital model of the engagement ring. This allows you to see a detailed rendering of your ring and make any necessary changes or modifications before it's created.
The CAD software used by TACORI allows for intricate and precise detailing, giving you the opportunity to create truly unique customized engagement rings. Once the engagement ring design is finalized, the digital file is sent to the prototype laboratory, where a rapid prototype machine—the same technology used by NASA, JPL, and Boeing, weaves wax back and forth to build a 3D wax ring prototype.
TACORI's use of CAD technology not only allows for highly personalized and customized engagement rings, but also ensures accuracy and consistency in the crafting process.
If you have decided a customized engagement ring is the path you wish to take, book a consultation with your TACORI specialist to get the process started. You'll be one step closer to creating the customized engagement ring of your dreams.
More TACORI:
Cathedral Setting Engagement Rings
Classic Engagement Ring Setting Guide
Best Solitaire Engagement Rings
How To Choose a Pave Engagement Ring
Whatever you decide, our TACORI design team is always here to offer expert guidance.