A Classic 360 engagement ring setting is undeniably alluring, with its delicate, floating look that draws the eye to the center stone. When you're choosing an engagement ring, the ring setting plays a crucial role in defining the character of the piece. And while the center stone is undoubtedly significant, the way that it's held in place is what gives the piece character. We're going to delve into the timeless elegance of a Classic 360 engagement ring setting.
At TACORI, we work with two engagement ring settings. The cathedral setting is known for its higher profile, allowing for details beneath the center stone, while the classic 360 setting (sometimes called a basket setting) creates a delicate, floating look. To determine which engagement ring style is right for you, you'll want to take a closer look at the details of a classic engagement ring setting.
Unlike pre-set engagement rings, where your center stone is already placed and secured in the setting before it is purchased - every center stone and accent diamonds in a TACORI setting is meticulously hand-set by our master artisans. This allows for full flexibility in terms of stone choice, setting style, and personalization.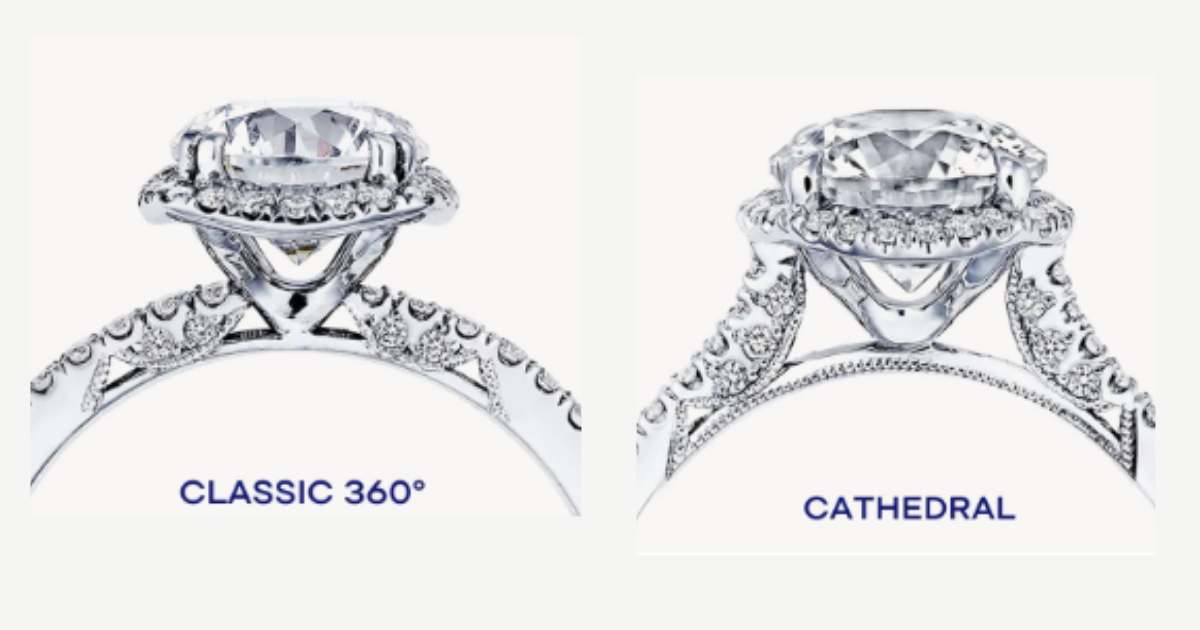 What is a Classic Engagement Ring Setting or Basket Setting Engagement Ring?
An engagement ring setting refers to the part of the ring that holds the center stone in place. It determines how high the center stone sits on the finger and plays an integral role in the overall aesthetic of the ring.
At TACORI, the classic 360 engagement ring setting features prongs of precious metal that attach the center diamond to the band at a single point, offering a distinct and elevated silhouette. These prongs (sometimes known as a claw setting when the prongs are tapered) may feature either a four- or six-prong arrangement. The single attachment point creates a floating effect for the center stone, allowing the diamond to appear suspended.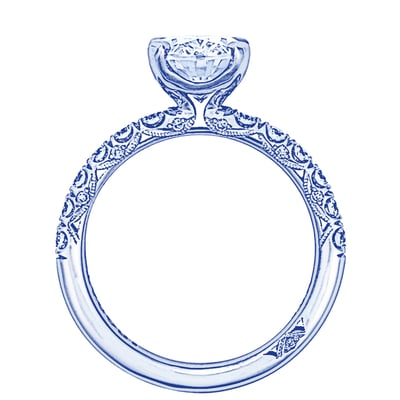 Basket setting engagement rings are similar to classic settings but feature a distinct side profile: The vertical prongs are met with horizontal bands of precious metal between them, creating a subtle woven basket effect into which the center stone is nestled. This adds further structure and stability to the ring, as well as a more ornate metalwork effect. Basket settings may include pavé diamonds to add brilliance to the overall effect or milgrain and beading along the band for a textured appearance.
Why choose a Classic Engagement Ring Setting?
There are many reasons a classic engagement ring may be the right choice for you. The setting works well with more minimal engagement ring styles, and many fall in love with the classic engagement ring setting because of its striking simplicity. With minimal metalwork, more of the diamond is exposed, maximizing the amount of light that can hit the stone. This creates a diamond brilliant effect that is unparalleled.
If you prefer a more dramatic effect, classic engagement ring settings also make the diamond appear larger (all diamond cuts work with this setting), especially when paired with a thin band engagement ring.
And finally, despite their delicate appearance, classic settings are incredibly durable. Every TACORI ring is cast as a single piece for unmatched structural integrity. A classic setting typically sits lower on the finger than the cathedral engagement ring setting so it's less prone to catching or being knocked against something.
Our favorite Classic Engagement Rings
Compared to the cathedral setting, classic 360 settings have less room to add hidden details under the crown, but there's still opportunity to showcase additional diamonds on the prongs, with a hidden bloom, or through pavé or milgrain detailing on the rest of the band. The options here highlight the unique versatility of a classic setting.
---
Diamond Light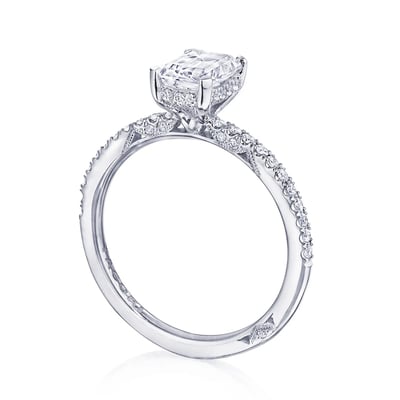 Emerald Solitaire Engagement Ring
Demonstrating how much of the diamond center stone can be revealed with a four-prong engagement ring setting, the Emerald Solitaire Engagement Ring creates a strong solitaire look. The ring features a thin band infused with French pavé diamonds, with diamond and milgrain crescents on the inner and side profiles. Extra light play comes from a hidden bloom just under the center stone.
---
Modern Elegance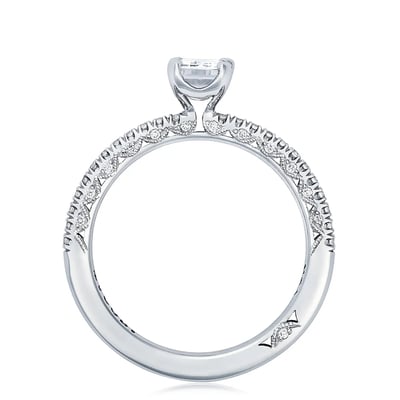 Petite Crescent Solitaire Engagement Ring
This striking Simply TACORI Petite Crescent Solitaire Engagement Ring is a masterclass in impactful elegance. A diamond cradled by a four-prong setting rises up from the center, while French set pavé diamonds adorn the band to complement the rippling diamond and milgrain crescent detailing seen in the ring's side profile.
---
Sculpted and Striking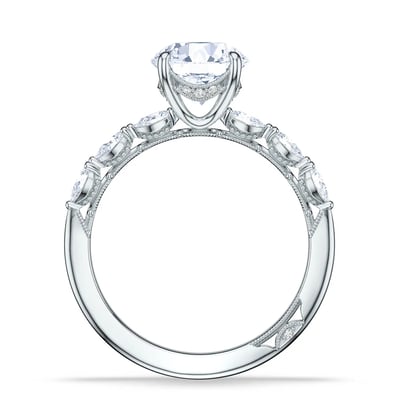 Sculpted Crescent Round Solitaire Engagement Ring
For a more ornate take on the classic setting, the Sculpted Crescent Round Solitaire Engagement Ring is the way to go. Featuring an exquisitely refined four-prong crown, a hidden bloom is revealed just below the surface, punctuated with beaded detailing. Pear-shaped diamonds adorn the shoulders of the ring, set upon further beading and sculpted crescents.
Draped Details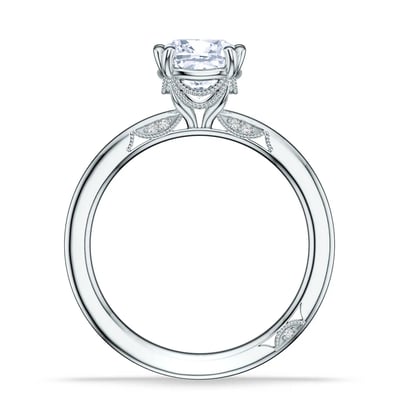 Cushion Solitaire Engagement Ring
The Simply TACORI Cushion Solitaire Engagement Ring features a double four-prong effect that extends downward to meet delicate milgrain draping details inspired by the draped fabric of a bridal gown. High-shine precious metal on the band enhances light play and reflection, while diamond and milgrain intricacies add depth and definition to the ring's side profile.
As you choose your engagement ring setting, consider how often you work with your hands. A classic 360 setting has a lower profile than a cathedral setting which may be preferable if you work with your hands a lot. As with all engagement rings, it's important to keep it clean and cared for with professional deep cleaning service every year.
More TACORI:
Cathedral Engagement Ring Setting Guide
How To Choose a Pave Engagement Ring
Best Solitaire Engagement Rings
Whatever you decide, our TACORI design team is always here to offer expert guidance.