Do you know your cathedral engagement ring setting from your classic engagement ring setting? If you're looking for guidance on what engagement ring setting is right for you, understanding what distinguishes cathedral engagement rings from the rest can help you make an informed decision.
An engagement ring setting refers to the structure of the ring itself: how the diamond center stone is held in place, how the crown is set, what's underneath it, and generally how individual elements of the ring flow together.
Cathedral engagement ring settings elevate the center stone and showcase the meticulous handcrafted detailing by TACORI's talented artisans.
What is a Cathedral Setting engagement ring?
As the name suggests, cathedral foundation engagement rings are inspired by the arches, doorways, ornate ceilings, and architectural details of these exquisite houses of worship. Combining function with beauty, a cathedral setting features a band of precious metal that slopes upward on either side of the center stone. A raised setting keeps the center stone securely in place while allowing for hidden details to be crafted underneath.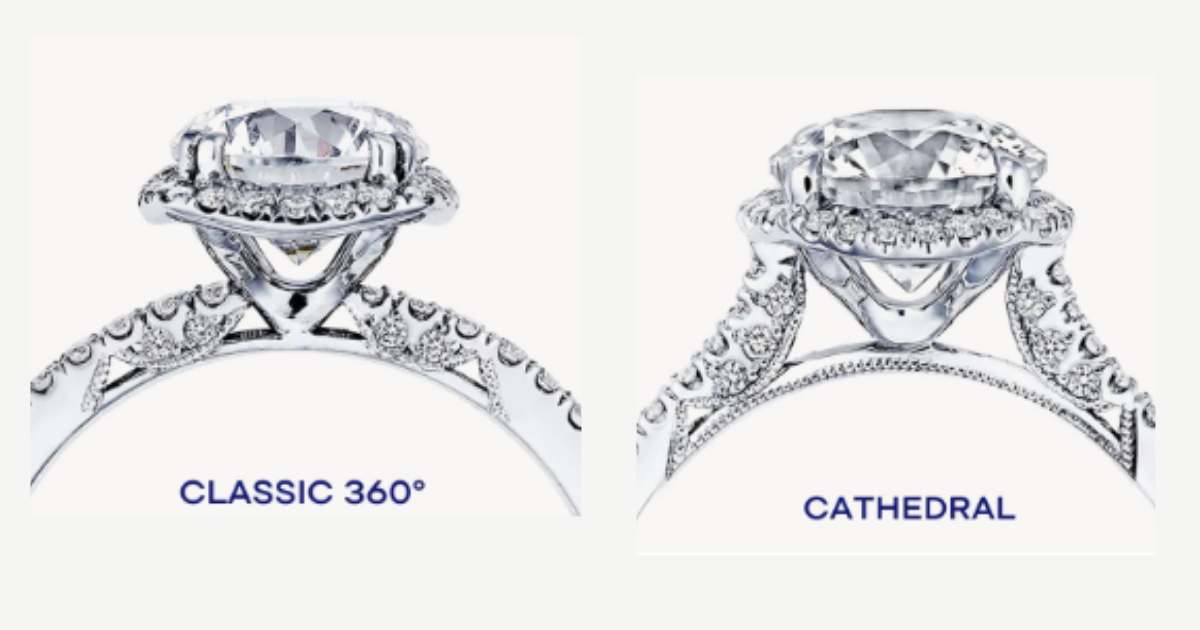 The distinctive raised profile of cathedral engagement rings is often (but not always) higher than a classic setting. In either type of setting, the cutlet (bottom tip) of the diamond can rest at the same level.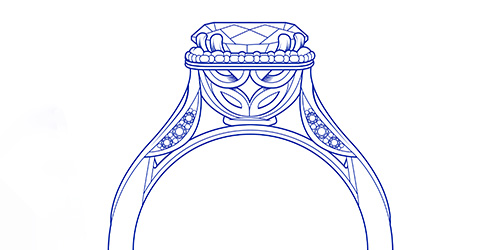 Why choose a Cathedral Setting?
There are many reasons to choose a cathedral setting for your engagement ring. Versatile and easily tailored to your specific tastes, cathedral settings can be used with minimalist engagement ring styles as well as more statement rings.
Because it often sits higher on the finger than a classic setting, a cathedral engagement ring accentuates the center stone. In addition, the elevated setting of a cathedral engagement ring allows a lower profile wedding band and anniversary band to stack neatly underneath.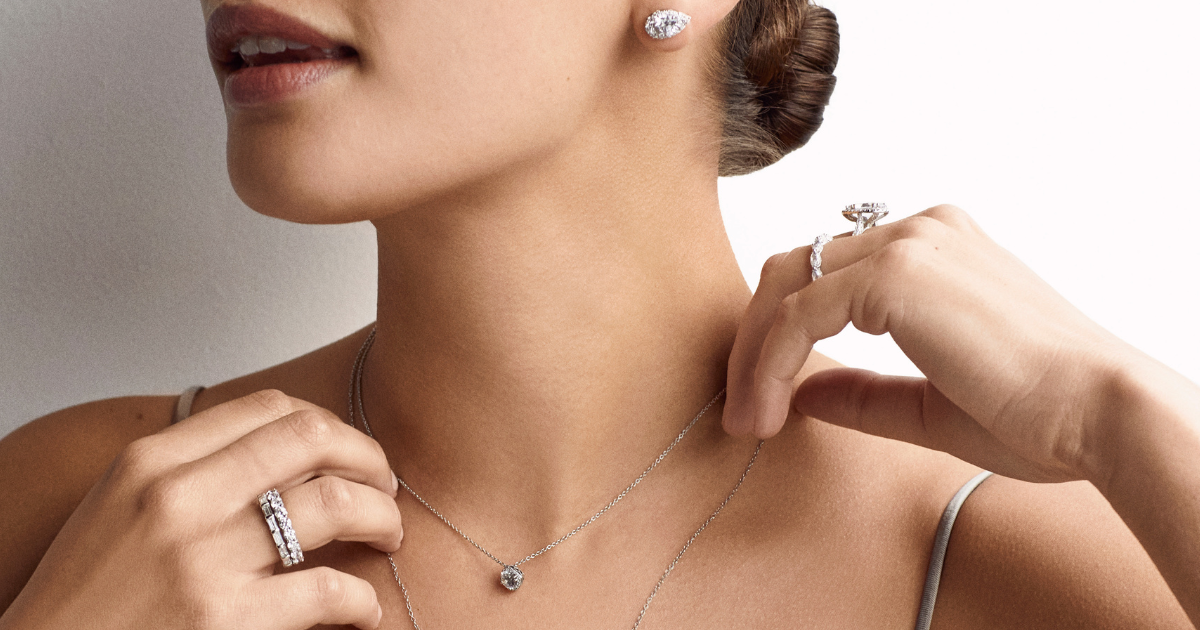 But it's not all party up top with a cathedral setting. The beauty of this engagement ring setting is that below the center stone, the cathedral foundation offers an array of options for added depth and details. Pavé, milgrain, and other nuanced metalwork allow you to customize your ring based on your personal preferences. You can opt for a minimalist effect with structured metalwork or add hidden blooms of diamonds for an extra layer of luminosity. For more ornate detailing, the arches and shanks of your cathedral engagement ring can also feature design details that speak to you.
Each and every gemstone used in the detailing of our cathedral settings is handpicked by our master artisans to create an abundance of diamond-forward effects. Which style you choose is up to you—the ability to customize your engagement ring is one of the major appeals of cathedral settings.
---
Meet the Cathedral Setting Engagement Rings
Before exploring your options for cathedral setting engagement rings, you'll want to consider the shape of your stone. All diamond cuts work beautifully with cathedral engagement rings, but some of the more elongated shapes such as oval, marquise, pear, or emerald can really pop in the higher profile setting.
These are a few styles to consider:
---
Modern Minimalist
Founder's Collection Solitaire Engagement Ring
Keeping it simple but striking, the Founder's Collection Solitaire Engagement Ring is a masterclass in nuanced minimalism in a cathedral setting. A high-polish precious metal band slopes up to support a solitaire diamond shape of your choosing, while an exquisite hidden bloom of diamonds is nestled just under the center stone.
---
Simply Striking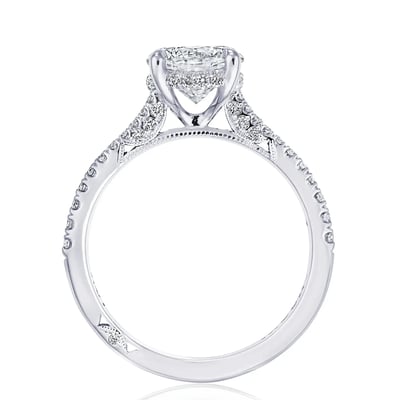 Simply Tacori Solitaire Engagement Ring
Cathedral setting engagement rings take an ornate twist with the Simply TACORI Solitaire Engagement Ring. Classic French pavé diamonds lead up the ceiling of the ring to support the solitaire center stone, while a hidden bloom nests just under the center diamond. Diamond-infused crescents enhance the lower ceiling of the ring and delicate milgrain detailing adds to the elegant profile.
---
Ornate Architectural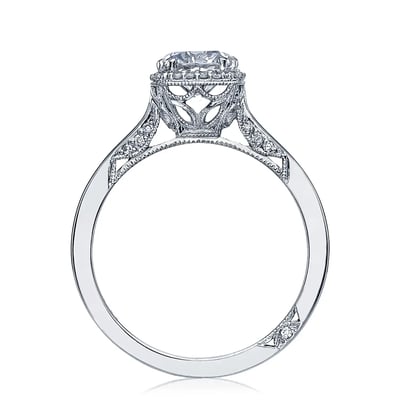 Dantela Solitaire Round Bloom Engagement Ring
Utterly unique and effortlessly exquisite, the Dantela Solitaire Round Bloom Engagement Ring features a high-polish band that flows upwards to meet the center stone, which is bloomed with spotlight diamonds to create a diamond-intense effect. Below the crown, ornate metalwork comes into play. Milgrain-draped detailing creates arches of light, set ablaze with tiny diamonds nestled into the shoulders of the ring.
Clean Lines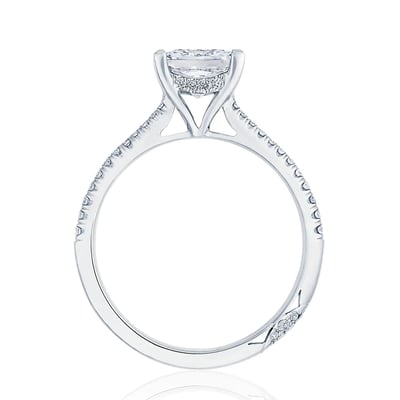 Princess Solitaire Engagement Ring
As part of our Founder's Collection, the Princess Solitaire Engagement Ring showcases a clean, angular structure. Pavé diamonds flow upwards to elevate the center stone which is held in a four-prong setting. The hidden bloom of diamonds just below adds a nuanced depth of luminosity, while striking and high-shine metalwork completes the effortless effect of this cathedral setting engagement ring.
As you choose your engagement ring setting, consider how often you work with your hands. A cathedral setting with a higher profile may be more prone to catching on something. With its extra detailing and structure underneath, it's also important to keep your cathedral setting engagement ring clean and cared for with professional deep cleaning service every year.
More TACORI:
Why Choose a Classic Engagement Ring Setting?
How To Choose a Pave Engagement Ring
Best Solitaire Engagement Rings
Whatever you decide, our TACORI design team is always here to offer expert guidance.