Learn about the allure of understated elegance with quiet luxury jewelry. The aesthetic of quiet luxury, popularized recently by HBO's mega-popular show Succession, is defined by clothing and accessories that are well made, but not showy. When it comes to fine jewelry with a quiet luxury aesthetic, the pieces are understated, enduring, and authentically crafted.
The Essence of Quiet Luxury Jewelry
Quiet luxury jewelry embodies a sense of refined sophistication and understated elegance. Unlike bold and extravagant pieces, quiet luxury jewelry exudes a subtle charm that captivates with its simplicity. It is about embracing the beauty in minimalism and allowing the craftsmanship and quality of the materials to shine through.
The concept of quiet luxury celebrates the artistry that goes into producing a piece. When something is crafted with love and intention, the story and the final piece is beautiful. And that intrinsic beauty can be cherished quietly.
Quiet luxury jewelry pieces are often made from high-quality materials such as gold or platinum, ensuring longevity, durability, and timelessness. The design focus is on subtle details, such as intricate engravings or meticulous embellishments, that add a touch of uniqueness to each piece.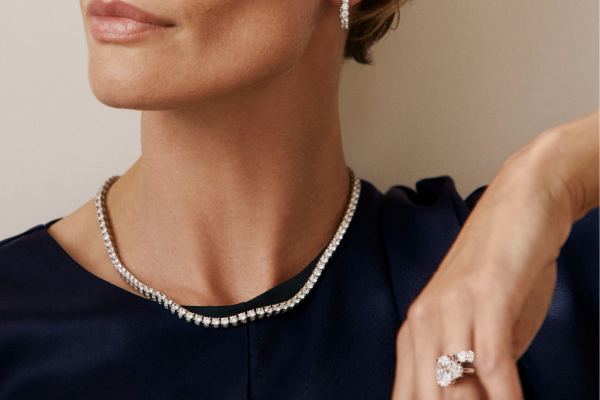 Examples of Quiet Luxury Jewelry
Picture two handbags - one is full grain leather, handcrafted by an artisan who has devoted their life to learning the art of leather work. The other is a Gucci bag, with the iconic logo peppering the waxed canvas exterior. The marked difference between the two is partially in quality, but also in the the story. Everybody knows the Gucci story, but the leather bag's story might only be known to the owner. The latter isn't coveted because of it's loud logo.

Quiet luxury is intrinsic in TACORI designs. Our handcrafted pieces are made with premium 18 karat gold and platinum, mixed in house. They are hand-set with hand-selected diamonds by master artisans who have devoted their careers to the art. The TACORI Crescent, our iconic design motif, is subtle but meticulous mark of artistry that unites every piece.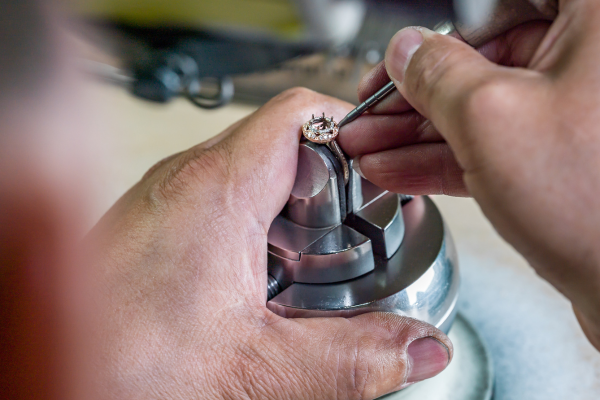 Handcrafted, bespoke, and artisanal - these words resonate deeply within the world of quiet luxury jewelry. Each piece is a work of art, meticulously created by skilled artisans who infuse their expertise and passion into every detail. Craftsmanship is the heartbeat of quiet luxury. In the Crescent Eclipse link necklace, every one of the 1,000 melee diamonds was hand-selected and matched for clarity, cut, and consistency. The fact is that craftsmanship behind a quiet luxury piece often involves doing things the hard way, which is also far more meaningful.
Choosing Materials for Quiet Luxury Pieces
When choosing materials for quiet luxury jewelry pieces, it is essential to prioritize quality and durability. Opt for materials like 18k gold or platinum, which are known for their longevity and timelessness. These materials not only enhance the overall aesthetic of the piece but also ensure that it can be cherished for years to come.
In addition to precious metals, consider incorporating gemstones into your quiet luxury jewelry collection. However, instead of large, flashy stones, opt for the timeless clarity of diamonds. These stones add a sparkle and elegance to the piece without overpowering the overall design. The key is to choose gemstones that complement the piece and enhance its natural beauty.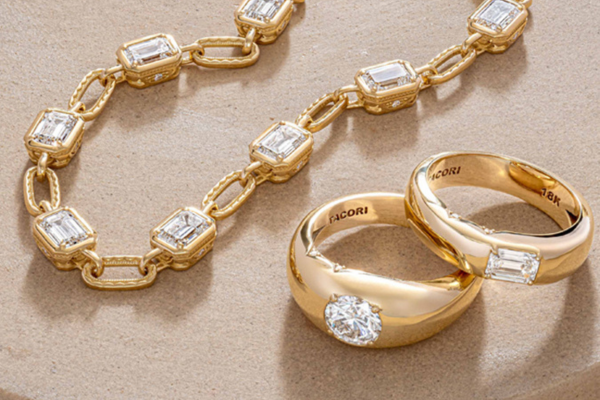 Explore the minimalist bezel TACORI Allure Collection
Exploring Minimalist Designs
Minimalist designs are at the core of quiet luxury jewelry. These designs focus on simplicity and clean lines, allowing the beauty of the materials to take center stage. Opt for sleek and minimalistic pieces like bangles, statement rings, or simple stud earrings. The versatility of minimalist designs allows you to mix and match different pieces to create a personalized and unique look.
Quiet luxury jewelry is often based around simple, uncluttered designs with clean lines. In the Founder's Collection, TACORI founder Haig Tacorian set out to design a minimalist ring where a single detail would have the most impact. In the limitless potential of the blank canvas - or in Haig's case, the blank ring setting - the true test was not in what to include, but in what to omit.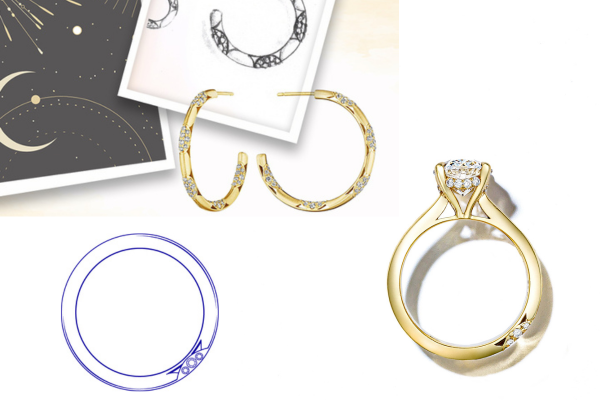 Explore the Founder's Collection.
Haig reimagined his Signature Crescent as an ellipse, formed with French pavé-set round brilliant diamonds on the resting point. The new Crescent has bring a unique brilliance and harmony to the contemporary, high-polish foundation. The Founder's collection is luxurious, eye-catching, and most importantly, thoughtful. The same ellipse signature was then used in the Crescent Eclipse collection.
The stunning new Signature Crescent in a minimalist setting is a testament to the fact that a piece doesn't have to be loud and opulent to be elegant and high end.
Embracing Delicate Gemstones
Quiet luxury jewelry often embraces delicate gemstones to add a subtle touch of color and elegance. Instead of large, statement gemstones, choose smaller stones that blend seamlessly with the overall design. For example, opt for a pendant necklace with dainty, fancy-cut diamonds.
Delicate gemstones not only enhance the beauty of the piece but also add a sense of refinement. They can be incorporated into various jewelry pieces, from rings and bracelets to earrings and necklaces. By choosing gemstones that complement the overall design, you can create a cohesive and harmonious look that exudes quiet luxury.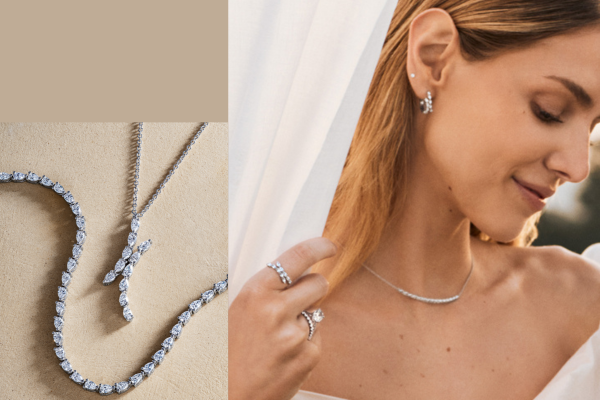 Explore the TACORI Stilla Collection
The Art of Layering and Stacking
Layering and stacking are essential techniques when it comes to quiet luxury jewelry. These techniques allow you to create a unique and personalized look by combining different pieces in a harmonious way. For example, layering delicate necklaces of varying lengths adds depth and dimension to your outfit, while stacking thin rings on different fingers creates a stylish and fashionable statement.
When layering and stacking, it is important to consider the overall balance and proportion of the pieces. Choose pieces that complement each other in terms of style, color, and design. For a cohesive look, stick to a similar metal or color palette. Experiment with different combinations to find a style that suits your personality and enhances the elegance of your quiet luxury jewelry. For example, pair two minimalist link necklaces, where one is outfitted with a simple but stunning emerald-cut diamond.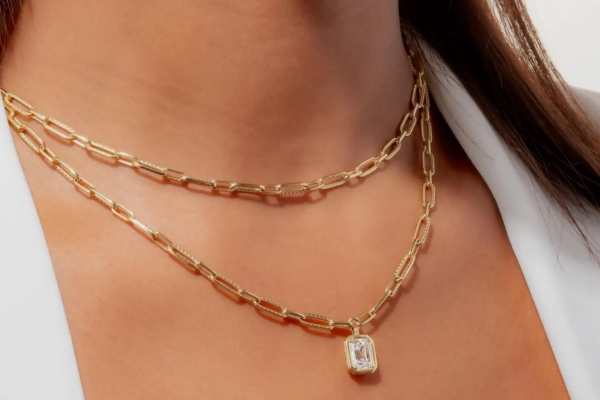 The Mindful Curation of a Jewelry Collection
In a world driven by consumerism, quiet luxury in jewelry encourages consumers to be discerning about their edit; inviting them to invest in fewer, higher-quality pieces that align with their style and values.

Due to pervasive mass-production of jewelry, be it high end or fast fashion, designers themselves must decided whether to hurriedly output new designs, or to slow down and design mindfully.

Because we're a family-owned company, where our designers and artisans work together under one roof in our California Design Studios, we don't have to sacrifice quality to keep up with the machine. We can design with intention, imbuing our designs timelessness of quiet luxury, instead of trends.
More TACORI:
The Top Engagement Ring Trends of 2024
Cathedral Setting Engagement Rings
Classic Engagement Ring Setting Guide
Best Solitaire Engagement Rings
How To Choose a Pave Engagement Ring