Are you planning on getting engaged in the year ahead? Congratulations! It's certainly an exciting milestone to anticipate.
One thing that can be challenging, however, is picking out the right engagement ring for you or your partner. The perfect ring is the start of everything. It's one that symbolizes the unique connection you have and your commitment to a lifetime of marriage.
That's why preparing to choose a ring style that suits you can be one of the hardest - but most important - parts of the engagement process.
If you're after expert advice on the matter, our guide below will give you the vital information you need to narrow down the perfect engagement ring. We are among the very first to see engagement ring and wedding ring trends as they emerge.
You'll find a range of different ring types to suit a variety of tastes—from those inspired by celebrities to vintage-inspired engagement rings to more modern cuts.
Without further ado, here is your guide to choosing the right engagement ring for you and your partner. And you can click on any part of the menu below to skip to the correlated section directly:
Fancy-Shaped Diamonds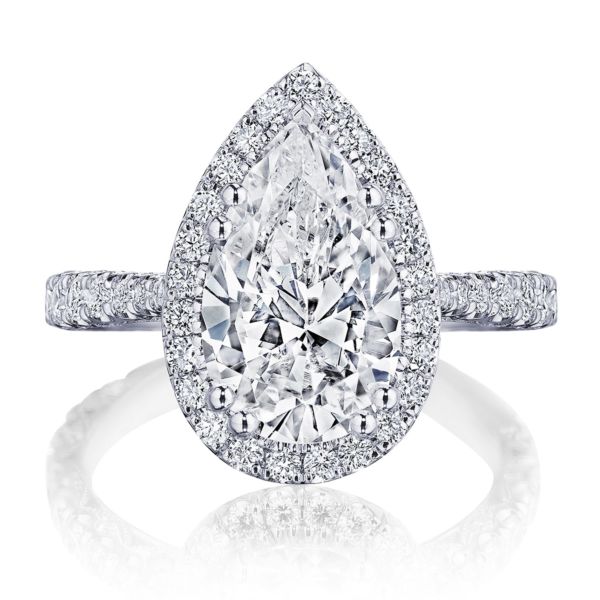 Pear-shaped diamonds are a popular fancy shape diamond. (Image credit: Tacori)
If you've been following engagement ring trends in the past year, you may have noticed the growing popularity for fancy-shaped diamonds.
Specifically, pear (also called tear-drop), emerald, oval, and cushion-shaped diamonds have proven to be particularly popular.
Diamonds with these cuts have adorned the likes of celebrities such as Priyanka Chopra (one of the world's most successful Indian actresses), whose 4 carat, cushion-cut diamond engagement ring reportedly cost a cool $200,000.
Rapper Cardi B is another celebrity who sparked interest in fancy-shaped ring with her blingy pear-shaped ring that is reportedly 8 carats.
A similar ring design is available in Tacori's engagement collection.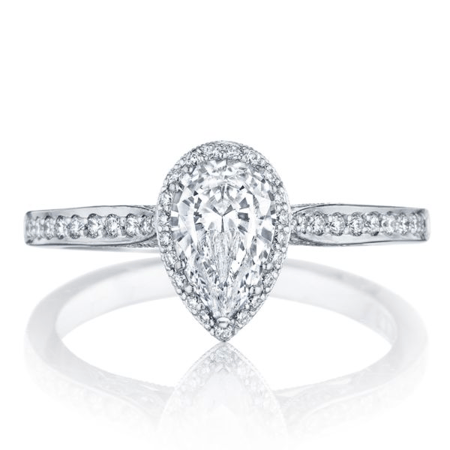 (Photo Credit: Tacori)
Wondering about the most appealing facets of each type of fancy-shaped diamond?
Pear-shaped diamonds are usually cut with 58 facets and have the brilliance of a round diamond, but the unique romance of the elongated point. With so many facets on the pear, this shape offers light-reflective qualities that make the ring impossible to ignore.
Overall, a pear-shaped diamond provides an ideal balance between the feminine beauty of its curved end and the bold sharpness of its pointed end.
This cut is perfect for anyone who wants to command attention in a sophisticated fashion.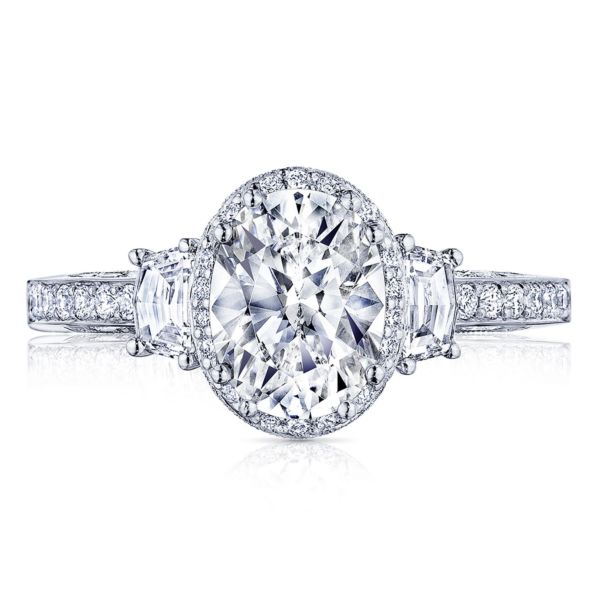 Not only stunning, oval-shaped diamonds even offer the wearer a slimming effect. (Image credit: Tacori)
Sparkly and eye-catching, oval-shaped diamonds are a popular choice for anyone looking for a unique and adventurous diamond option. This style generously provides the wearer with two underrated but substantial benefits.
First, the oval diamond's shape gives the impression of elongating the wearer's finger, and the diamond itself. With the diamond taking more surface area on the finger, this slimming effect is appreciated by women who look to their diamond to elongate the size or shape of their fingers.
Second, the way the diamond is cut in an oval shape makes it seem bigger than it actually is—making this an enticing feature for anyone who loves a bigger look without a bigger price tag. Slimming and cost-effective—what's not to love?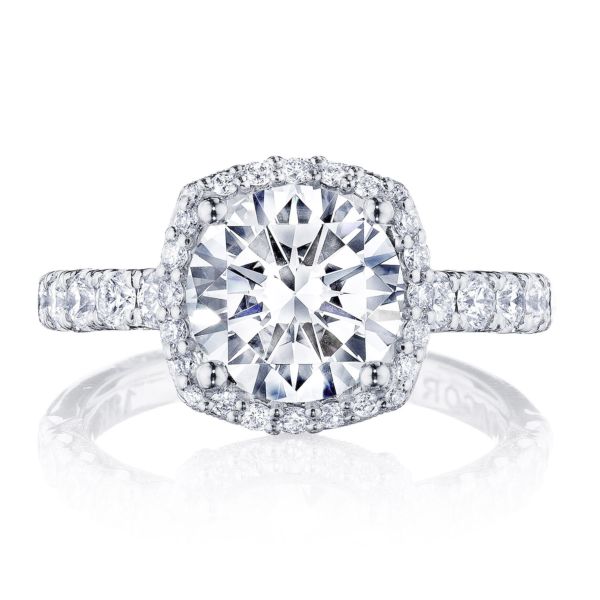 Cushion-shaped diamonds have timeless appeal. Here, Tacori creates a cushion bloom around a traditional round diamond to offer the look of a cushion diamond. (Image Credit: Tacori)
With their contemporary beauty, it's hard to believe that cushion-shaped diamonds have graced the hands of countless brides-to-be for around two hundred years.
Thanks to a resurgence in popularity, their seemingly timeless appeal attracts couples who seek a diamond style that is both soft and feminine in appearance.
One of the biggest advantages of this cut is that it is highly customizable, making it easy to find one that perfectly matches a couple's unique tastes.
For example, many couples may be surprised to learn that cushion-shaped diamonds do not just come in one shape, but two—a square shape or a slightly more rectangular shape.
Additionally, this cut suits a range of settings, from a modest solitaire setting to a more extravagant halo setting.
Gallery Detailing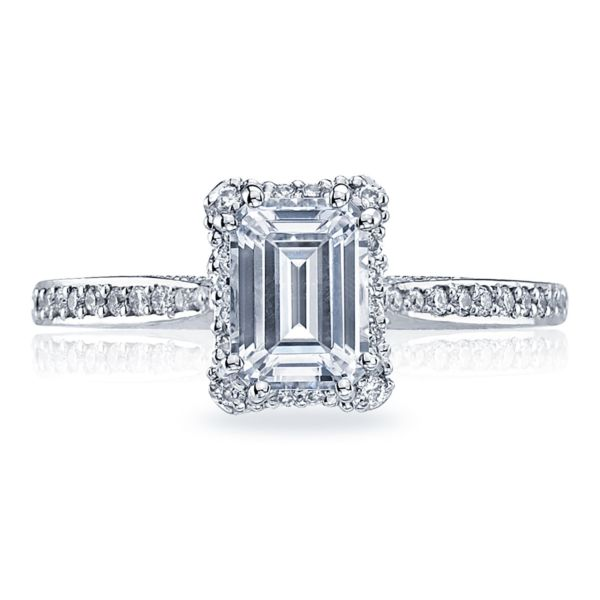 It's all in the details! Consider accented galleries to add even more glamor to your ring design. (Image credit: Tacori)
Gallery detailing is an ideal way to add an extra touch of glamor to your ring in a sophisticated way. Just ask any wedding ring expert and they will concur that much of the beauty an engagement ring exudes is in its details.
Selecting the right gallery detailing can be challenging, however, if you aren't sure what to look for.

An accented gallery is a trend that has made a huge splash in 2019. Accented galleries serve to further enhance the overall allure of a ring by acting complementary instead of being a main feature of the design.
Accented galleries require a sense of balance and subtlety, lest they overwhelm the main feature. Careful consideration needs to go into the ratios, shape, carats, and positioning of the accent diamonds.
Fortunately, you won't need to burden yourself with such concerns if you shop at a professional and reputable jewelry store. Tacori specializes in perfectly engineered detailing, offering a distinct difference in the details.
Contemporary Three-Stone Rings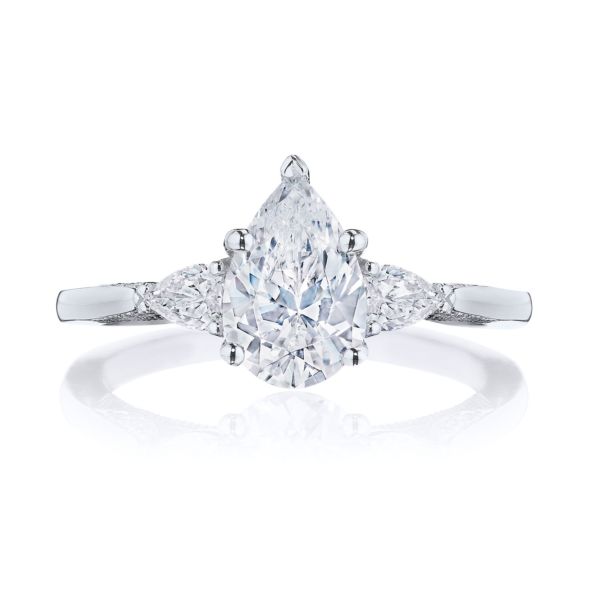 Three-stone rings have numerous advantages, including making the center stone appear larger. (Image credit: Tacori)
Are you looking for a ring that conveys depths of meaning, all within its stones? Three-stone rings represent a couple's past, present, and future.
While the rings are steeped in tradition, they have been gaining a lot of attention with modern-day brides because of recent celebrity engagements with three-stone rings.
Perhaps the design that has had the most impact on the ring industry is the three-stone engagement ring Prince Harry presented when he proposed to Meghan Markle.
It made royal enthusiasts and romantics alike shed a tear due to its incredibly heartfelt meaning.
People magazine reports that Prince Harry himself designed the ring. He put a great deal of thought into the design, with the center stone hailing from Botswana, a country that holds personal significance to Harry, and the two smaller diamonds beside it having once belonged to his late mother, Princess Diana.
However the proposal takes place, a three-stone ring can make it extra special.
And just like the royal couple, you too can convey all that is meaningful to you and your partner with your own three-stone engagement ring.
You can always choose a classic design, or you may wish to add a modern touch to it. Trend forecasts predict that this year there will be a number of additions to this trend.
Right here is an aesthetic design by Tacori that resembles Meghan's engagement ring.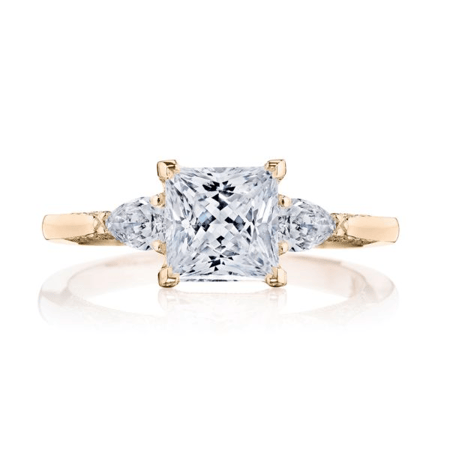 (Photo Credit: Tacori)
Namely, we will be seeing more fancy-shaped diamonds featured in the center diamond position, such as three-stone rings showcasing a pear-shaped diamond.
Moreover, an increasing number of rings will start to boast unique accent gemstones including baguettes, trillions, and pears.
Finally, the band the diamonds are set on will be more refined in appearance as thicker bands make way for more dainty, thinner bands.
Yellow Gold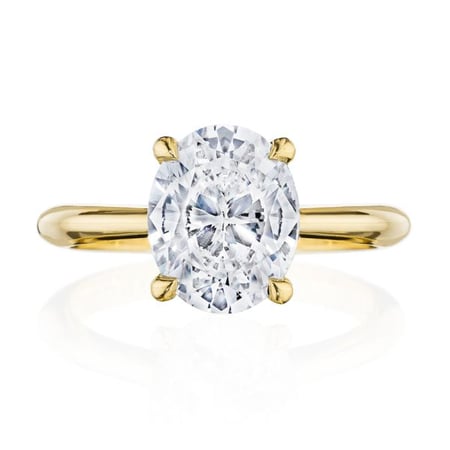 Yellow gold is a timeless color choice. (Image credit: Tacori)
Beyond how many diamonds your ring has and in what formation or shape they will appear, you may wish to consider the color of the band.
Yellow gold is without a doubt a timeless color trend for engagement rings. While platinum may still reign supreme, the number of much-loved celebrities whose engagement rings feature yellow gold wedding bands has certainly helped to draw attention to the yellow gold trend.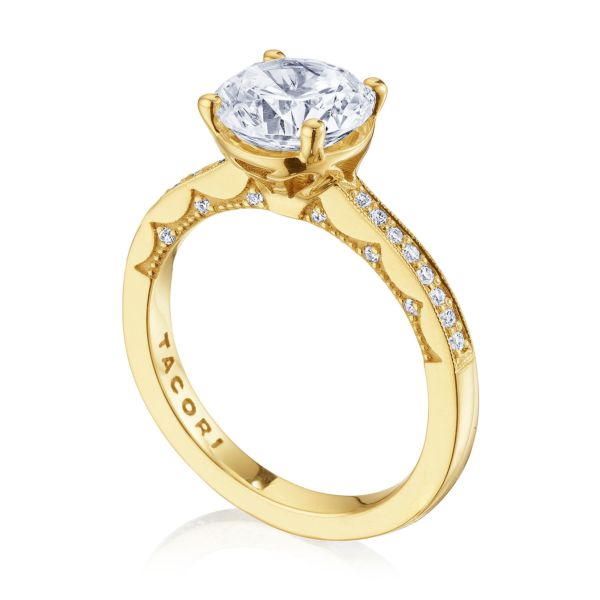 An elegant coastal crescent design with intricate details blends well with yellow gold. (Image credit: Tacori)
Meghan Markle, ever the trendsetter, wears an engagement ring that boasts two top trends—her ring not only houses three stones (as mentioned above), it is also set to a subtle but stunning yellow gold band.
Another reason why all eyes are on yellow gold engagement rings is because of the regal and traditional qualities they exude.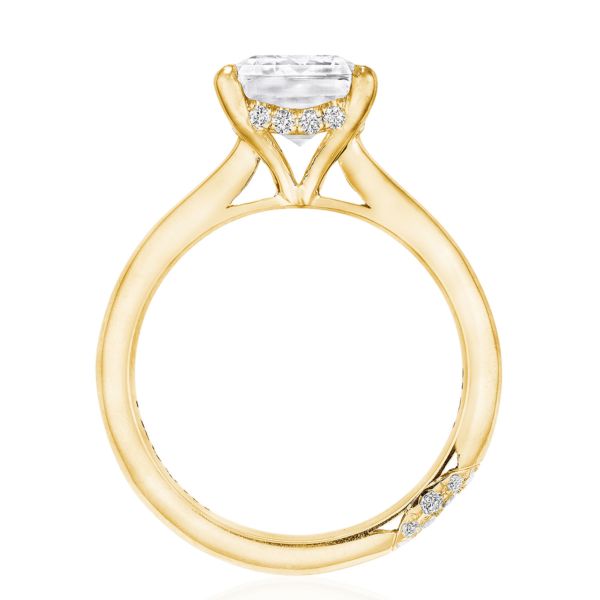 Gold is equally eye-catching and classy, as seen in this new design from Tacori. (Image credit)
As jewelry expert Tanya Dukes said in an interview with Insider, yellow gold rings "feel warm, classic, and slightly vintage-inspired."
Another advantage of yellow gold rings is that they complement any type of setting. For instance, they equally are suited to classic, modern, and vintage designs.
Stacked and Nested Rings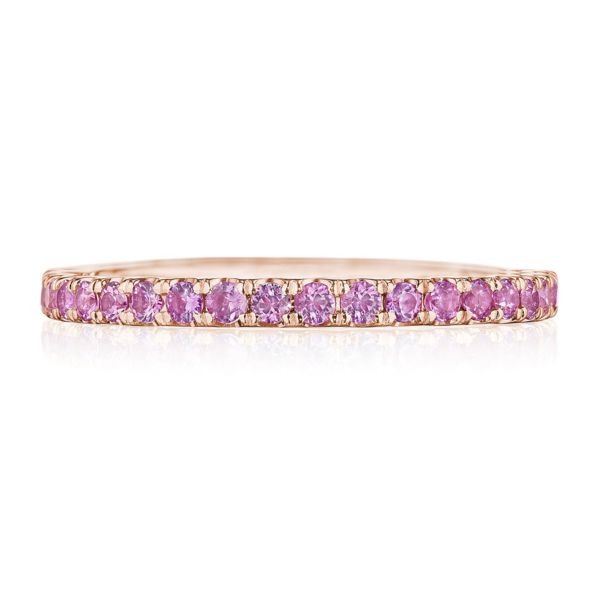 Stacking multiple wedding rings—including those of different colors—is growing in popularity (Image credit: Tacori)
For a trend that's expected to not go away anytime soon, you can't look past stacked and nested engagement rings.

An increasing number of brides-to-be are recognizing how striking it looks to either add multiple wedding bands to their ring finger or select a style that appears to have a stacked look in just one ring.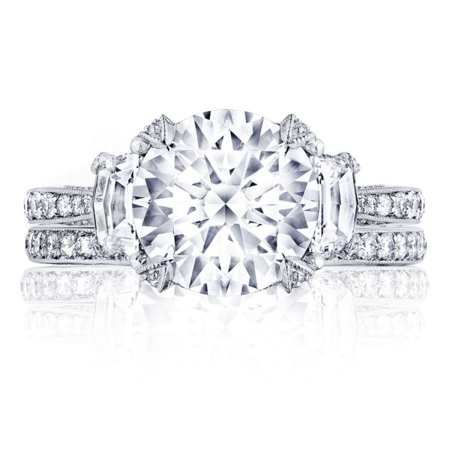 (Photo Credit: Tacori)
According to wedding ring designer Ashley Zhang, who shared her expert stacking tips with Who What Wear, you can create more visual interest by mixing metals, stones, and textures.
Zhang additionally suggests brides-to-be should feel free to experiment with different widths and diamond sizes to achieve their dream look.
Delicate and Distinctive Halos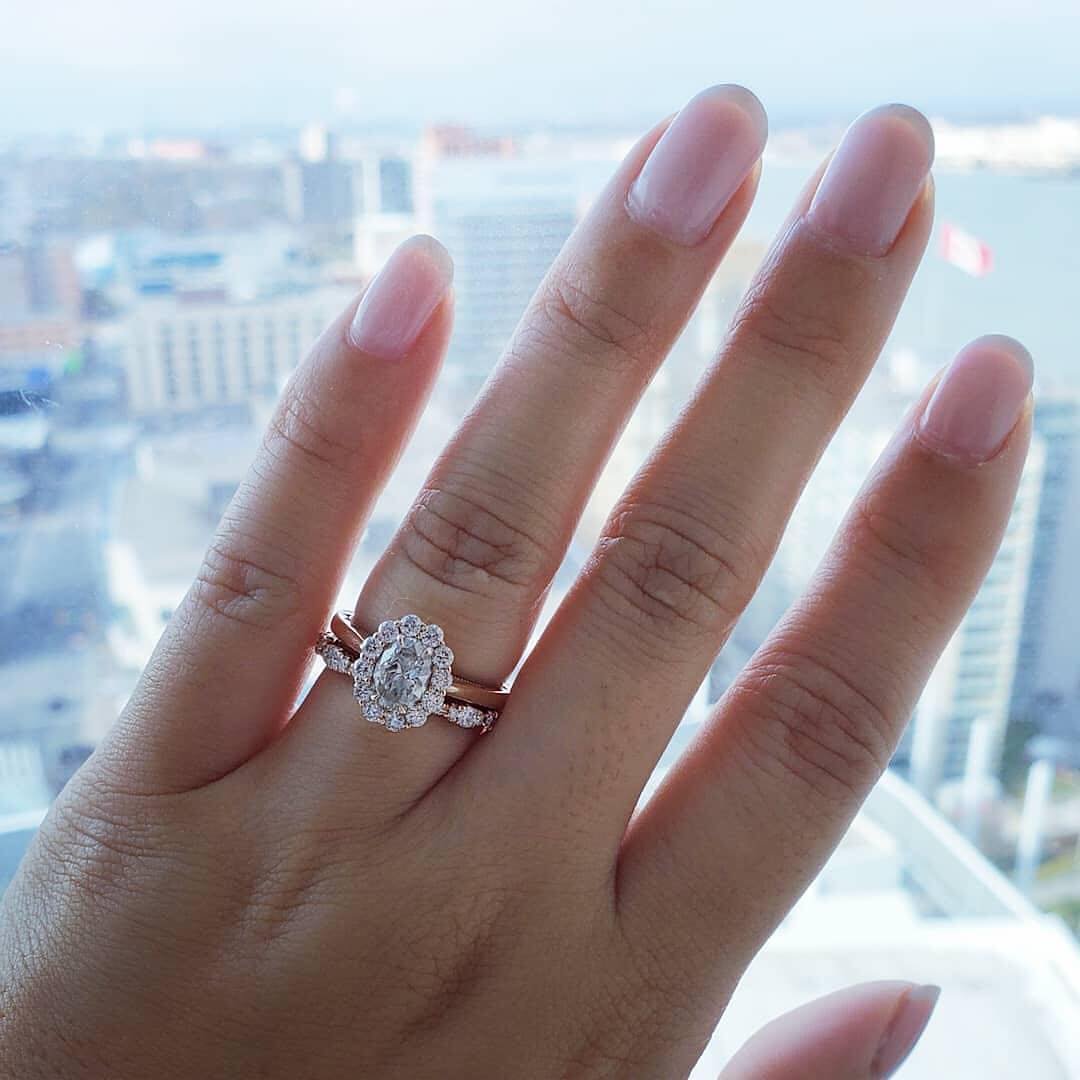 Although they have always been popular, halos have been getting extra attention as of late.
Perhaps due to their elegant and glamorous look, delicate and distinctive halos have always been popular. That being said, 2019 has seen a surge in popularity for this ring style.
Celebrities have taken to the design in droves too, what with the likes of Glee actress Lea Michele joining the halo ring club after she was proposed to last year with a gorgeous diamond halo design engagement ring.
Here is a similar halo design available in our engagement ring collection.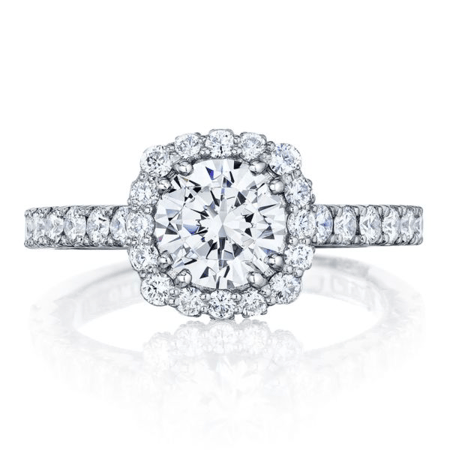 (Photo Credit: Tacori)
The halo style refers to a style of ring that features a center diamond surrounded by a "halo" of smaller diamonds.
What is particularly special about halo designs is that, similar to three-stone rings, they can make the center diamond appear larger.
They are also known for the tasteful and graceful air that they give to any ring design.
One key difference in halo designs this year is that couples are getting more and more creative with their designs. There is a clear trend for couples to choose more distinctive shapes as well as delicate details for their halos.
For example, some couples may opt for a breathtaking art-deco style crown of diamond baguettes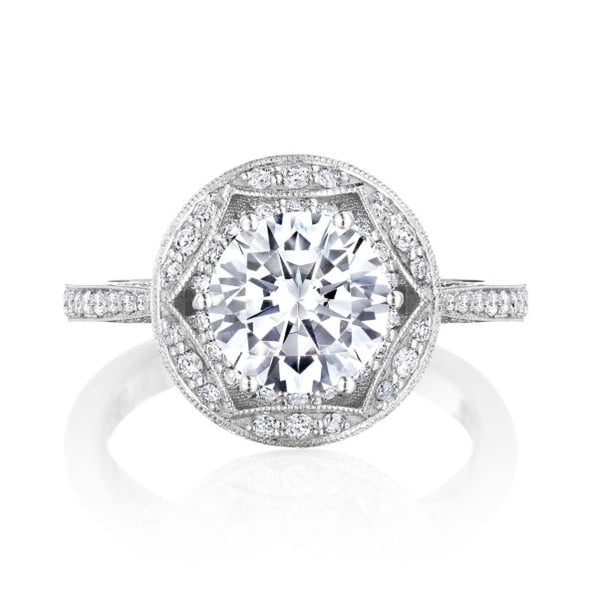 (Photo Credit: Tacori)
or a halo of diamonds housed in an eye-catching hexagonal shape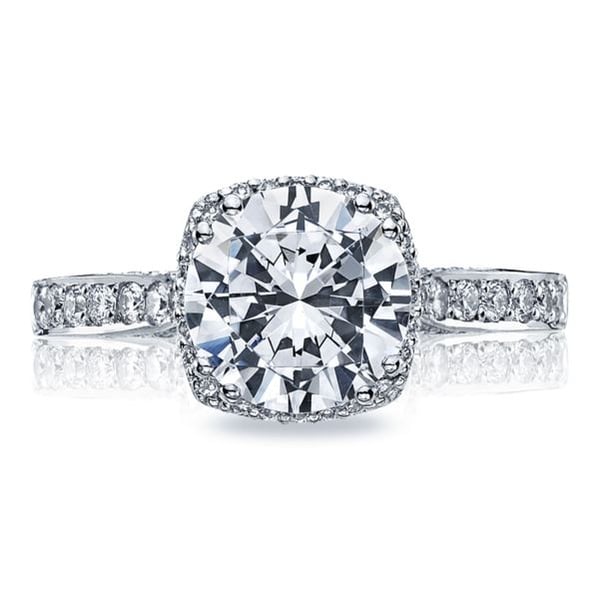 (Photo Credit: Tacori)
As you'll soon come to see once you begin your engagement ring search, there is truly no shortage of remarkable halo designs to pick from.
You can rest assured that if you have a certain vision in mind, there will be a design that's a precise reflection of your needs and tastes.
Special Designs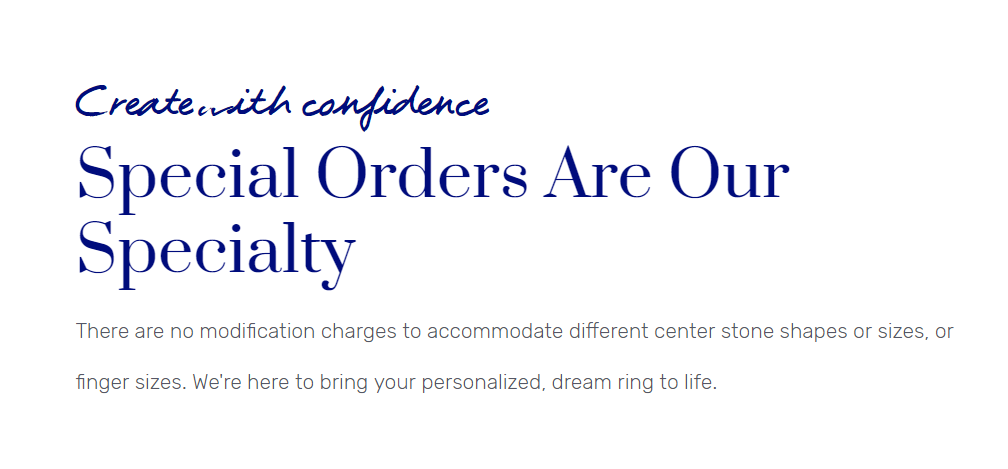 Some ring design companies, such as Tacori, offer custom ring design services.
Sometimes, a traditional engagement ring style simply isn't your style. Perhaps you want something that will really stand out from the more traditional styles many people opt for.
Or maybe you simply want to express your special bond through a more unique ring design.
You're certainly not alone—many brides-to-be are bucking the traditional ring designs in favor of special ring designs.
Whatever your reason for choosing a unique engagement ring design, you'll find that there is an assortment of extraordinary engagement rings to choose from.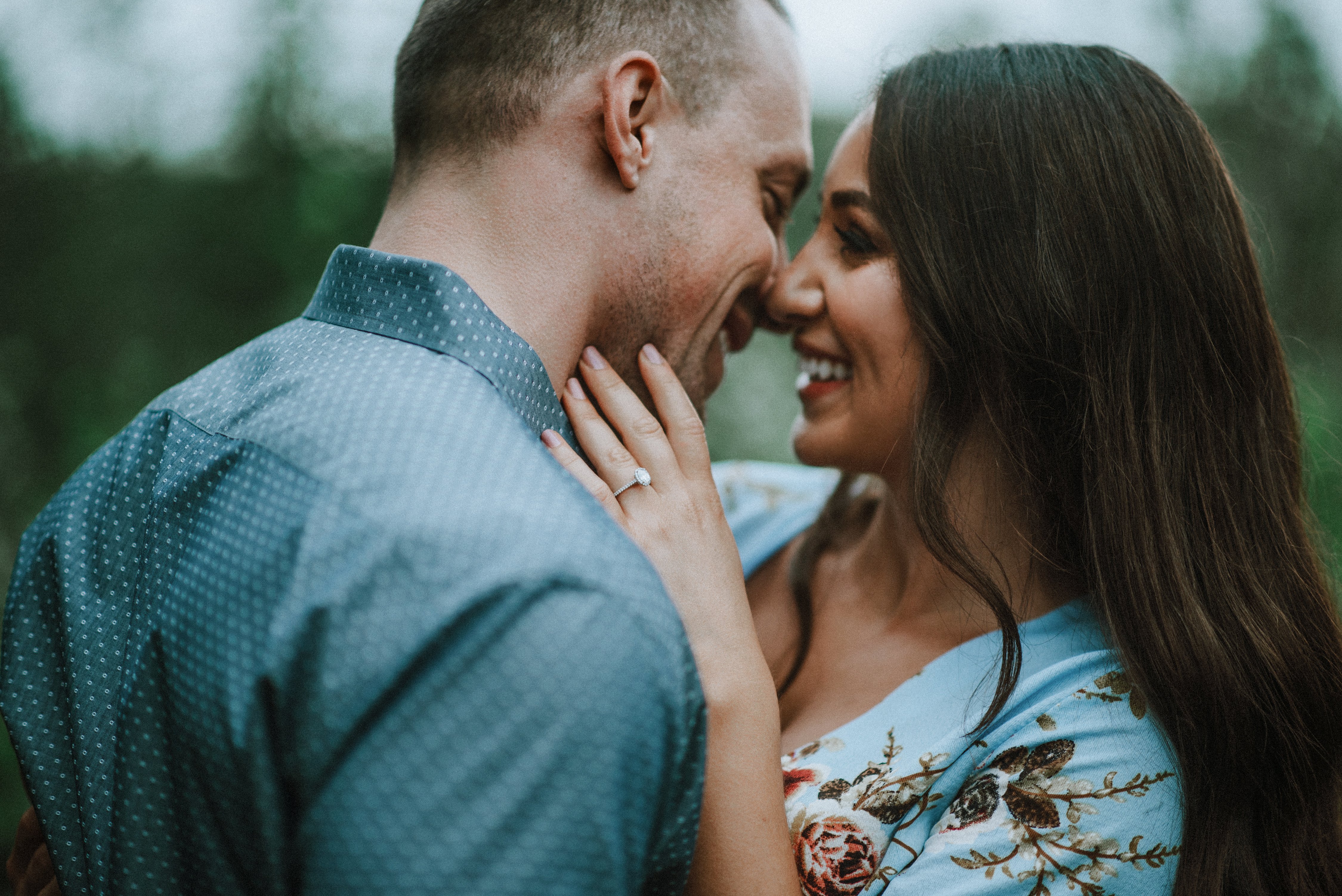 A ring, like your love, lasts a lifetime.
So what special designs are worthy of your attention as you narrow down your search?
One of the most effective ways to give your ring that one in a million feel is to inject some color into it. Adding color to your ring, such as majestic blue sapphire jewels, will easily evoke a sense of confidence and individuality.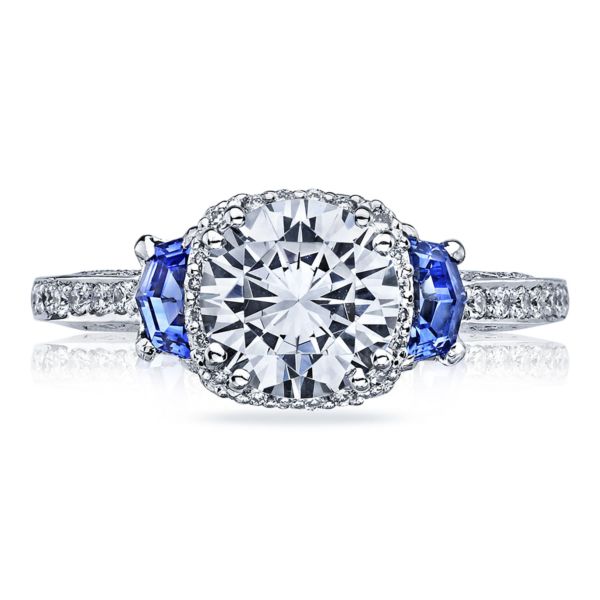 An organic cluster of diamonds or an asymmetrical ring are the two other options that are suitable for anyone seeking to make a strong statement with their ring and leave a lasting impression.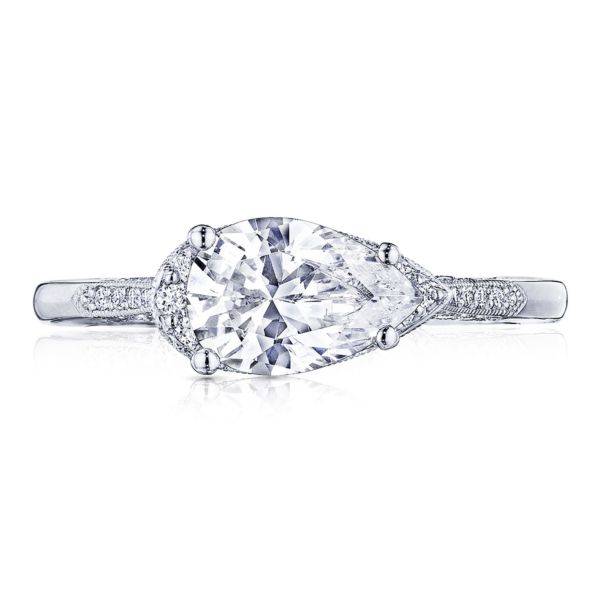 Another design facet which will spark the interest of anyone who craves exquisite detailing is to consider engagement rings with lace detailing.
A distinctive way to integrate lace detailing into your ring is to opt for a lace-like design underneath the crown of the diamond.
Beyond the candidly elegant aesthetics of this design, the reason it is so special is that its somewhat hidden positioning means that it serves as an almost secret design detail that only the couple themselves can intimately appreciate.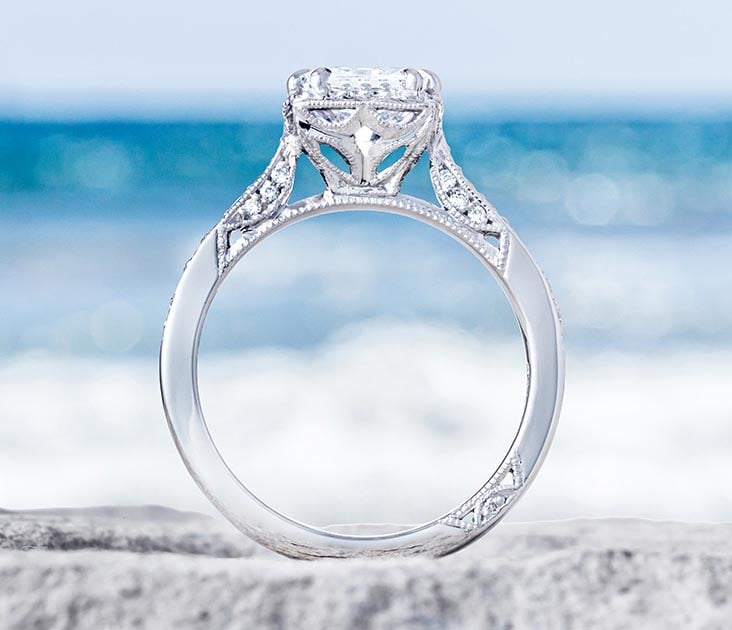 If you really want to blow your loved one out of the water, why not create a customized engagement ring?
This way, you can ensure your wedding set genuinely boasts a one in a million design.
Those of you who would love to create a custom design can borrow the expertise of jewelry design specialists who can help customize and personalize your engagement ring at every step.
At Tacori, we specialize in unique handcrafted in California designs, made-to-measure just for you. Please visit our site to view all our rings, or a retail partner to see these beautiful designs in person.
Lab Diamonds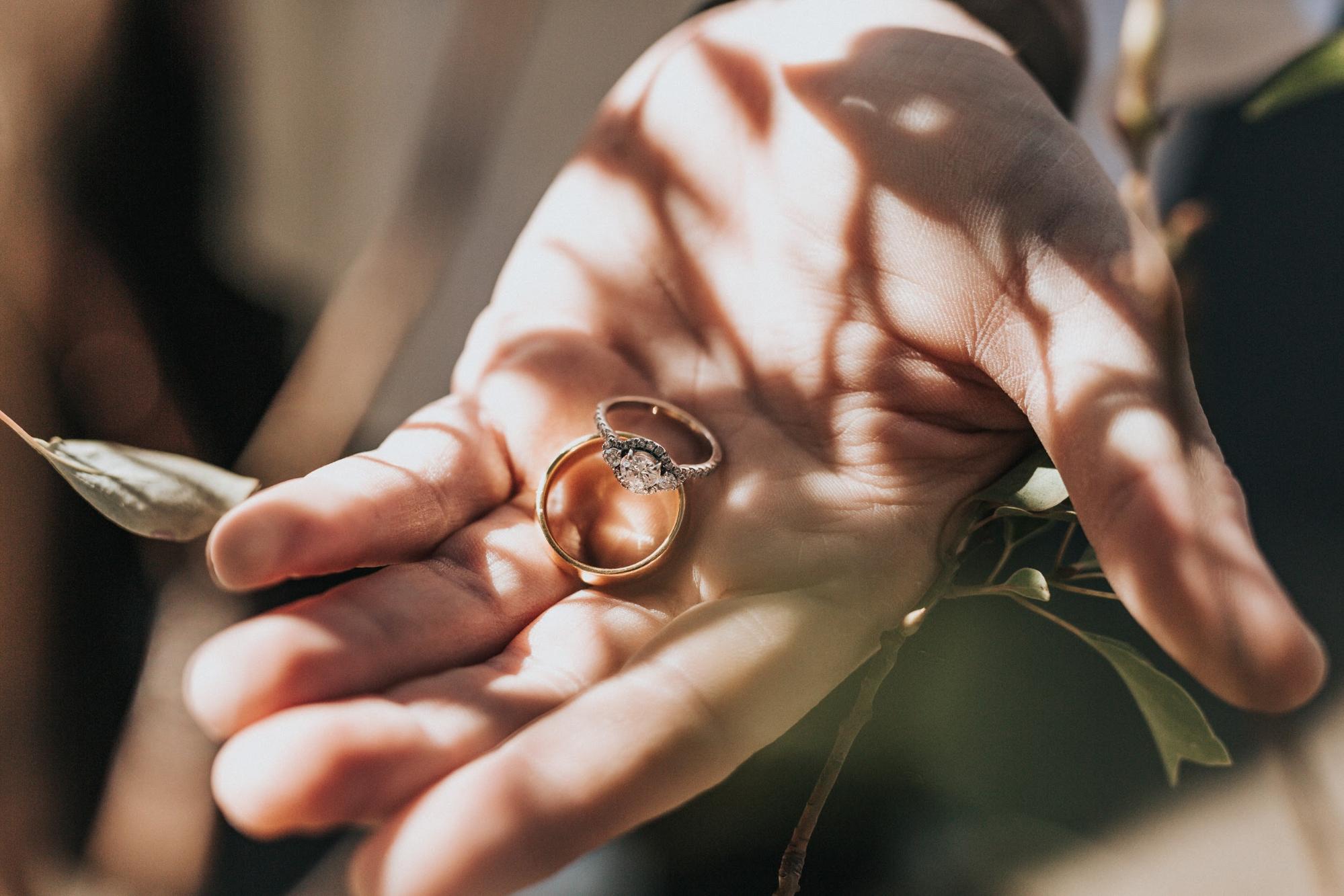 Lab diamonds offer couples a more eco-friendly alternative. For some brides-to-be, the perfect engagement ring isn't just about its aesthetics. It also needs to uphold certain ethical values, namely related to both environmental sustainability and labor conditions.
With greater media attention and general awareness regarding such matters, it's easy to understand why lab-grown diamonds are on the rise.
Millennials, in particular, are conscious of selecting eco-friendly and ethical rings.
Lab diamonds are diamonds that are produced in laboratories instead of mined from the earth.
As GQ highlights, contrary to what many people may believe, lab diamonds are not knockoffs nor made from cubic zirconia or Swarovski crystals.
They are, in fact, "bona fide diamonds—chemically identical to their earthen counterparts," as declared by the Federal Trade Commission.
So what might convince you to make the switch to a lab diamond?
If you're conscious about creating minimal environmental impact with your purchase and promoting more sustainable, eco-conscious diamond generation practices, a lab diamond could be a great choice for you.
What's more, many couples choose a lab diamond due to its generally lower price. Lab diamonds can be an average of 30% less expensive than regular diamonds.
So if you're on a tighter budget, it could be well worth looking into the variety of lab diamond engagement rings available.


We hope by looking at the latest engagement ring trends, this will make finding the right engagement ring an enjoyable and heartwarming experience for you and your partner.
Discover More Tacori:
Minimalist Engagement Ring Styles You'll Love
Hidden Details In Engagement Rings