Oval diamond engagement rings are one of the most popular fancy shapes right now, and for good reason—their brilliance and fire makes them a timeless and elegant choice. Once you've fallen in love with your oval cut diamond engagement ring, the next step is finding a wedding band that both complements it and your style.
With such an iconic presence, it may feel daunting to think about how to style your oval engagement ring with a wedding band. But in truth, the cut makes an exquisite pairing with many types of wedding bands or as part of a wedding stack.
Discover the characteristics and flair that make this dazzling engagement ring cut so popular and find inspiration for pairing your oval engagement ring with a wedding band.
Oval Cut Diamonds
If you're looking for something that has a little more edge than the traditional round brilliant cut engagement ring, an oval cut is a stellar choice. Because of its shape, an oval cut has a larger surface area and appears bigger than a round diamond of the same carat weight, allowing it to reflect more light and add more sparkle. The elongated silhouette of oval cut engagement rings also gives the much-coveted effect of lengthening and slimming the finger it rests on.
Oval cut engagement rings can come in an array of different settings. Oval solitaires make for a strikingly minimal silhouette. Or, your oval cut can be the center stone in a three-stone ring—either flanked by matching smaller ovals or different shaped side stones. Oval-shaped diamonds can also be bloomed, surrounded by an envelope of smaller diamonds to boost their luminosity even further.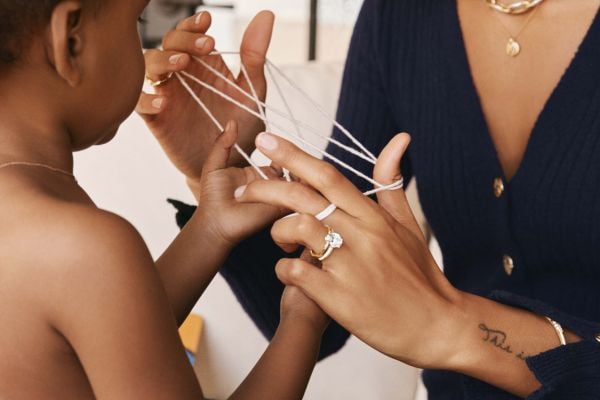 Wedding Bands for Oval Engagement Rings
When exploring the best wedding band for your oval cut engagement ring, you want to create a balanced pairing. Your engagement ring will still take center stage, while your wedding band will accentuate and elevate various details. Thin band rings allow room for stacking; wedding bands with a curved or waved shape to them provide a totally unique look. The amount of diamond play in your wedding band is another factor to consider.
If you want to stack rings under your engagement ring, consider a cathedral foundation engagement ring as it's set slightly higher on your finger, making it easy to add a wedding band beneath.
---
Mirrored Effects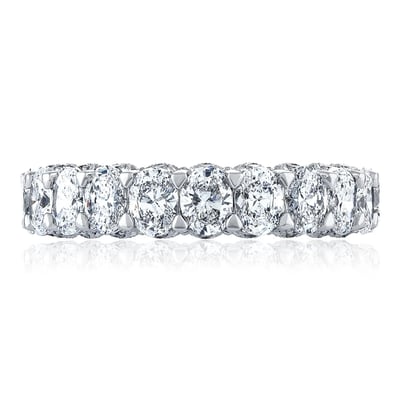 To seamlessly blend your oval engagement ring and wedding band, consider the Classic Crescent RoyalT Oval Cut Eternity Band. Featuring an endless circle of over 3 carats of oval cut diamonds bordered by pavé set diamonds along the inner face, this oval cut wedding band is pure diamond perfection with its all-angles shine. Pair it with a matching metal engagement ring or try mixing your precious metals to give your stack a little edge.
---
Curve It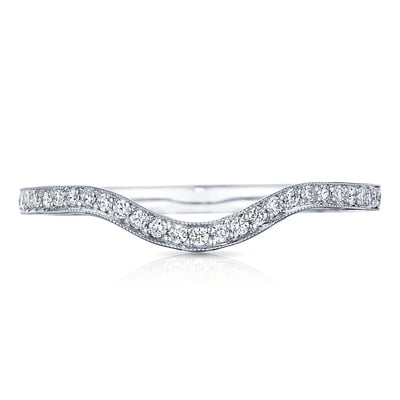 Looking for a mesmerizing partnership? Stack your oval engagement ring with the Sculpted Crescent wedding band. This contemporary curved design neatly contours the elongated shape of the oval cut, allowing the rings to neatly nest and in turn creates an eye-catching effect that feels fresh and modern. Pavé set diamonds and hand-crafted milgrain complement and accentuate your larger oval cut stone.
---
Subtle Shine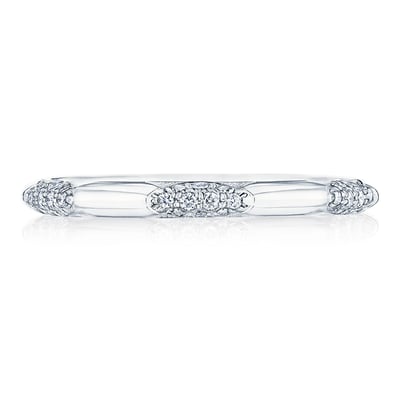 Create a balance of diamonds and high-polish shine with the Founder's Collection 360 Foundation Wedding Band. An elegant complement to your oval engagement ring, this wedding band combines the best of both worlds—diamonds and precious metal—for a quietly impactful effect. French pavé-set diamonds form four Founder's Crescents for the half-way option or six for the eternity, producing a multi-dimensional sparkle from the ceiling and the inner face of the ring. The high-shine metal finish keeps the ring refined.
Shape Up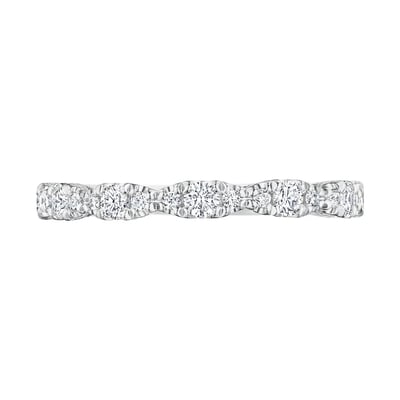 If you're seeking a more statement stack, pair your oval engagement ring with a contrasting diamond shape like the marquise effect on this Petite Crescent Marquise Shape Wedding Band. The soft curves of the marquise contours are formed by tapering round brilliant diamonds, creating an intense light display. The waved flow of the ring adds a modern silhouette to your stack, complementing the smooth curves of your oval engagement ring. Diamonds and milgrain details ripple around the side profile of the ring for added intrigue. Choose your diamond coverage to be half-way, three quarters, or eternity depending on the radiance level you're looking to achieve.
To truly find the best wedding band for your oval cut engagement ring, think about the overall impact and effect you're looking to create. Diamond shapes that complement or contrast will set the vibe, while high-shine metals of the same or different hues bring their own energy. Consider whether you're planning to add to your stack over time, and choose your style accordingly.
More TACORI:
The Best Wedding Bands For Emerald Cut Engagement Rings
The Best Engagement Ring Trends of 2024
Oval Cut Engagement Rings Guide
Round Brilliant Cut Diamond Guide
The Best Solitaire Engagement Rings
Striking and Simple Engagement Rings Guide
Delicate and Thin Band Engagement Rings
Minimalist Engagement Rings You'll Love
Whatever you decide, our TACORI design team is always here to offer expert guidance.