Have you ever wondered about the best engagement ring style for your zodiac sign? Lion-hearted Leos, we're star-gazing to find diamond engagement rings that are perfect for your astrological style. Because every Leo knows that their ring should shine as brightly as the stars!
Leo (July 23 - August 22)
Fiery through and through, one of the most extroverted, loud, lovable, and attention-loving of the zodiac signs, Leos are big personalities with bundles of heart and passion. No such thing as a small diamond in the Leo world, your engagement ring needs to be as bold and unabashed as you are. Think major, disco diamonds encased in a full bloom.
Our first wild pick for Leo? A RoyalT setting with a bloomed princess-cut diamond makes a strong statement.
RoyalT
STYLE HT2601PR85
The fifth astrological sign of the zodiac, Leos are confident and glamorous. Let their signature charm shine with this Dantela stunner.
Dantela
STYLE 2672OV
For the lioness who leans toward the dramatic, here's an absolute showstopper of an engagement ring.
RoyalT
STYLE HT2678EC
Queenly Lion may also like the Princess-cut diamond, in this "bigger is better" RoyalT ring that's exclusively suited for diamonds 2ct or larger.
RoyalT
STYLE HT2673PR
Leos are passionate and loyal. Deep blue is the hue most often associated with trust, loyalty and confidence; all of which define leonine leanings. Perhaps these impressive new triple-bloom three-stone styles with sapphires will spark their attention?
Leos are born leaders, so they value strength and durability. That's why they favor platinum, the strongest metal, as shown in this classic platinum engagement ring.
Petite Crescent
STYLE HT257225CU
As a fire sign, consider a ruby engagement ring for a Leo, which is also the birthstone for July. Rubies are a high energy stone and red is the color of bravery, honesty and passion.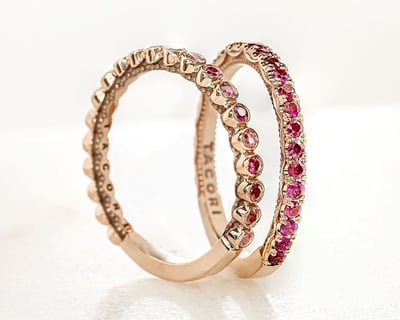 Fiery and confident, a Leo loves being in the spotlight. The = RoyalT rings designed by our Founder, Haig Tacorian – whether in rose gold, yellow gold or platinum – are worthy of a Leo's attention.
RoyalT
STYLE HT2673RD10PK
RoyalT
STYLE HT2671RD95Y
RoyalT
STYLE HT2672RD85
For Leos, more is more. When there's no such thing as too much (or too many diamond halos) for this bold and passionate sign, then they'll love this Tacori engagement ring that delivers diamond shine from every angle.
RoyalT
Style HT2670PS
For creative Leos, we love this Inflori illusion bloom ring. Playing with an oblong cut or geometric setting can achieve the eye-catching size you're after. Through the magic of our Tacori Bloom, our designers transform a 1 carat round brilliant diamond to deliver the look of a 4-carat marquise.
Inflori
HT2577RDMQ
While each Leo is different from each other, they are united in their strong sense of style that's uniquely right for their strengths. Don't be surprised to find a Leo's Pinterest board filled with specific engagement ring styles that she's passionate about!
Let the stars be your guide as you shop more engagement ring styles with TACORI - we're here to help the stars align!


Discover Engagement Rings For Every Zodiac Sign: