Gregarious Gemini, we're star-gazing to find diamond engagement rings that suit your unique astrological style. As part of our engagement rings for all the zodiac signs guides, we're zoning-in on this double-the-fun sign, to make sure your Gemini ring shines as bright as the stars.
Gemini (May 21 - June 20)
With twin sides—sometimes in opposition—Geminis are vivacious and outgoing, often seeking attention and recognition. Never afraid to make big style choices and always playful, try pairing a more unusual pear or marquise shaped diamond with a colorful stacking band to show off your many vibes.
Our first pick for Gemini? A Simply Tacori pear-shaped diamond ring stacked with a Sculpted Crescent pink sapphire ring speaks to every facet of your personality.
Gemini are intriguing and complex creatures. They pair unusual concepts together in big way but always make it work. Pulled from our RoyalT collection, we adore this three-stone triple-bloom ring for bold Geminis.
Ruled by Mercury, Geminis are mercurial themselves and are always on the hunt for new adventures. However, once they have found "The One" they can be extremely loyal. This stunning Petite Crescent choice has all the elements of new, combined with the timelessness that they'll love.
Petite Crescent
With many Geminis born in May, you "may" wish to use that month's birthstone, the emerald! Personalize this style with diamonds, rubies, sapphires or emeralds!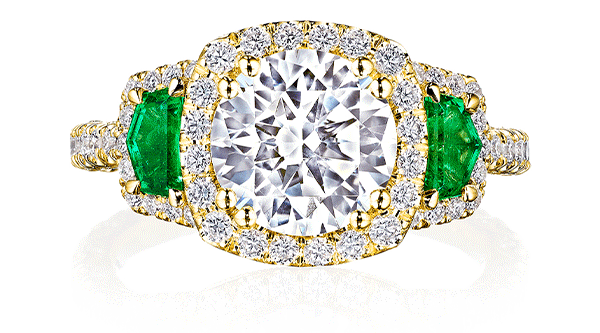 It's always good to keep this double/twin personality guessing, and this stunning ring stack with Coronets offers so many unique ways to be worn.
Some of Geminis' great qualities include their versatility, enthusiasm, and flexibility. However, if this appears as indecision, you can't go wrong this this totally classic Dantela ring.
Geminis are perhaps the liveliest of the Air sign gang. Smart, sharp and speedy, an eternity band of diamonds would speak to them either as an engagement ring, or "just because".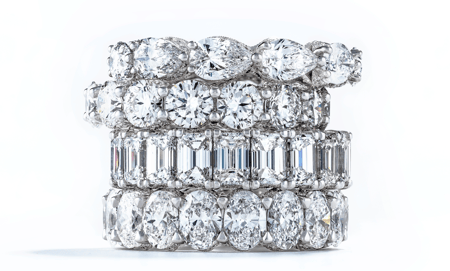 Gemini style is often sunny and energetic, with elements of bold fun. This stunning yellow gold solitaire has just the right touch of unexpectedness with a hidden halo and a signature diamond starburst on the foundation to catch their attention.
And as a final choice, although an emerald stone may be the birthstone for May, an emerald-cut diamond may be just as appreciated by lucky Geminis.
Let the stars be your guide as you shop more engagement ring styles with TACORI - we're here to help the stars align!
Discover Engagement Rings For Every Zodiac Sign: