Have you ever wondered about the best engagement ring for your zodiac sign? Dear Virgos, we're kicking off your Zodiac Season with a selection of Tacori engagement rings that's written in the stars just for you.
Virgo (August 23 - September 22)
The mother of all signs, Virgos are grounded, sensible, and oh-so detail-orientated. Not one to miss a birthday or forget to pick up the dry cleaning, Virgos are pragmatic and practical. Probably not the best sign to surprise, a Virgo's engagement ring needs to be spot-on. Virgos know exactly what you want and deserve, and it's simple, elegant, and super refined.
Dantela
$5,120.00
USD
IN PLATINUM
Not including center diamond
Our top pick for a Virgo engagement ring? The classic Dantela with a round brilliant diamond and a perfectly engineered bloom of diamonds along a simple tapered foundation. A Virgo will love the classic perfection of this timeless style, while also appreciating all the meticulously crafted diamond details imbued within.
RoyalT
$3,090.00
USD
IN 18KT YELLOW GOLD
Not including center diamond
Virgos are known to be perfectionists, but simplicity and clean lines are in their nature. We love this elegant new Founder's Ring, shown here with a four-prong setting in yellow gold with an oval center diamond. It offers a traditional look that Virgos love, with just a few hidden details done perfectly right. Hinthint: Virgos should look for the secret bloom of diamonds under the gallery that light up the center stone.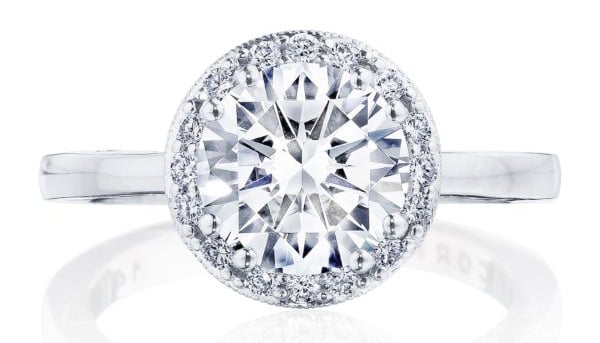 Coastal Crescent
$2,290.00
USD
IN 14KT WHITE GOLD
Not including center diamond
Virgos are admired for their intellect, their down-to-earth nature and charm. They are characteristically modest and practical, yet always polished. The perfect engagement ring for a Virgo needs to offer the best of both worlds. That's why we love this Coastal Crescent ring in 14KT white gold that offers attainable luxury with a sophisticated silhouette.
Simply Tacori
$4,890.00
USD
IN PLATINUM
Not including center diamond
Virgos have refined tastes and welcome timeless designs. From our Simply Tacori collection, we created a three-stone style that combines the clean lines of an emerald-cut center stone with elegant tapered baguettes. This engagement ring is understated, yet interesting and appropriate for sophisticated Virgos.
Petite Crescent
$5,510.00
USD
IN PLATINUM
Not including center diamond
Virgos would never choose the trendy setting of the moment, they would rather cherish forever a timeless ring. That's why we selected this classic 360 Tacori engagement ring from our most popular Petite Crescent collection as another style for Virgos to love.
Let the stars be your guide as you shop more engagement ring styles with TACORI - we're here to help the stars align!