Have you ever wondered about the best engagement ring for your zodiac sign? Lovely Libras, we're star-gazing to find a selection of Tacori engagement rings that's perfect for you.
Libra (September 23 - October 22)
The most balanced of all signs, Libras are fair, fun-loving, and romantic. Libras love timeless, investment-worthy heirlooms but with unexpected details—always striking the right tone between classic and something that's sure to stand out.
Dantela
$6,170.00
USD
IN PLATINUM
Not including center diamond
Three-stone rings make a great option, playing to both sides of Libra's minimalist-maximalist nature. Our pick for Libra? Opt for a Dantela three-stone with a round diamond for its timeless flourishes that will never go out of style.
RoyalT
$4,890.00
USD
IN PLATINUM
Not including center diamond
The ruling planet of Libra is Venus, which gives Libra's an astute appreciation for beauty, elegance, and high-quality accessories. The Founder's Ring, designed by Haig Tacorian, offers incredible hand-weight and finishing touches that must be worn to be appreciated. A Libra who's drawn to the clean lines and simplicity of an oval solitaire will immediately discern the impeccable quality finishes on this stunner.
Simply Tacori
$3,590.00
USD
IN PLATINUM
Not including center diamond
Libra is an air sign, which guides their sense of style. A Libra's style is feminine and flirty, comfortable, yet sexy. The Libra is all about balance and knows how to mix and match fashion styles to work in her favor. That's why we love the Simply Tacori ring. It's a mix of an on-trend romantic oval diamond, turned on its side for a low-profile look that's as highly practical as it is beautiful.
Petite Crescent
$6,490.00
USD
IN 18KT WHITE GOLD
Not including center diamond
You know you're a Libra if you're drawn to statement pieces and super-simple classics. An engagement ring is the one piece you'll wear for a lifetime, which is why we're recommending this best-in-class Petite Crescent engagement ring. It offers a classic silhouette, done with maximalist diamonds that's sure to impress beauty-loving Libras.
Libras are notorious for having difficulty making decisions, as they like to weigh the possibilities of each and every selection. That's why we love the idea of stacking multiple bands for unconventional stand-out style. Styling versatility offers Libras options without having to overcommit themselves.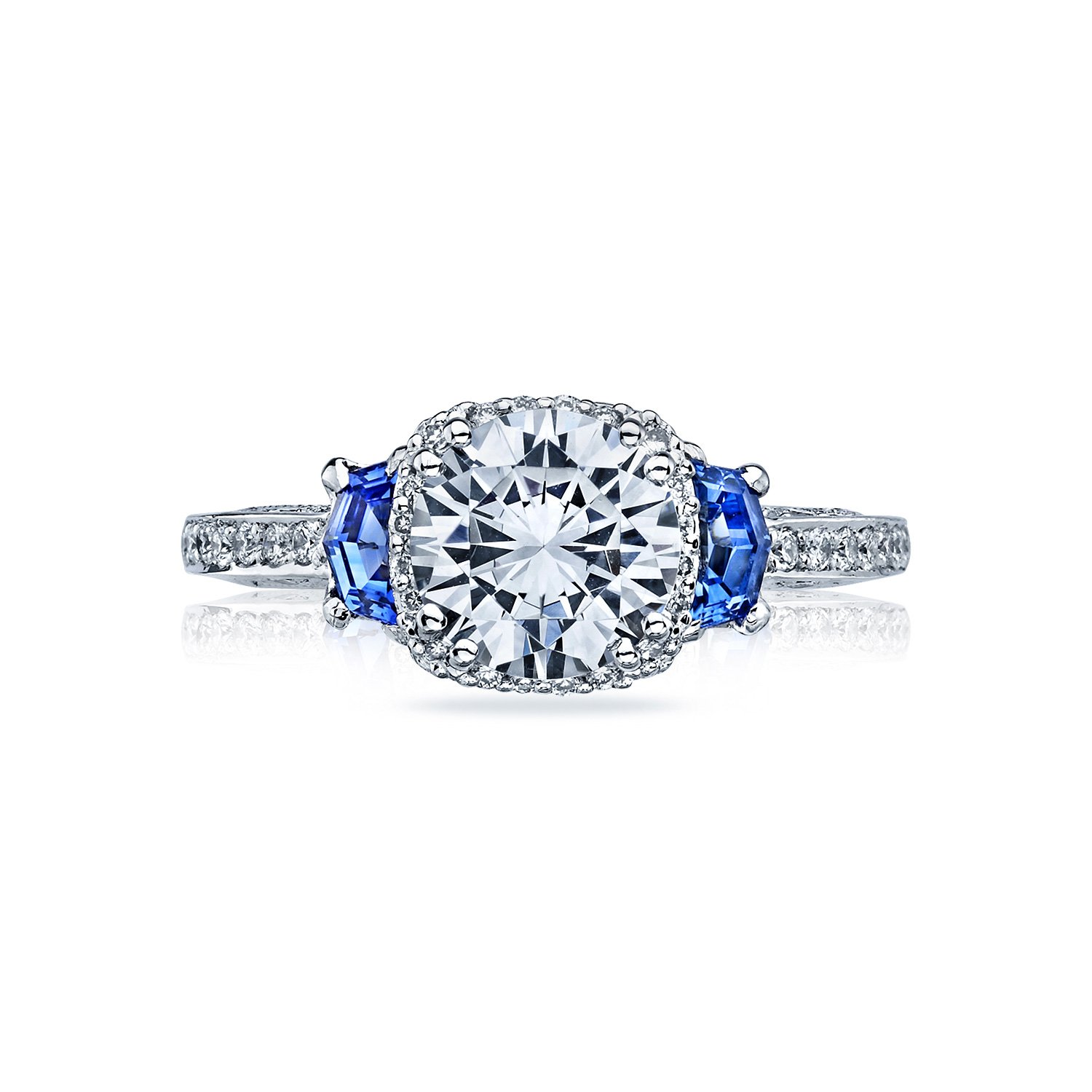 Dantela
Out of the entire color spectrum, Libras might find themselves drawn to "sky colors" like blue and creamy ivory. Well-balanced Libras value the warm patina of platinum perfection offset with sapphire side-stones, as shown with the Dantela three-stone engagement ring. And Libras' romantic nature will appreciate that this ring was originally designed for an engagement within the Tacorian Family, which imbues the design with extra specialness.
A Libra is a sign that constantly adjusts to keep the scales even, giving them the mental flexibility to change their minds about certain trends, colors, or silhouettes. So there's no certain-shaped stone or metal color that's ever truly on or off their "must have" list. Libras are collectors of all beautiful things, and they let their romantic nature be inspired by all their surroundings. Don't be surprised to find a Libra's gorgeous Pinterest board filled with stunning engagement ring options!
More Zodiac Engagement Ring Guides