The setting of your jewelry is often considered part of the overall design aesthetic, but it is a functional choice, too, since it holds diamonds or other gemstones in place. Among your options: the bezel setting, a distinctive look characterized by encasing the diamond or gemstone in a band of metal.
Bezel settings can be found on all types of jewelry, from engagement rings and wedding bands to earrings, necklaces, and even bracelets. Each piece of bezel jewelry is unique, thanks to the many different styles that can be achieved in a bezel setting. It's all about finding a piece that resonates most with you. If you're looking for the perfect setting and you're considering bezel jewelry, it's good to familiarize yourself with the characteristics and charisma of this special style.
What is a Bezel Setting?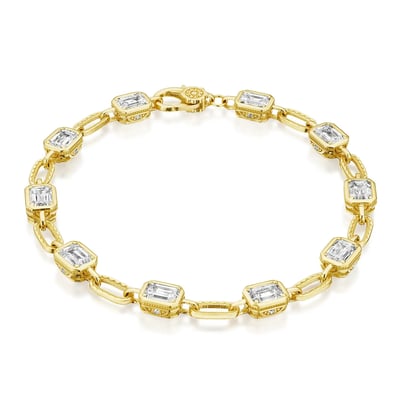 A bezel setting in jewelry—be it an engagement ring or fine jewelry—has the signature look of a metal ring or rim that encases single or multiple stones. The surrounding metal keeps the stone securely in place, making it an attractive option if you have fragile or delicate stones to set into your jewelry or if you're someone who leads an active life.
A bezel setting is celebrated for its clean and contemporary appearance, but it is actually one of the oldest settings used in jewelry. The word "bezel" comes from the traditional French word for "ring" and this setting is often associated with vintage and antique jewelry.
Bezel settings most commonly feature round brilliant diamond cuts, but bezel jewelry can work with any diamond cut or gemstone based on your personal preference.
For engagement rings, prong or claw settings are still the most popular—in either a cathedral or classic 360 foundation—as these allow the most amount of light to hit the diamond and set it ablaze from every angle. They also appear more delicate compared to the chunkier bezel setting. Bezel-set engagement rings and wedding bands are growing in popularity, however, thanks to their more modern and minimalist aesthetic.
What Does a Bezel Setting Look Like?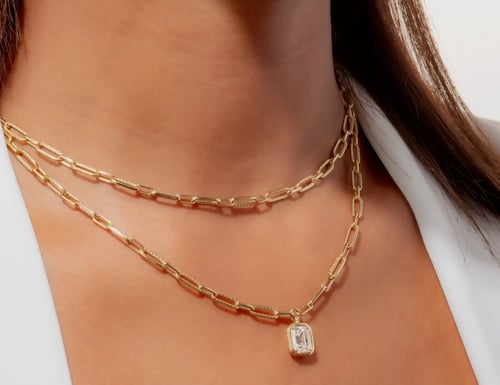 Bezel-set engagement rings differ from a cathedral and classic prong settings, both of which elevate the stone's profile; with bezel settings, the stone is effectively set into the metal band of the ring, which makes it sit lower on the finger. Bezel settings create the illusion of a larger center stone—particularly in a platinum or white gold and diamond pairing.
Bezel settings can look very different depending on the piece of jewelry and the size of the stones. For example, a diamond solitaire engagement ring could feature a bezel-set center stone, or there could be smaller, bezel-set diamonds on the shoulders of an engagement ring or wedding band. A pair of diamond stud earrings could be bezel-set. You could even get a prong setting engagement ring with bezel-set diamonds on the band—the options are endless.
How Bezel Settings Affect the Brilliance of the Gemstone
Bezel settings cover more of the gemstone's surface compared to prong settings, which can slightly reduce the amount of light that enters the stone. However, a well-crafted bezel should still allow the gemstone to sparkle. The metal color, too, play an important role in the overall aesthetic of the gemstone.
What makes a high quality bezel setting?
Even, Secure Enclosure: The bezel should encircle the gemstone evenly, ensuring that it fits snugly against the stone. There should be no gaps or irregularities in the metalwork.
Smooth Edges: The edges of the bezel should be smooth and well-finished to avoid any rough spots that could potentially scratch the wearer or catch on clothing.
Polished Finish: The bezel should be polished to a high standard, creating a clean and reflective surface. This enhances the overall appearance and showcases the gemstone.
Attention to Detail: A well-crafted bezel setting demonstrates a jeweler's attention to detail. Every angle, curve, and junction should be carefully considered and executed. A bezel may look simple, but the design requires precision and expertise.
Bezel Jewelry
Bezel settings range from high-shine and minimalist to intricate and vintage-inspired. The beauty of bezel is in its versatility. TACORI bezel settings are not pre-set, meaning that each bezel-set stone is placed by hand and then the edges are gently hammered around the stone.
For those considering bezel-set jewelry, we've picked four of our pieces that showcase the unique appeal of this style. And if you're looking to go all out for bezel, the TACORI Allure collection will be your go-to.
The Modern Bezel Wedding Band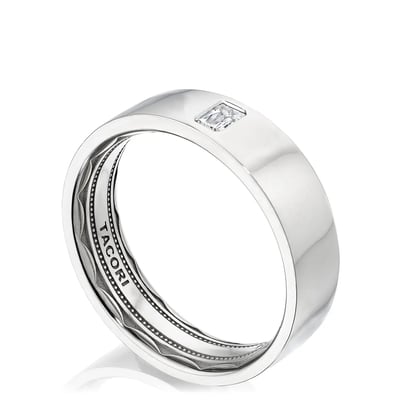 For a thoroughly modern and minimalist wedding band, this Bezel-Set Diamond in High Polish Finish is quite simply the dream. An elegant single triple-cut diamond is placed into a flat-top band using a bezel setting for simple but striking impact. A signature TACORI sculpted crescent on the inner facing adds extra detail without distracting from the ring's quiet elegance.
Solitaire Engagement Ring With Bezel-Set Diamonds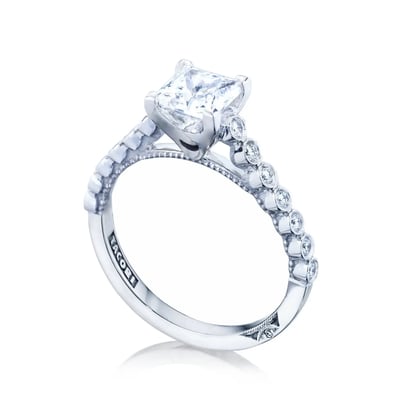 The best of both worlds, this unique engagement ring features a 4-prong solitaire princess cut diamond on a cathedral setting, flanked by bezel-set diamonds cascading down the shoulders to create a diamond intense effect that's truly scintillating.
Bezel Wedding Band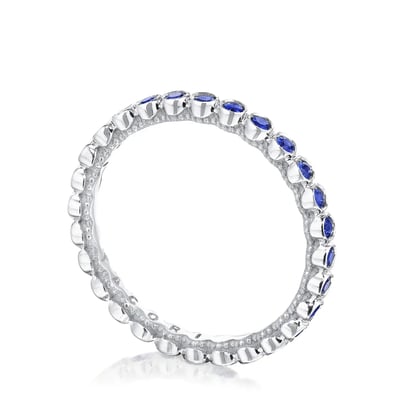 Make a statement with your wedding band with the Round Bezel Droplet Wedding Band. Here, round brilliant gemstones in bezel settings cover the entire eternity band and can feature your choice of colorful rubies, sapphires, emeralds, pink sapphires, black diamonds, or, of course, classic white diamonds. Why stop at one? Made for stacking, rings can be added over the years to create your own collection of symbolic stones.
The Bezel Jewelry Collection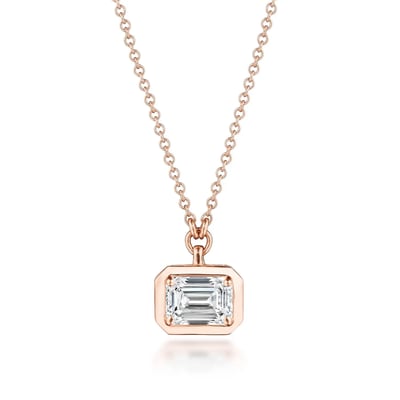 Engagement rings and wedding bands aside, for effortless, everyday fine jewelry, the TACORI Allure collection features a tempting array of stunning bezel-set necklaces, earrings, bracelets, and rings. Choose between round brilliant diamonds or emerald cut diamonds set in high-polish bezel frames. Necklaces and bracelets display hand-hewn links as part of their exquisite craftsmanship.
Whether you're drawn to a bezel-set engagement ring, wedding band, fine jewelry, or all of the above, the good news is that it's the easiest setting to care for—and this handy guide should help. Just make sure you have it professionally cleaned once a year and it will continue to sparkle and shine for years to come.
More TACORI:
Cathedral Setting Engagement Rings
Classic Setting Engagement Rings
Simple Yet Striking Engagement Rings
How To Choose a Pave Engagement Ring
What Are the Most Popular Engagement Ring Styles?
Whatever you decide, our TACORI design team is always here to offer expert guidance.