Michelle || Marketing Dept.
Her Style: Michelle believes in the power of jewelry to punctuate a look or make a statement. She chooses timeless and personal pieces that are part of her life, designed to be worn every day. Jewelry becomes an intimate part of life that tells a story. Everyone has their story, and no two stories are ever the same.
In a recent styling challenge to pick her favorite 2-prong stack, she says "For my ring goals, I need at least two of these, maybe three. With two, I can stack these as "ring guards" around my engagement ring or a chunky band. With three, I can wear the stack on its own! One in each color – rose, yellow and white gold of course!"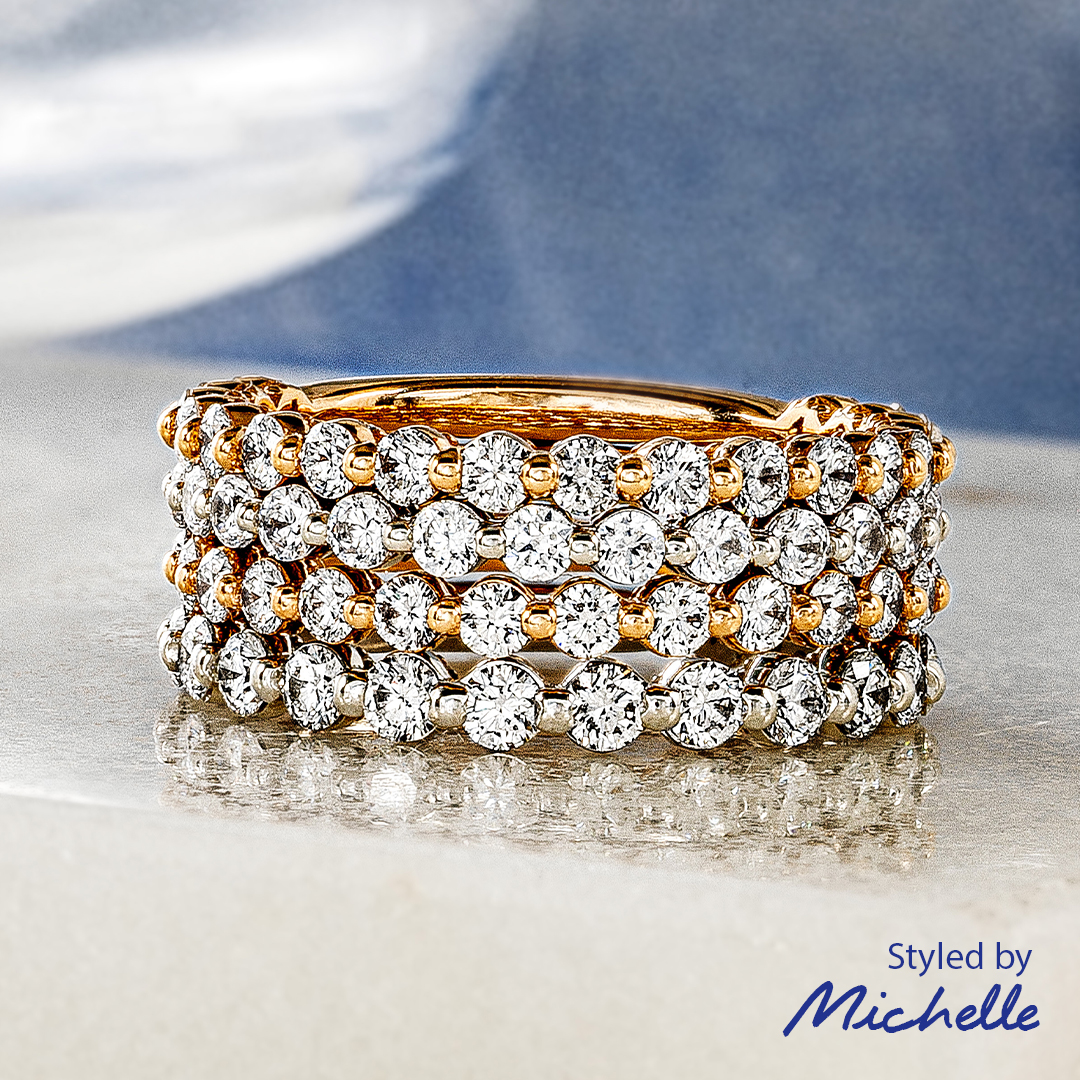 Sculpted Crescent
In another styling challenge, Michelle styled her favorite Spring jewelry—here's what she loved and why:
Multi-Gem Drop Necklace featuring Amethyst
Crescent Bezel Ring featuring Amethyst
Petite Crescent Drop Earrings featuring Amethyst
Gemstone Pendant featuring Sky Blue Topaz
Crescent Bezel Earrings featuring Sky Blue Topaz
"Spring finds me getting ready for garden parties, brunches, and wearing lighter, more flowing clothes. Amethyst and Sky Blue Topaz effortlessly elevate any outfit, and can be mixed-and-matched within their pastel colorways," says Michelle Chila, SVP of Marketing and PR.
"I love the simple sky blue topaz pendant for a touch of everyday shine; the amethyst hanging gemstone necklace is amazing with almost any dress neckline, and can also be layered."
"The simple stud earrings are classic and look great with everything; and the French-wire drop earrings offer a slightly dressier look. And of course, I love this ring that goes with anything!"
Want to see more?
Leave a comment below to let us know what you want our stylists to showcase next!